The 5 Steps Framework To
Coach Diet Mindset
The 5 Steps Framework To
Coach Diet Mindset
Training coaches to learn, build and master a collaborative & intersectional coaching framework that best supports the application of the non-diet approach, including intuitive eating, body neutrality and weight neutral approach to health.
It's time to break free from the imposter coach syndrome AND reveal the confident non-diet coach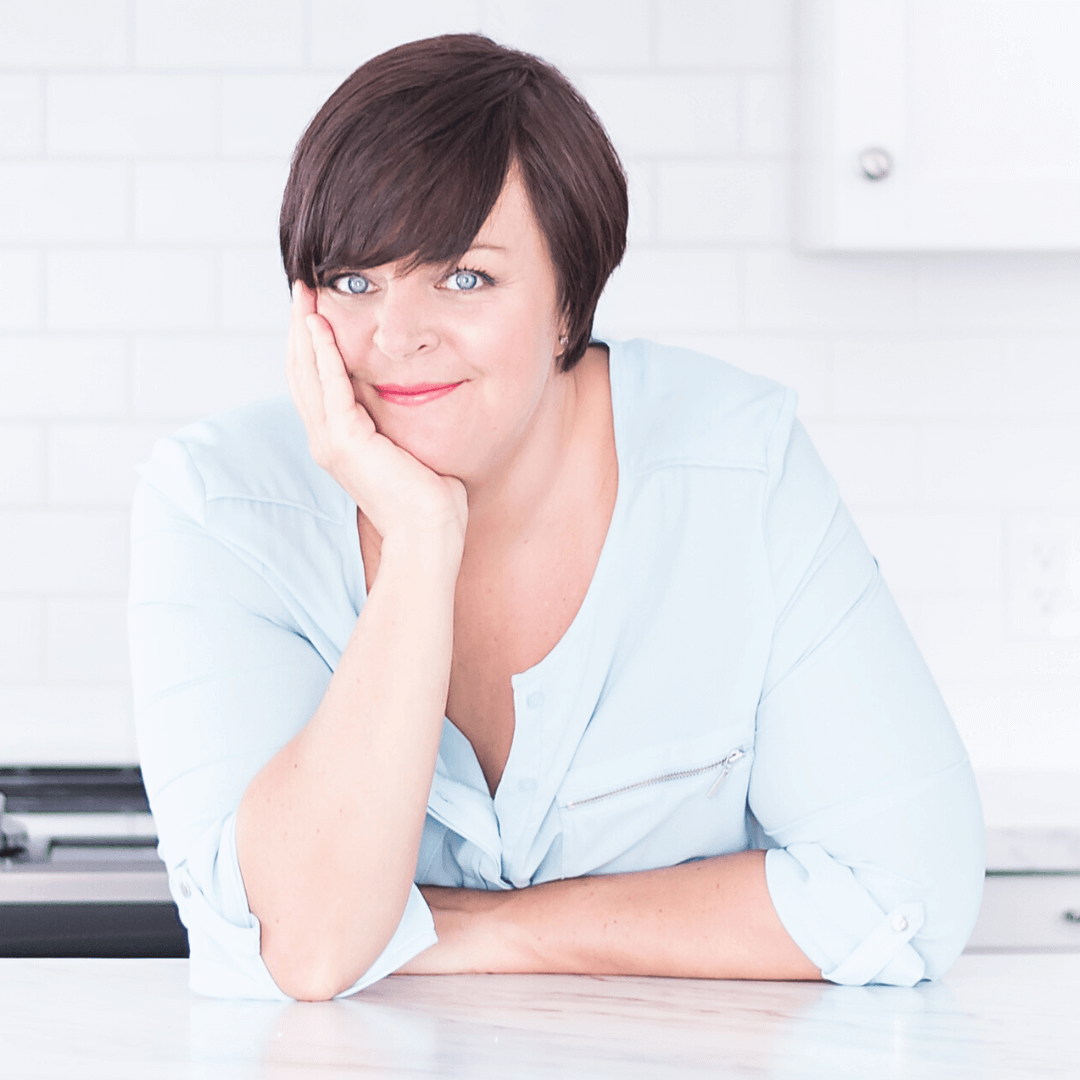 Here's what you might not know: self-confidence is created not earned. 
Confidence is created by the thoughts you think and your self-beliefs, not the number of clients you helped, the certification you have, the number of followers on your social media or the size of your body.
This truth is as much applicable to you than your clients.
You or you clients are not the problem. 
The beliefs you and your clients have been socialized to think are the problem.
That's good news: what has been learned can be unlearned. With self-coaching, you can change the your self-beliefs and thoughts you think about yourself and create confidence.
Then, you can coach your clients to do the same about anything; food, body or health.
In this Non-Diet Coach Lab, you will learn how to coach yourself and your clients to create incredible results!
Stephanie
Is the Non-Diet Coach Lab for you?
You want to show up confidently and significantly increase the safety and trust of your future clients to invest in your services.
Learn how to dismantle core beliefs in all aspects of life, including food, body, and yes in your business and learn to create new empowering beliefs.
Learn how to process any emotions and how to safely coach thru stopping unproductive behaviours such as procrastination, avoidance and binge eating.
Discover the power of self-coaching through your personal journey with food, body image and weight and master the framework so you can coach your clients through any challenges they present.
Learn how to use an intersectional and trauma-informed coaching framework and coach in alignment with your personal values.
You are a health professional, a coach, nutritionist, therapist, and fitness and health coach working with people on topics of health, nutrition, intuitive eating or body image, and want to learn how to coach them in the most effective way.
Learn
Self-Coaching Framework
Coaching is helping someone improve their performance in a process to achieve a goal.
Coaching is a process in itself alongside intuitive eating, body neutrality or a weight-neutral approach to health.
The coaching framework we teach is based on neuroscience and cognitive behavioural therapy (CBT). The coaching process supports the creation of the desired results by investigating belief systems and intentionally thinking thoughts that will produce productive emotions and actions towards achieving the goal.
The coaching framework is collaborative and non-oppressive as it includes awareness of social constraints, oppressive systems and how they impact the lived experience. It's grounded in a desire to build people's agency and capacity.
Self-coaching is the process of learning to coach oneself. To become your #1 client and learn not by intellectual knowledge of theory only, but by embodying the process in yourself first. As you can only take your clients as far as you have.
Master the our uniquely designed coaching framework for the non-diet approach. The Self-Coaching Coaching Framework (CBT technique) to help you and your client change thoughts and beliefs permanently.
All of our teachings are in a trauma-informed approach & Intersectional coaching approach in an effort to dismantle systemic oppression at the individual level first and then societal.
Learn our proprietary approach to processing emotions: Riding The Wave. Become more emotionally intelligent and take your coaching to mastery level.
Live Coaching Program. Starting September 9th to October 7th, 2022.
Live Intensive Teaching Session on September 9th, 2022, from 10 AM – 4 pm EST. Spend the day with Stephanie and her team learning the foundation of the coaching framework. Recording available
Spend 4 weeks practicing & embodying the self-coaching with supervision and coaching. Stephanie and the instructor team will meet with you twice weekly to supervise and coach you. Calls are scheduled on Mondays at 12 pm EST, and Wednesdays at 11 am EST (exception of September 28th at 1 pm EST). Recording available.
Lifetime access to all video lessons, call recordings, workbook via a student web portal.
Restricted access to 25 students to ensure we serve every student with excellence.
"Learning the self-coaching model and being coached by Stephanie was an incredible investment for my business and personal development. I loved that this process was taught in an intensive day, not weeks, so I could apply it immediately. If you are a professional who is looking to up level your coaching skills, then I highly recommend this training."
"Self-coaching is practical and immediately applicable for use with current clients. The basic tenets of the approach are applicable to all."
Student wins during the program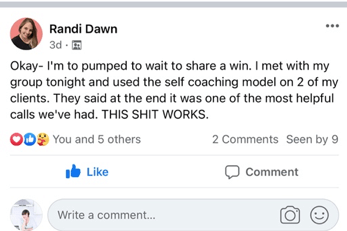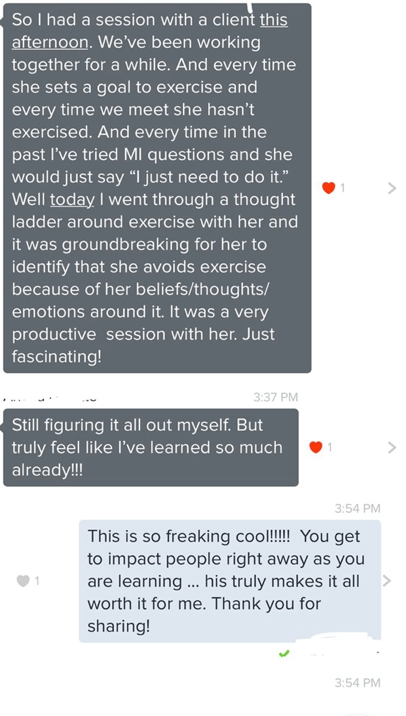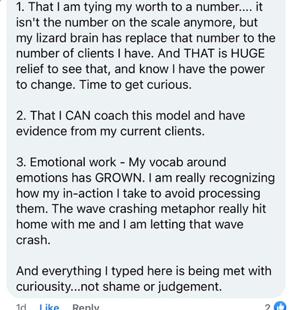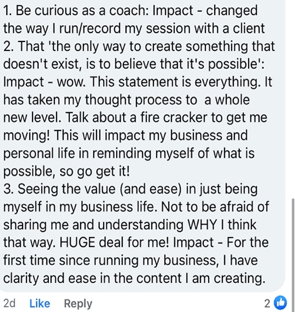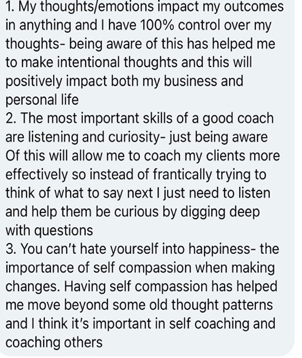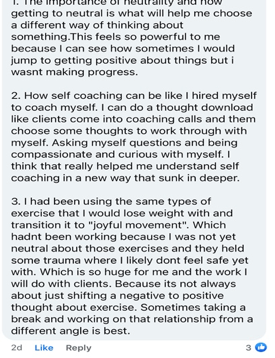 We are limiting the number of students to 25 to ensure excellence in support, coaching and transformation of each student. 
Our community will get first access to registration via email on August 14th, 2022, and if space remains, we will open to public on August 17th, 2022.
Frequently Asked Questions
Am I ready now for the non-diet coach lab ?
Learning happens at all stages.
You have permission to be right where you are now. That may include a job that keeps you working and financially stable where you feel "stuck".
All you need is the willingness to learn and grow, to challenge yourself and each other in a space that is created for you to evolve and transform how and why  you do the work that you do.
My advice is for you to make quality decision  in line with the life you want. The answer is not more hustling. It's clarity, combined with meaningful actions. I can help you with that.
I have benefited greatly from coaching and I know how much coaching can impact your business and personal life. In our field our personal growth = business growth. Period.
If there is one thing I know from all this work, it's this: Transformative coaching—involves healing not just information and perspective. As a coach you cannot help someone else heal until you work on healing your own. Transformative coaches always do their own inner work
Who is this program for?
If you are a healthcoach, intuitive eating coach, body image coach, life coach, personal trainer, a licensed mental or health professional or in any position to work with people with food and or body image this is for you.
At this point, I only accept 25 people self-identied as women. Small intimate group. First come first served.
Will I learn to coach my client's mindset?
Yes. In fact, that's the key to ensuring your client get sustainable life changing results thru your program. If coaching beliefs, thoughts and feelings isn't part of a non-diet coaching program it's furthering the harm to the client.
I'm passionate about coaching and you can bet that you'll learn how to coach mindset, beliefs, thoughts and feelings. You will learn by being your #1 clients and watching other students being coached.
I still struggle with my own relationship to food and body, not sure I'm ready?
I got you. This program is what you need. Mindset or thought work is most likely the missing element in your healing journey.
You will work on your own mindset. You will be your #1 client. You master yourself so you can coach your client masterfully.
Remember you do not need to be perfect to help others… only a few steps ahead.
Is the program time-consuming?
Real talk. My programs are intense. I don't do fluff. I've never done it and will never do it. So yes, you will need to work on your own mindset.  
We will spend 1 full day together on September 9th, 2022. That's the intensive so we can cover all intellectual notion and then we spend the next 5 weeks in application, practice and embodiment.
Weekly, you have 90 minutes coaching call with me, and optional you also 1 Office Hours with an instructor to ask any questions.  
Then, you'll need to practice self-coaching on yourself. Now, this is where you can do as much or as little as you want. One thing is for sure if you want to experience a transformation in your own mindset consequently in the way you coach your clients you will need to take time and work on yourself. The more time you invest in yourself, the bigger and faster you get to your goal.
This is a program for grown up women and I do not babysit students… I'm here for those that show up and do the work, and trust me, I'm all in when you are!😂
What is included in the program?
Self-coaching Project -7

pre-recorded video lessons)

Self-Coaching workbook –

digital and printable version
Live Coaching Calls 
4 – 90 minutes Live Coaching calls with Stephanie-  receive individual live coaching. 
Call schedule:

Wednesday, September 14th, 11 am- 12:30 pm EST

Wednesday, September 21st, 11 am- 12:30 pm EST

Wednesday, September 28th, 1pm- 2:30 pm EST

Wednesday, October 5th, 11 am- 12:30 pm EST

Calls are recorded and saved to your student portal within 12 hrs.
Office Hours Calls
4 Office Hours call with a coach instructor (optional)- bring your self-coaching models for review & ask any questions about the self-coaching framework.
Call schedule

Monday, September 12th, 1-2pm pm EST

Monday, September 19th, 1-2 pm EST

Monday, September 26th, 1-2 pm EST

Monday, October 3rd, 1-2 pm EST

Calls are recorded and saved to your student portal within 12 hrs.
A library of Guest  Expert Classes taught by paid teachers:
How to navigate trauma in coaching

How to regulate your nervous system as a coach
What is the refund policy?
The Non-Diet Coach Lab program is a very small container. If you commit to the program, you're committing to the entire direction of the program.
To preserve the integrity of the peer relationships that get cultivated in the program and because there are specific trainings that stack upon each other, we cannot accept new students after intake closes.
That means that if someone drops out part way through, we cannot fill their spot. Because the container is so small, there's no margin for cancellations or drop-outs and so we cannot offer refunds.
If you choose to stop participating before the end date, your payments are still due in full. The Non-Diet Coach Lab program is a commitment of time, money, and energy. It's a serious investment in yourself and your business, and one that can generate a big impact and return across years.
We appreciate your careful yes — and we trust it.
Stephanie Dodier is a Clinical Nutritionist CNP, Certified Intuitive Eating Counselor, host of two top-ranking podcasts in the non-diet industry and creator of the Going Beyond The Food Method™️. She founded Undiet Your Life, a global coaching and online training platform focused on helping women make peace with food and their body so that they can live a fulfilling life… right now! She is also the founder of Undiet Your Coaching Practice, a global professional training platform.
Stephanie has been a leader in business & sales for over 25 years. As a vice-president for the #1 retailer company in Canada, she has learned how successfully build and operate a thriving business. Over the last 9 years, Stephanie has built two 6 figure health businesses with her clinic in Toronto and her online Going Beyond The Food online programs. Through her clinical work, teaching, speaking, workshops, podcast and online programs, Stephanie has worked with hundred of thousands of women in over 92 countries around the world. Resume and professional profile available here.
Stephanie is on a mission to help free over 1 million women from diet culture. That's when you come in. The way we teach health & nutrition needs to change. This program is her way to empower other practitioners like you to make the change and impact 1 million women together!
The program content is not a substitute for direct, personal, professional medical care and diagnosis. All the information contained within is not intended to provide specific physical or mental health advice, or any other advice whatsoever, for any individual or company and should not be relied upon in that regard.
Always work with a qualified medical professional before making changes to your diet, prescription medication, supplement, lifestyle or exercise activities.
Ethical and Earning Disclaimer:
Clients understand that Company cannot, in any good conscience guarantee any outcome of financial gain from attending this event. We can teach you everything we know, but we can't implement it for you. As it is in life, how far you go up is up to you and your ability to implement what we teach you. It's stipulated by law and our good intentions for you that we let you know this. You'll get the most cutting-edge training and it's up to you to make it happen. You should know that all product and services by our company are for educational and information purposes only. Nothing on this page, any of our websites, or any of our content or curriculum is a promise or guarantee of results or future earnings, and we do not offer any legal, medical, tax or other professional advice. Any financial numbers referenced here, or on any of our sites, are illustrative of concepts only and should not be considered average earnings, exact earnings, or promises for actual or future performance. making decisions based on any information presented in our products, events, services, or website should be done only with the knowledge that you could experience risk or losses just like any entrepreneurial endeavor. Use caution and always consult your accountant, lawyer or professional adviser before acting on this or any information related to a lifestyle change or your business or finances. You alone are responsible and accountable for your decisions, actions and results in life, and by your registration here you agree not to attempt to hold us liable for your decisions, actions or results, at any time, under any circumstance.
The program content is not a substitute for direct, personal, professional medical care and diagnosis. The information contained within is not intended to provide specific physical or mental health advice, or any other advice whatsoever, for any individual or company and should not be relied upon in that regard.
Always work with a qualified medical professional before making changes to your diet, prescription medication, supplement, lifestyle or exercise activities.