When was the last time you had an episode of food craving? Did you crave for sweet or salty food? This is one of the most common questions I get as this may be something we share in common.
To start the conversation, the first thing we need to do is understand what food craving is and why do we experience it.
What is Food Craving?
According to Google, food craving (also called selective hunger) is an intense desire to consume a specific food and is different from normal hunger. Notice the terms "specific food" and "normal hunger".
Food craving is a common occurrence across all cultures and society. According to statistics, food craving is the number 1 reason why people fail at their diet. It is important to note that food craving is normal. It is expected. It does not mean that you are lazy, that you lack self-discipline or willpower.
Why Do You Experience Food Craving?
Food craving is another symptom that something is out of balance in our body. It's another sign or way for your body to communicate with you.
There is a process that the body goes through to maintain a comfortable and healthy balance in both the body and the mind. It's called homeostasis. Simply said – our body is wired or programmed to be healthy. An example of homeostasis is the body shivering at night when it's too cold, makes you yawn at night when it's time to go to sleep or makes you thirsty when you are dehydrated. Another example is having a fever. It is a symptom that your body will produce when the immune system is actively working trying to protect you and defend you from an enemy.
The same situation will occur when you lose your peace of mind. Your body directs you to take action to correct your state of mind, otherwise, you may experience depression. Your appetite delivers you a food craving such as chocolate. This means you need to correct your emotional state of mind of insecurity which needs to be balanced.
Food craving can be of two sources. It can be emotional or physical. Our body can use craving as a means of waking us up that there is a need for balance on the physical side such as that some vitamin or mineral is depleted in the body; or to signal emotional imbalances.
Physical Hunger vs. Emotional Hunger
Understanding the difference between physical hunger and emotional hunger is the first step in learning how to control your food cravings. The chart below should be of great help. I suggest that you print it and post it somewhere to refer to it quickly as you begin your journey to eliminate food cravings. You must become really comfortable in distinguishing physical vs. emotional hunger.
Physical hunger progresses slowly and you can feel it in your stomach. You do not crave a specific food but rather, food. When you eat because your body needs nourishment, you are more likely to be present and able to stop when you feel full.
Emotional hunger is the opposite of physical hunger. When emotional hunger strikes, it's sudden and specific. You get focused on eating this "one" food and once you get to it you without being present rather thinking about what has happened or what is upsetting you. It is likely that emotional hunger will come after an emotional event.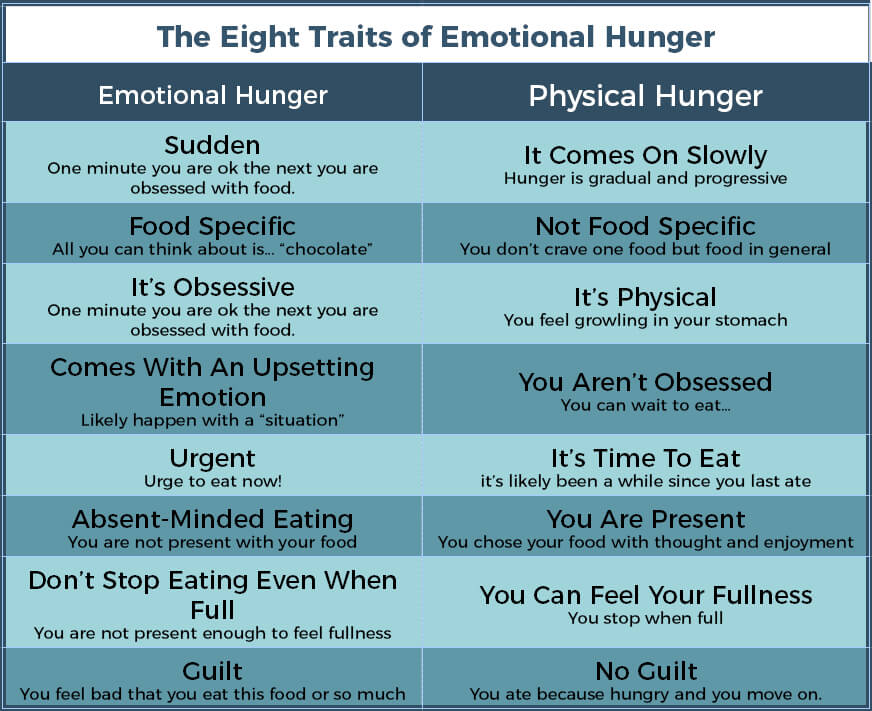 As a result of your emotions, you'll eat even though you physically don't need food. You'll eat because you need to soothe the emotion. Now, you'll eat the same type of food each time you feel that way even if it's sabotaging you.
How to Stop Food Craving?
Overcoming food cravings is one of the hardest but the most important part of the healing journey. What many people don't realize is that there is a difference between physical and emotional food cravings. Like many women, you have likely been told that cravings were a bad thing and you just need more discipline to fight them.
The Physical Side of Food Cravings
Becoming empowered to stop food cravings starts with getting to the bottom of the physical side of the equation. The physical side of food cravings can be boiled down to these things:
·       Gut & microbiome
There is great research lately that shows the connection between a lack of diversity of microbiomes in the gut with food cravings. To combat this, it's so important to reduce carb intake and to add probiotics into the diet.
·       Blood sugar dysregulation
Radical highs and lows in blood sugar can cause cravings. Getting your blood sugar to a more stable place though improvements in your diet will result in a dramatic reduction in food cravings.
·       Nutrient deficiencies
A lack of the vitamins and minerals that you need to be healthy are a major cause of cravings. Chocolate means you're craving magnesium. Bread means you're craving b vitamins. Diversify your diet and increase its nutrient density in order to combat cravings.
The Emotional Side of Food Cravings
When you eat in response to feelings or you use food to relieve negative emotions, you are emotionally eating. It's eating for reasons other than providing your body with the nourishment it needs.
Emotional eating is prevalent in women. It is normal because we are emotional beings with an emotional relationship with food. It started from the day we were born. We learned that, whenever we wanted to get fed, all we had to do was cry. It continued during our childhood years, when our mothers cooked for us. We usually celebrated our birthdays with a cake. When we got good grades, we got ice cream as a reward.
We eat to protect ourselves against negative feelings and emotions. In that regard, eating is a form of self-preservation. What could be more natural than that?
Emotional eating is also what makes me put on pounds, right up to this day. I eat when I'm not hungry because I want to soothe a feeling. However, the problem was I wasn't aware that this behavior had a subconscious meaning.
The image below best illustrates the process we go through when emotional eating happens to us. The problem is that even though we are in such a situation, we aren't fully present on what's going on, thus, we fail to recognize what triggers us or what causes us to eat emotionally.  It surely starts with a trigger – a person, a thing or a situation that causes us to feel certain sensation or emotions in our body. Because of lack of understanding and awareness, we tend to numb, suppress or avoid the emotion by eating.
If emotional eating seems to be your struggle, which is for most women well over physical cravings  let me share with you my newest program Conquer Emotional Eating. It is an online program designed to get you the education you need to understand and then transform emotional eating , why you eat and stop being the victim of your food urges. Life changing
Tools for Overcoming Food Cravings!
It is so important that we work to heal our appetite and not kill them so that we can stop food cravings permanently. The most effective method to reduce or eliminate food cravings is to listen to your intuition or gut feeling, trust it, and then follow it!
1. I highly recommend you take these next steps to get started!Ready to dip your toes? I would highly encourage you to take our masterclass "So… you want to lose weight?" to begin your journey in self-awareness and understanding what stands between you and your success.
2. Subscribe to The Beyond the Food Show podcast to get a free weekly audio episode where you can surely get golden nuggets to empower you to take control on your life and live confidently through learning to trust and respect their innate body wisdom.
3. If you haven't done so yet…be sure to join on Beyond The Food Community and stay connected. Will send you monthly coaching emails along with any program offers coming up.
Can't wait to meet you!