Here's a handy guide to eating on the road & travel food, the ultimate guide!
Even with the best of intentions, getting on the road usually signals a time to finally let your hair down and chill out on the way to your destination. You're focused on your experience!
Unfortunately, road food isn't generally food that will make you feel great. It's often refined, processed prepackaged, quick and full of preservatives, sodium, and sugar. The goal of the food that you find while traveling isn't to support you feeling awesome, it's to keep you awake while driving or to keep you away from the competition by offering the most enticing taste possible.
The key to eating smart on the road is in having solid strategies to help you avoid temptation before you hit the road. My ultimate guide to healthy low carb travel food helps you to be ready for those challenges!
A Voice of Road Eating Experience
I personally have a lot of experience with traveling and staying on track – this is a deeply personal aspect of the process for me. During my healing period, I was still working at my corporate job, which meant traveling the country 3 days a week. This was the way of things throughout the time that I recovered from most of my chronic conditions – something that was a survival necessity for me.
I speak to you from experience, to inspire you and show you that it's possible. You don't have to have a perfect home with a perfect kitchen in order to be successful – you CAN do it no matter what's going on in your life!
Seven Steps to Good Travel Eating
Planning – that's what you've got to be prepared to do in order to make this work.
I have a motto that has been with me since my corporate days: the 6P's.Proper Planning Prevents Piss Poor Performance
Forward thinking about your nutrition for the duration of your travel. You need to address the following essential parts of the equation:
Flexibility
Am I on a specific protocol that requires me to be 100% on point all of the time or do I have some flexibility? If I do have flexibility, what is it for? Whatever the case, you should think about the amount of leeway that you'll have before you hit the road.
Commitment
What can I commit myself to do while I'm traveling? This is the time, to be honest with yourself and to create the kinds of support that you know you'll need.
Companions
Who I'm traveling with and will it affect my choices? Friends? Coworkers? Family? What support or impediments can I expect from them? It's a good idea to communicate with your traveling companions before you head out and to ask for their support.
Options
What will be the food option on my way to my destination and back? Be specific here, checking up on what might be available, which stops along the way in the car might offer better options, or whether there is a grocery store along the way if you're going to be staying overnight as you travel.
Mode of travel
Airport, bus, road trip in the car? How long will be my travel time to destination? What can food I bring with me? If you're driving then you've got lots of options, including coolers and small blenders that can make a huge difference. You won't find those same options if you're flying or taking a train.
Destination
What will be my options once I get to the destination? Do I have access to a fridge or not? Can I pay a small surplus to get a small fridge? What kind of restaurants will be available at my destination? Is there a grocery store close to my destination? Again, investigate your options before you hit the road.
Schedule
What will be my schedule and where will I be for the main meals?
These are the key points to think about before leaving so you can plan accordingly. For example, when I make a reservation for a hotel, I always ask for the availability of a small fridge in my room. This way I can decide to go buy some groceries once I arrive at my destination, or I can bring some food with me if I'm driving to my destination.
Travel survival tips
There are so many variables when traveling, and understanding them is essential to finding success. Here are some tips that you can't live without if you're going to find success while traveling. I've broken these down into sections that will make sense to travelers, addressing the most important aspects of each.
Restaurants
If I know I will need to go to restaurants while I'm traveling. I also have a great tutorial video on what to do in restaurants so that you can stay low carb while eating out. Click here.
If you are on a specific protocol then you could consider using a meal delivery service if one is available at your destination. This option is mainly available in bigger cities, but you may be surprised at what google can find for you even in small town!
Flying
Did you know you can take any food you would like to take in your carry-on bag as long as you respect the specific rules of the country of your departure and arrival. The rules are pretty similar in most countries like the USA and Canada: liquid must be kept in 100 ml/100 g (3.4 oz) or less. All containers must fit in one clear, resealable plastic bag that is no more than 1L in capacity. The bag must be transparent so screening officers can easily see the contents.
Again in most countries including Canada and the USA, you can have solid food items, such as vegetables, nuts, and snacks, in both your carry-on and checked baggage. You will need to research specific to your country of departure and arrival in order to be sure, as there are some that have varied requirements.
I personally have made a habit of taking small plastic bags of raw veggies, cans of sardines, small lunch size container of cooked veggies or salad with protein, jerky in baggies, hardboiled eggs, small containers of nuts, etc. all my carry on luggage. I've been doing this for almost 7 years now and never had an issue, and in all likelihood, you won't either, but you never know. For the Canadian regulations, you can read further here and for the USA regulations here.
I also have a "rescue" pack in my purse at all times – and it's so simple! Into a medium sized clear zipper bag, place the following and then throw it into your bag.
olive oil (in a travel size shampoo bottle)
MCT oil (in a travel size shampoo bottle)
powdered collagen peptide (in a travel size shampoo bottle)
Himalayan sea salt (in a small container)
I'm ready anywhere I go!
As far as checked luggage is concerned, you can take almost any food items you want and in the normal desired quantity (outside of the normal exceptions of alcohol and drugs). Depending on the number of days you're traveling, you might find that you are better buying locally rather than traveling with food in your checked luggage. However if you have specific food items that you wish to have with you immediately at your travel destination, then you're well advised to take it with you.
One major tip involves your water bottle – bring your refillable water bottle with you! Make sure that it's empty prior to your trying to pass security and fill it up after you get there using the water station close to the public bathrooms. This will help you to avoid a great deal of temptation when it comes to those liquid calories.
Driving
The rules are pretty simple here: as long as you do not cross any borders you can pretty well bring anything with you. As long as you can keep your food fresh you can eat just like home but on the road.
When it comes time to cross a border, I highly recommend that you review the rules of the country you are visiting. The US website for what you can bring is here and Canadian website here.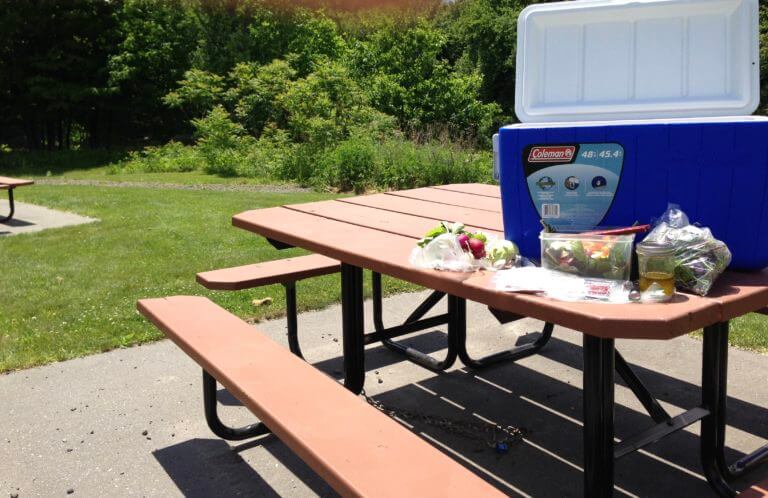 What I have personally done in the past is to pack my cooler with the basics (condiment, oils, utensils & dishes) and once the border has been crossed, then I find the closest grocery and stock up. On my way back I try to have the least amount of food possible in the cooler.
My Go-to Snack Foods
The health food industry has really made some great efforts over the last few years for us in the area of portable food – aka snack food. Although much healthier and less toxic than before, it remains that these are processed foods that have had some kind of preservative or enhancement, no matter what the big promises on the label are. I recommend keeping the "snack" food category for occasional use when you cannot cook real food – they are not to be used daily as a replacement for real food.
Epic bars and bites
This is a full line of protein bars and snack bites. Delicious and minimally processed, these are my go tos for a high-quality protein source on the go. Not all products are low carb so I have an outline of the only ones that have less than 3 grams of carbs per serving.
Epic products can be purchased here.
Vital Choice
These handy pouches of tuna and wild salmon have saved me many times, and their wild sardines are incredible! The quality of fish sourcing is premium and the ease of carrying fish is mind-blowing.
Vital Choice products can be purchase here.
US Wellness
Another great source of protein and also a perfect fat source. The jerky at US wellness is just protein and spice without any carbs or additives. Their pork rinds are a great travel companion due to their small size, and they're a great fat source as well.
US wellness products can be purchase here.
Eating Evolved
Last but not least is the chocolate – because we couldn't do a post about snack food without chocolate! The 100% primal chocolate is just creamy and not bitter, which makes it just the perfect road trip companion.
You can buy 100% Eating Evolved bars here.
Travel Food Ultimate Guide: A Checklist
Now that you know the ins and outs of what you need to travel in the best way, let's run through a simple checklist that will serve as your cheat sheet to make it happen.
This travel checklist is designed to help you keep track of everything diet-related, so that even if you leave your deodorant at home, at least you'll have enough to eat. For a road trip grocery list, print out the checklist and simply cross out any foods you don't intend to buy.
Food
Jerky
Canned fish
Epic bars
Low carb nuts: Macadamia, walnuts, pecan.
Nut butter packets
Cooked bacon
Canned olives
Small bottle of olive oil (in shampoo bottle if flying)
Small bottle of MCT oil ((in shampoo bottle if flying)
Adapt bars
Raw vegetables in baggies
Guacamole
Hard-boiled eggs
Empty water bottle
Sea Salt
Dark chocolate
Non-Food
List of restaurants and grocery stores along the way
Utensils (if you're taking a plane put the knife in checked luggage)
Napkins
Tupperware (for storing restaurant leftovers)
Any supplements that you take regularly
Thermos bottle
That list is pretty simple and straightforward, right? In fact, there's really not a great deal, to it, though the task might at first seem incredibly daunting.
The Bottom Line on Traveling
This whole thing is not nearly so difficult as we so often think it is. You don't have to be afraid to travel.
Once you've got the basics under control, you'll actually find that all this preparation makes travel more pleasurable, not less. The other great boost that you'll find is that you'll have so much more energy and you'll be rid of many of the negative effects that go along with eating while you travel.
Jet lag, exhaustion, sour stomach, and the heaviness that comes with eating junk on the road are all greatly diminished when you eat well as you travel. So many of the negative things that go along with travel are due to the lack of nutrition in our food choices while on the road that people make when they leave home. You are empowered to make good choices on the road!
You can do this! Jump in and get that solid planning done. Follow my healthy travel food ultimate guide so you can stay on track. Then hit the road feeling like you can conquer the world because the food is no longer holding you back.