What is diet mindset? 
What is known as "Diet mindset" is the collections of beliefs and assumptions you were taught about health, beauty, body size, more specifically, what it means to be a woman. In fact, these beliefs we have about what it means to be a woman influence how you feel about your body and ourselves in general. These thoughts we have about our bodies and ourselves then create the actions and behaviors we have, just like going on a diet.
Diet Mindset versus Non-Diet Mindset
The first place to start is to determine if have acquired a diet mindset. Let's look at a few statements. For each bullet we have outline a diet mindset version versus a non-diet mindset version. Which one relate mostly to your current way of thinking?
Do I deserve this food? versus Am I hungry?

How do I look? versus How do I feel?

How much do I get to eat today? versus How much food do I need right now?

I exercise so I can eat versus I eat so I can move my body.

I can eat whatever I want on my cheat day versus I can to eat whatever I want any day.

Food is my worse enemy, and my favourite joy versus Food is just-food.

I ate awful this weekend versus I had a great time this weekend with my family.

What other people say about me is very important versus What I think of myself determines how I feel about myself.

My worth is determined by my weight versus I'm born worthy.

I need to be smaller to be attractive versus My sexy is in my attitude and how I carry myself.

To feel better, I need to lose weight versus The way to feel better is to think better thoughts.

I'll be more confident when I lose weight versus Confidence is in my mindset, not in my weight.

My weight determines my health versus My health-promoting behaviours influence my health

As a woman, it's my responsibility to maintain my beauty versus As a woman, it's my responsibility to impact the world with my actions.
Of the 14 statements how many where diet mindset versus non-diet mindset?
How do we acquiere a diet mindset?
We acquiere a diet mindset by dieting. Over the repeated failure of diets we change our ways of thinking about food, exercise and our body image.
Looking at the image below does it represent your experience of dieting?
What does mindset mean?
The word mindset has become a buzzword, and with any buzzword, it runs the risk of losing its meaning. There's a lot of BS going around mindset. Many people talk a lot of fluff about mindset and promising BIG results with quick tips/ hacks. And the anti-diet culture isn't spared from this. lol!
The truth is most people do not have a clear understanding of what mindset truly means; they know just enough to see that their mindset is causing them unnecessary pain but not enough actually to change their mindset. They get caught up in these tips and tricks and hacks to change their mindset, and when it doesn't work once more, they think they're the problem, not the tip or the hack… doesn't it sound like diet culture? lol
I'm a very methodical person for my newest listeners, a gift from my professional training in science and clinical nutrition, so we will approach the mindset questions very methodically. Here's we go…
First, let's understand what mindset means.
When you look at the word mindset in google, you get this, define the set of attitudes held by someone. Wikipedia has a much enhance definition- it is a set of assumptions, methods, or notions held by one or more people or groups of people.
So people will refer to mindset as a perspective.
I like to explain it to clients because mindset is a collection of all of the things you believe, that you assume or that you have been taught. These can be conscious or unconscious, but these beliefs, assumptions or taught notions that influence your feelings, the approach you have in the situation, how you meet your needs, and ultimately the actions you take, therefore the results you create in your life.
The best diet mindset analogy 
This is the analogy I used with my clients in all of our programs. Our mindset is like a pair of glasses you wear 24/7. It's the lens through which you see and experience life.
Mindset is the lens through which you see and experience life
Mindset is not just the beliefs, assumptions you think; it's how you feel due to what you think, the actions your take and the result you experience are all under the umbrella mindset. This is really important for us to understand why we need to be addressing it all together.
To be addressing your mindset, you need to be looking at your thoughts, emotions, behaviors and result with it.
Why does our mindset about health matter so much?
Mindset matters because your mindset will influence and ultimately determine what you do, what you don't do, and how you act. Moreover, how you react will determine your current opportunities and future opportunities. 
It's going to determine your relationship, financial state, state of your family, health, and literally everything in your life.
Let's look at an example – talking about diet mindset. Let's say that you believe that as a woman; your body size defines you, so you need to maintain a normal body size or need to make sure you stay within a "normal" body size range. How is the mindset going to influence as you interact with your body? Are you going to try to control your body size? What is going to be the thoughts you have about your body? Are you going to interact with food differently? What about exercise?
If you are on the other side, your belief that as a woman, your body size doesn't define you, how is the mindset going to influence as you interact with your body? Are you going to try to control your body size? What are going to be the thoughts you have about your body? Are you going to interact with food differently? What about exercise?
Either side of this mindset spectrum will influence how you interact with your body along with many other aspects of your life: relationships with your partner, intimacy, where and how your spend your money, your views on body diversity, racism, feminism.
Nutrition Mindset
Here's another example: a nutrition mindset. If you believe that there is good and bad food, you'll feel terrible about yourself when you eat bad food because you made a bad choice; therefore, you are a bad person. The same goes for other people who eat what you believe to be bad food. You will think of them as less than. This will impact how you engage with others, how you spend your money on food, the activity you take part into.
On the other side of the nutrition mindset, if you believe food is just food, you won't assign yourself a value when making food choices or you won't judge others for their food choices. 
One crucial distinction is that mindset isn't about what is true or not in your life. It's about what is possible about this situation and how you respond to it.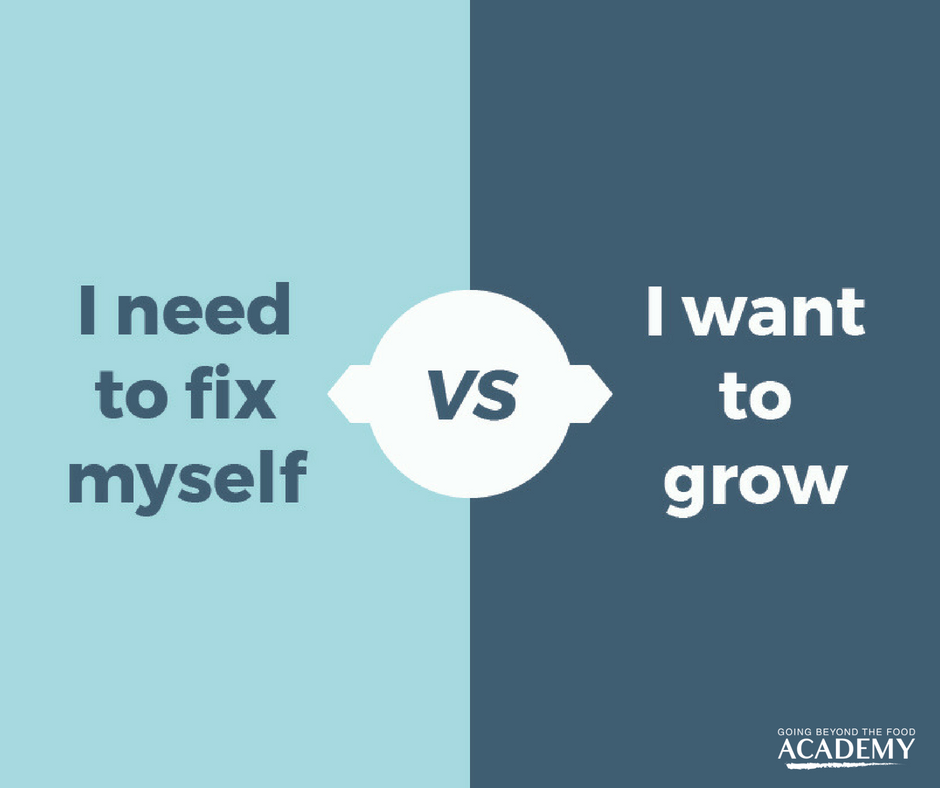 How do you change your mindset
I know you'd like to have a non-diet mindset versus diet mindset. How do you begin this process of changing your mindset?
I teach a specific framework to help women change their mindset. That methodology is called Self-Coaching. Self-coaching is a framework that guides you on how to determine which beliefs/ assumptions/ thought is creating the actions you have and the result you produce. You learn a step by step process to coach yourself to a new mindset.
Self-coaching is based on CBT, Cogntive Behavioural Technique but taught in a way that you can apply to yourself.
There are 3 steps in Self-coaching in how we teach it:
Awareness of what is: How you think and how it impacts your life.
Empowerment: Once you fully understand how your current mindset creates your actions, behaviours and the results in your life. Do you want to change it? You decide.
Transformation: Develop new thoughts, new beliefs that will create, with time and practice, your new mindset.
Self-coaching is a framework that can be applied to any sector of your life: food, weight, relationship, money, career…
We teach you the self-coaching framework via video tutorial, worksheet and exercises, and we coach you to apply it to diet mindset. You learn, practice the framework, and submit your self-coaching exercises to a coach for guidance. We help you with accountability check-in and passionate community to practice, so you adopt your new beliefs and mindset.
That's what we do in Conquer and Thrive. I'd love to coach you if you want to change your mindset.
Next Step to Change the Diet Mindset! 
If you are trying to lose weight and don't know where to start to ditch the diet mindset, take this next step to get started!
Subscribe to The Beyond the Food Show podcast to get a free weekly audio episode where you will feel empowered to take control on your life and live confidently.
Join us inside our Conquer and Thrive membership community to get started with ditching diet mindset, learning intuitive eating and liberating your body image!
Can't wait to meet you!