Undieting our lives
together
OUR WHY
Women have far more power today than at any time in the last 200 years: yet we aren't free.
It's estimated that by the time most women hit their 45th birthday, statistically speaking, we've tried 61 diets, plans, programs, detoxes, cleanses, meal plans, regime, an eating system. In an unending battle to shrink our body and, hopefully, change our life.
Here more facts:
✔️The average woman spends an equivalent of 31 years obsessing about changing her life via changing her body.
✔️Only 4% of the women in first world countries would consider themselves 'beautiful.'
✔️75% of women reported attempting to control their weight through dieting while 22% dieted "often" or "always,"
✔️95% of diets fail as dieters regain their lost weight in 1-5 years.
✔️As of 2011, almost half of American girls between 1st – 3rd grade wanted to be thinner, and 5-% of 9-10-year-old girls were dieting.
Women aren't free. We are oppressed by diet culture.
We live in a world dominated by diet culture, and its relentless pressure to be thin keeps women busy away from changing the world by keeping women spinning in a cycle of self-doubt, shame, and perfectionism.
OUR  MISSION
We want to fix this. When women liberate themselves from diet culture, we become the living example that women are more than their body to the young generation of women.
We help you undiet your life. We teach how to take back control of your mind, food and body.
Every time you choose to trust your body, every time you choose to respect your body you are taking a step forward towards your own power and the one of every women.
Stopping dieting is a revolutionary act. 
The Going Beyond The Food Method™️  
The Going Beyond The Food Method™ is a proprietary methodology created by me Stephanie Dodier Clinical Nutritionist & Certified Intuitive Eating Counselor.
The Going Beyond The Food Method ™  is an integrative and countercultural approach to diet culture. It an integrative and comprehensive process to helps women make peace with their bodies and food.  The Going Beyond The Food Method™️ is 3 pillars:
Mindset – The Self-Coaching Project
Learn how to coach yourself into positive thinking and confidence, and see the flow-on effect in your actions and habits.
Food – The Intuitive Eating Project
Learn how to make friends with food and eat in a way that feels right to you.
Body Image – The Body Neutrality Project
Learn how to change the way you see your body and choose liberation over "love".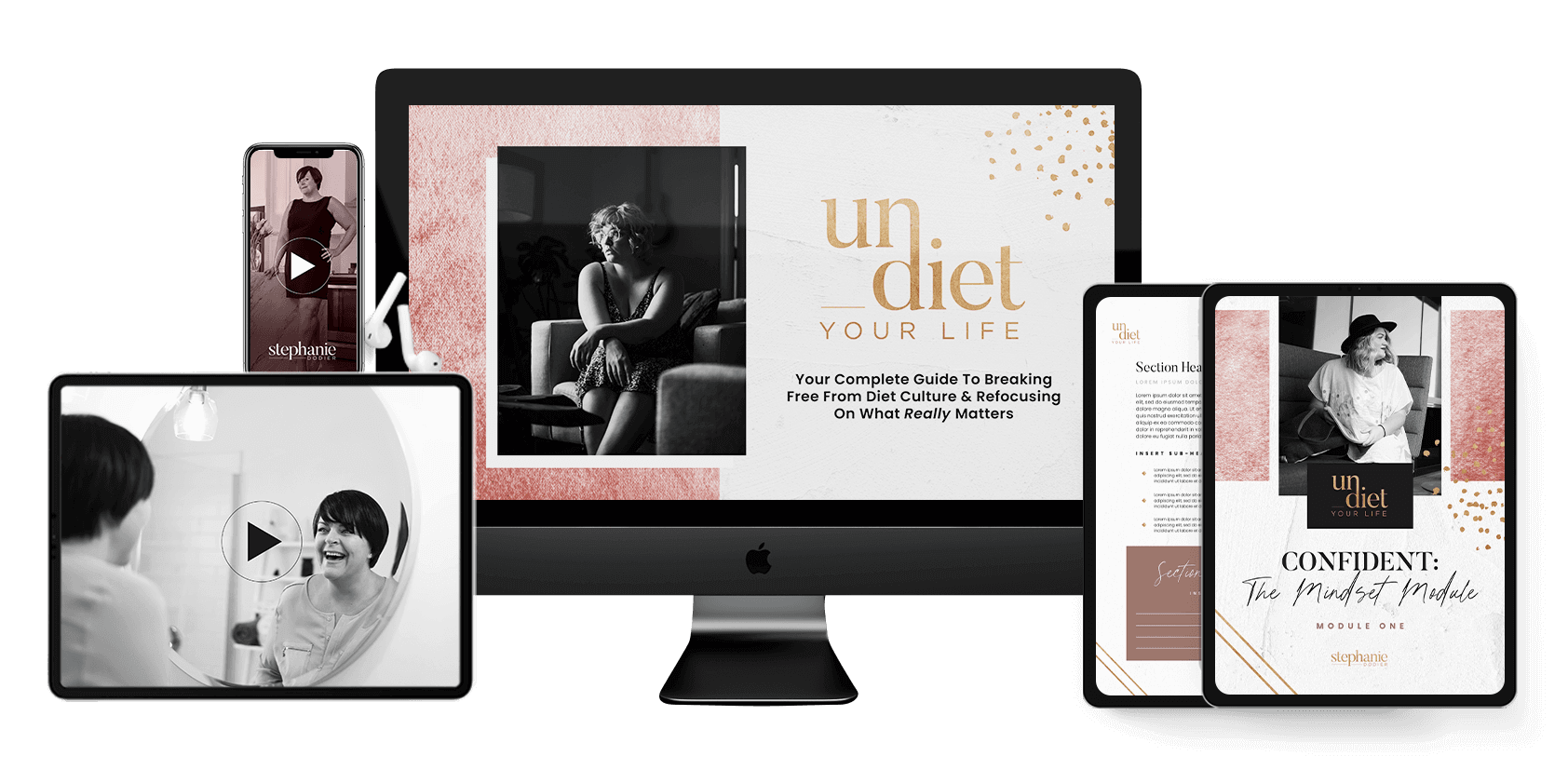 Undiet Your Life is our signature coaching program that delivers the Going Beyond The Food Method
™️

.
This is the first program to….
GIVE YOU AGENCY OVER YOUR OWN DECISIONS
We're here to build you up to make decisions about your life, your body, and your health, because we know you are smart enough to know what's right for you. This is not another meal plan, food list and meditation program – we're here to teach you what you need to know for the rest of your life. Basically, our goal is to work ourselves out of a job!
LIBERATE YOU FROM THE IDEA THAT YOU HAVE TO LOVE YOUR BODY
The idea that women must love their body in order to make peace with it is a huge part of the problem with diet culture because it keeps women stuck in the belief that we are our bodies. This course will take you from "body positivity" to "body neutrality" as you learn to view your body as the vehicle through which you experience life.
PROVIDE A BESPOKE, IN-BUILT SUPPORT SYSTEM
Reclaiming your mind, body, and soul as they were before the diet industry intervened is liberating work, but it's not easy to do on your own. That's why this program incorporates a unique system that ensures you'll have all the support you need when you need it – and we know it works, because we've been there. This program was created by a woman who has lived in a large body her whole life, and run by coaches of all sizes and backgrounds who have found liberation from their own decades-long diet struggles. You don't have to figure it all out on your own.
The end result?
Never again obsess about your weight.
An unshakeable level of confidence.
Feeling good in your skin today!
Copyright © 2023 Stephanie Dodier. All Rights Reserved.