How to stop emotional eating ? This is by far the most frequent question I receive.
In this article we will cover everything you've ever wanted to know about emotional eating. Let's get started!
What is Emotional Eating? 
When you eat in response to feelings or you use food to relieve negative emotions, you are emotionally eating. It's eating for reasons other than providing your body with the nourishment it needs.
Emotional eating is prevalent in women. It is normal because we are emotional beings with an emotional relationship with food. It started from the day we were born where we learned that whenever we wanted to get fed, all we had to do was cry. It continued during our childhood years where food was used for celebrations and rewards such as birthday cakes or ice cream for good grades.
Why do we emotionally eat?
We eat to protect ourselves against negative feelings and emotions. In that regard, eating is a form of self-preservation. What could be more natural than that? For me, emotional eating is also what makes me put on pounds, even up to this day. I eat when I'm not hungry because I want to soothe a feeling. However, the problem  in the past was that I wasn't aware that this behaviour had a subconscious meaning.
The image below best illustrates the process we go through when emotional eating happens to us. The problem is that we aren't fully aware it happening and we fail to recognize what is triggering us to eat emotionally.  It starts with a trigger – a person, an incident, or a situation that causes us to feel certain sensations or emotions in our body. Because of a lack of understanding and awareness, we tend to use eating to numb, suppress, or avoid the emotion.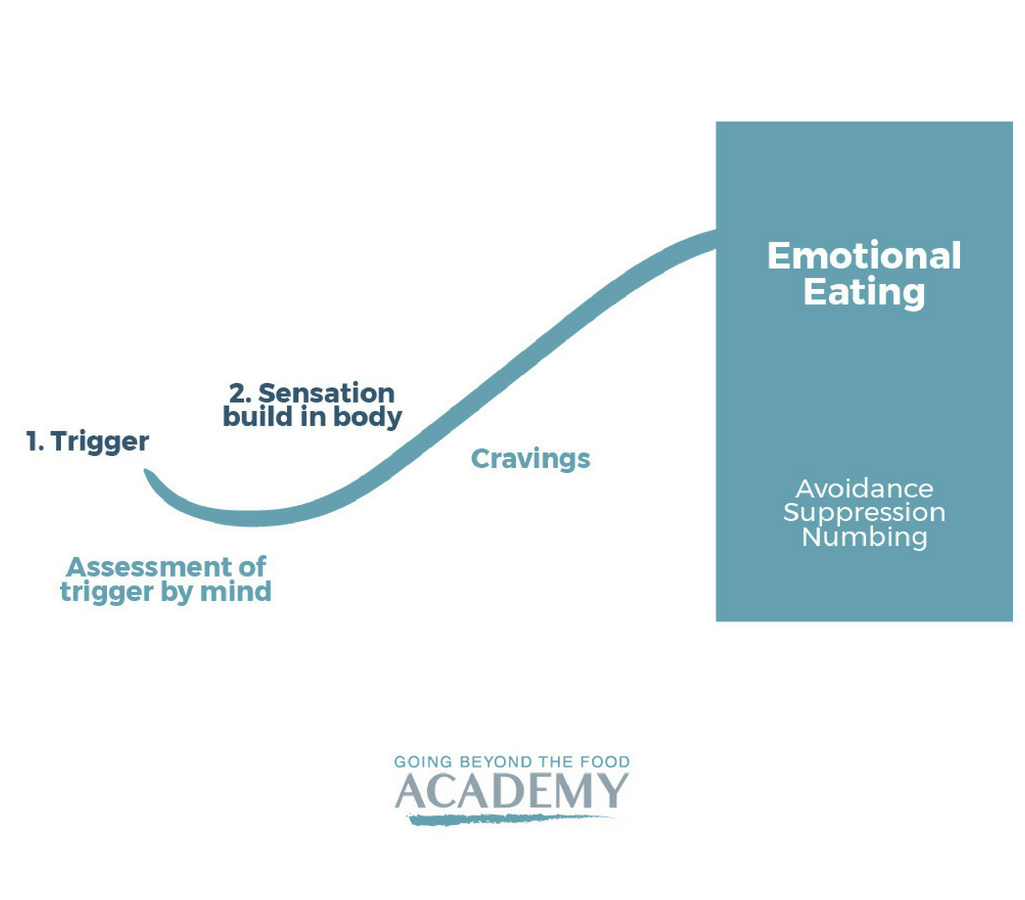 I experienced emotional eating too!
When this used to happen to me, I usually thought that there was something wrong with me and that my body was defective because it craved food too often. I thought that I was weak and that nobody else ever did this.
Now, I'm glad to know that I was wrong and there is a way of healing this kind of relationship with food.
Emotional eating is not a habit to be broken, not a disease to be treated, not a lack of discipline or weakness to be strengthened, or a way that your body is letting you down. It is a process in which your mind and body is trying to communicate with you.
Your body is trying to tell you that something is out of balance.
Why the Traditional Approach to Emotional Eating Doesn't Work
We need to be aware that emotional eating happens to most of us. This phenomenon can strike at any time when you find yourself eating for reasons other than satisfying actual physical hunger. But how do you stop emotional eating?
Like most women, I used to believe in the traditional approach to overcoming emotional eating and food cravings by practicing self-discipline and determination to avoid food, just like a restrictive diet. However, no matter how much restriction I imposed on myself, I still turned back to emotional and binge eating. So why does the traditional approach not work?
The #1 reason why the traditional approach doesn't work is because we do not having the right understanding of what emotional eating really is. This is the problem with dieting –  diets don't work because they focus on food and restriction which move us further away from listening to our body.
The Process to Stop Emotional Eating
You need to be aware that overcoming emotional eating is a process.
The first step in the process is to stop fighting emotional eating and start listening to your body (part of "The Crave Cure Formula" explained later in the article). Instead, you need to manage your emotions in a way that doesn't involve food.
How do you do that? For one, you must listen to what your body is saying and understand what your body really wants. By doing so, you will be able to determine if you are feeling a need to eat as a result of your body's natural physical hunger or just an emotional hunger.
Emotional Eating versus Physical Hunger
To learn how to stop overeating emotional eating, you must become comfortable in distinguishing how physical hunger differs from emotional hunger.
Here's my quick way: physical hunger is in your stomach and you can feel it. Emotional hunger is sudden, in your head, and most of the time associated with guilt and shame. The chart below will help you tell how physical hunger differs from emotional hunger. I suggest printing it and posting it somewhere you can quickly refer to as you begin your journey to solve your food cravings.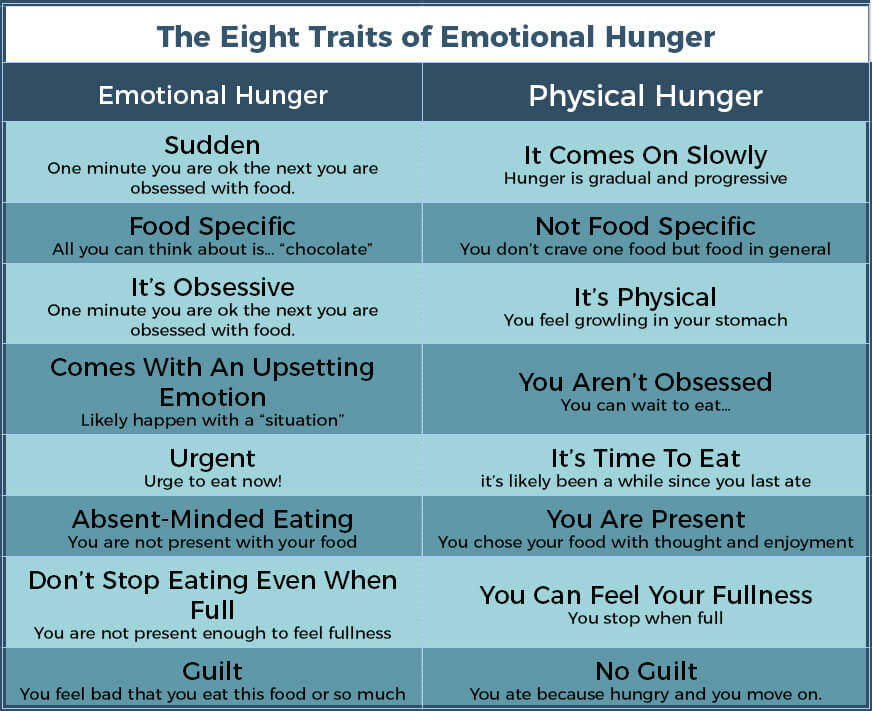 Once you've determined what you are feeling is emotional hunger rather than physical hunger, you will be able to stop and think twice about eating. It will be very difficult at the beginning because what you are experiencing is an urgent and obsessive craving for food. The only way to stop this craving is to heal your emotions.
To do so, you must first find out and understand the things or events that trigger your emotions.
How to Recognize Your Emotional Eating Triggers
Your emotional triggers are the reasons why you suddenly want to eat without feeling hungry that can be associated with a certain situation, place, or memory that bring on undesirable feelings.
Emotional eating can also be triggered by something that promotes positive feelings like a happy event, holiday celebrations, or an accomplishment in life.
In order to stop binging and emotionally eating, you must identify what your emotional triggers are.
The 5 Types of Emotional Eating Triggers we struggle with:
Stress– Stress makes us hungry because of physical reactions and not just mental. When you are stressed, it leads to high levels of the stress hormone, cortisol, which triggers cravings for salty, sweet, and fried foods — foods that give you a burst of energy and pleasure. When you give in to these cravings, you are stress eating.
Boredom or feelings of emptiness– Eating keeps us busy and we sometimes eat to give ourselves something to do, relieve boredom, or even fill a void in our life. In the moment, it fills you up and distracts you from underlying lack of purpose and dissatisfaction with our life.
Childhood habits– Did your parents reward good behavior with ice cream, take you out for pizza when you got a good report card, or serve you sweets when you were feeling sad? This emotionally based childhood habits often carries into adulthood. These habits may also be associated with memories such as family gatherings, specific food served at a holiday function, a meal or dessert your mom used to cook for you.
Social influences– Getting together with people for a meal is a great way to relieve stress, but it can also lead to overeating. It's easy to overindulge simply because the food is there or because everyone else is eating. You may also overeat in social situations out of nervousness. Or perhaps your family or circle of friends encourages you to overeat, and it's easier to go along with the group.
Uncomfortable emotions– Eating can be a way to temporarily silence or suppress uncomfortable emotions such as anger, fear, sadness, anxiety, loneliness, resentment, and shame. For me, rejection or fear of rejection was a big deal and I numbed myself with food to not feel uncomfortable.
The #1 Strategy to Stop Emotional Eating 
I hope that you've gained knowledge on what emotional eating is and why we are triggered to doing it. Traditional diets wont help you overcome this so I developed a program to help women like you and me to put an end to emotional eating called Conquer Emotional Eating. This online program is designed to provide you the education to understand and transform why you emotionally eat and to put a stop to being the victim of your food urges. Life changing!
Next Steps to Stop Emotional Eating!
Additional Resources I have for you include:
1. Begin your journey in self-awareness and understanding what stands between you and your success in our "So… you want to lose weight?" Masterclass This 2-hour Masterclass will clearly outline why you self-sabotage.
2. Subscribe to The Beyond the Food Show podcast to get a free weekly audio episode where you will feel empowered to take control on your life and live confidently through learning to trust and respect your innate body wisdom.
3. If you haven't done so yet… be sure to join on Beyond The Food Community and stay connected with our Community of women just like you! I will also send you complimentary monthly coaching emails and any program offers coming up.
 Can't wait to meet you!