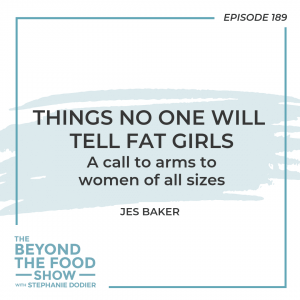 On today's episode, we talk about how to liberate your body
Only 4% of women will call themselves beautiful.
That statistics just broke my heart… The truth is I was part of that 96% not finding themselves beautiful for most of my life. To be real it's almost an act of courage to accept your body in today's world.
One of the most powerful agents in liberating myself from body shaming has been the studying of the concept of patriarchal beauty standard. The historical and economic reasons behind where we are with women's body expectations in the year 2000. Fascinating and liberating experience and that's what I want to share with you today.
Our guest today is Jess Baker, an author, international speaker and blogger with a background in mental health where she's worked as a Psychosocial Rehabilitation Specialist. She described herself as an unabashed fat chick and a proponent of harnessing the magnificent power of shame resilience!
What you'll learn listening to this episode:
Why only 4 % of women will call themselves beautiful

How body insecurity hinders personal and professional productivity:

What are the p

atriarchal beauty standards and how they affect you today

Why we must engage in a holistic perspective of health to truly address the issue that is causing suffering

How using the word FAT is powerful act towards body acceptance
Mentioned on the show:
Free Body Acceptance Challenge
Join the Beyond The Food Community and receive our free audio training
Exercise Trauma podcast episode
Connect with our guest
Book: Things No One Will Tell Fat Girls