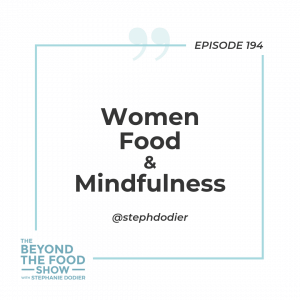 On today's episode, we talk about women, food and mindfulness
One of the most impactful tools for reactive eating behavior is mindful eating.
One of the most powerful tools for reactive living (depression/anxiety) is mindful living.
Mindfulness is the basic human ability to be fully present, aware of where we are and what we're doing, and not overly reactive or overwhelmed by what's going on around us and within us including food. It's something we have within us.
On the other hand, it is not what we think but all about experiencing. It's not about just being attentive; it's about being present in a special way. It is curiosity versus judgment. Nor it's about being perfect because it's against human nature. Moreover, it's not about stress reduction… Why? Because mindfulness is about our whole lives, of which stress will always be a part. Rather than remove stress, it teaches us to change our relationship with everyone and everything in our lives, including the stressors… Changing our relationship to stress including stress we experience dealing with food.
Women Food & Mindfulness is an episode that has the power to change your relationship to food in a very easy way… I'll share the Going Beyond The Food Method way to become more mindful.
What you'll learn listening to this episode:
What is mindfulness and what it's not!
Link between mindfulness and food
Why women could benefit more from it than men
How to be more mindful in your life
Easy way to incorporate mindfulness practice in your life
Mentioned on the show:
Grab your FREE guide to Intuitive Eating