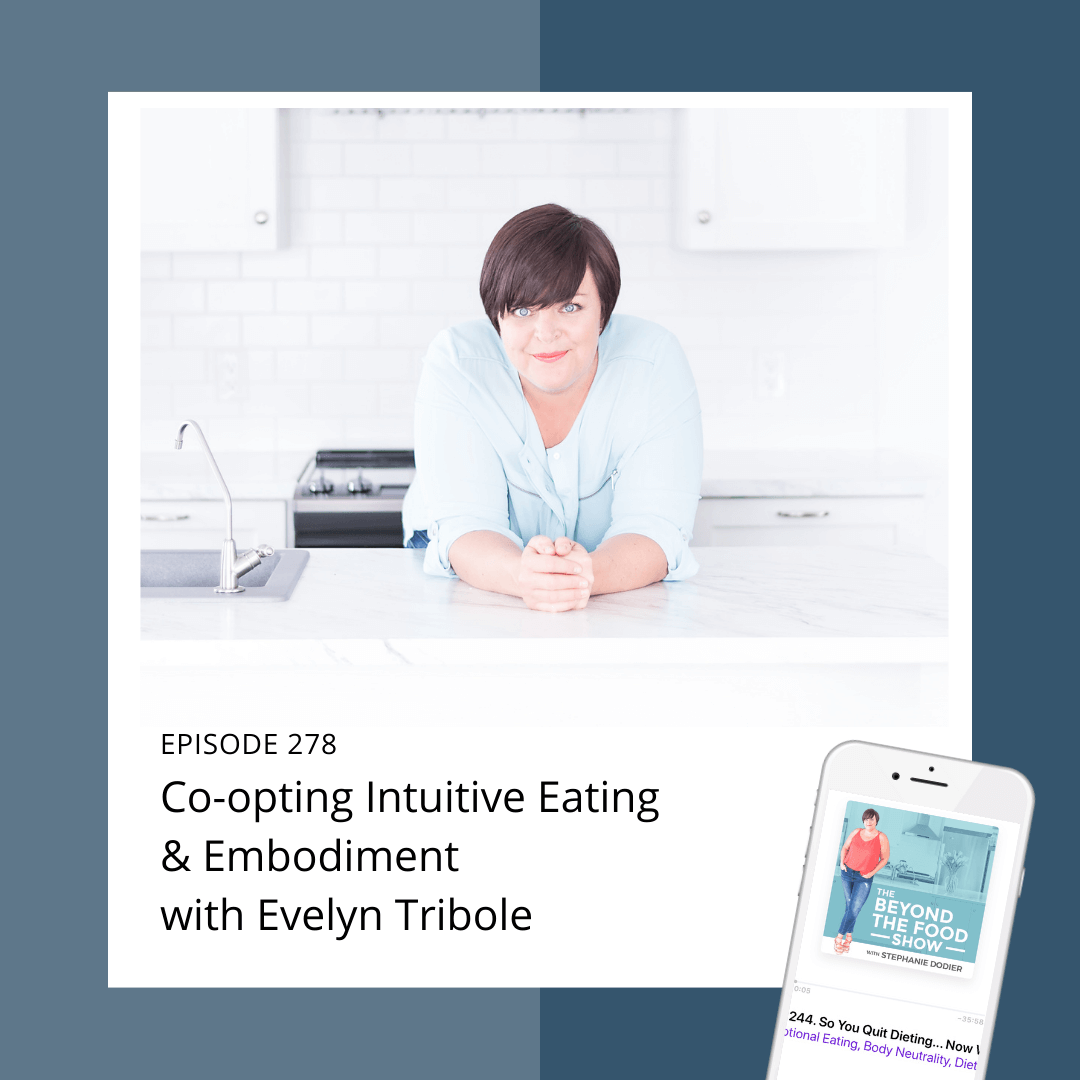 Co-opting intuitive eating is frustrating, problematic and dangerous, but it's not a surprise.
Intuitive eating is growing in popularity and growing fast. Take a look at the google trend search over the last 5 years.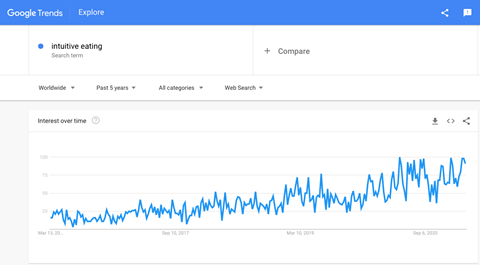 It's clear: people are starting to be done with dieting. That is to say, people want out from diet culture and are looking for options.
Certainly, the weight loss & wellness industry are paying attention. For instance, just think of Weight Watcher rebrand in 2019 to WW-Wellness that Works.
Yet another sign of the growth in popularity of Intuitive Eating is when "popular" diet gurus are bluntly co-opting intuitive eating in their weight loss books without even an ounce of shame.
In fact, I see the same growth in my professional training program. The waitlist is consistently 150% to program capacity for the last 12 months and no sign of stopping either.
Spotting Fake Intuitive Eating
I'm honored to welcome Evelyn Tribole to our podcast Going Beyond The Food Show to answer this question: How can we spot when diet culture is co-opting intuitive eating?
Evelyn Tribole is a registered dietitian and the co-creator of Intuitive Eating. Moreover, she has written Intuitive Eating (co-author with Evelyn Resh). Her upcoming book, Intuitive Eating for Every Day: 365 Daily Practices & Inspirations to Rediscover the Pleasures of Eating will be available on March 16th, 2021.
What you'll learn listening to this episode:
Evelyn's take on co-opting of Intuitive eating by diet culture 

Why intuitive eating is not a trademark

Your best defense against fake intuitive eating

Why embodiment is essential to becoming an intuitive eater

The reason why the act of dieting is a trauma

Why Evelyn wrote her new book Intuitive Eating For Everyday
Intuitive Eating for Every Day by Evelyn Tribole
Evelyn's new book Intuitive Eating for Every Day will be your ally and solace against a world steeped in diet culture. It will illuminate and encourage your Intuitive Eating journey, with 365 practices and inspirations to help you:
 

Nurture

the Ten Principles of Intuitive Eating with 52 Weekly Intentions

Connect

with your body in the here and now with Grounding practices

Cultivate

gratitude for different aspects of nourishment with Meal Meditations

Identify

self-trust disruptors and awaken inner knowingness

Strengthen

your mental, emotional, and physical health by setting boundaries

Reflect

on emotions and cravings

Practice

 self-compassion, body appreciation, and self-care
A 365 days companion with its daily readings—read on their own or as a companion to the author's best-selling Intuitive Eating—make it easy to integrate this revolutionary program into your life. 
Intuitive Eating for Every Day offers constant support to help you make peace with food and reclaim and reconnect with the pleasure of eating. Evelyn's new book is the perfect companion in a world entrenched in diet culture that will continue to co-opt diet culture.
Mentioned on the show:
Evelyn's new book- Intuitive eating For Everyday  
Evelyn's first presence: Episode 186- What is Intuitive Eating?
Non- Diet Mentorship Program for Health Professionals
Connect with our guest: