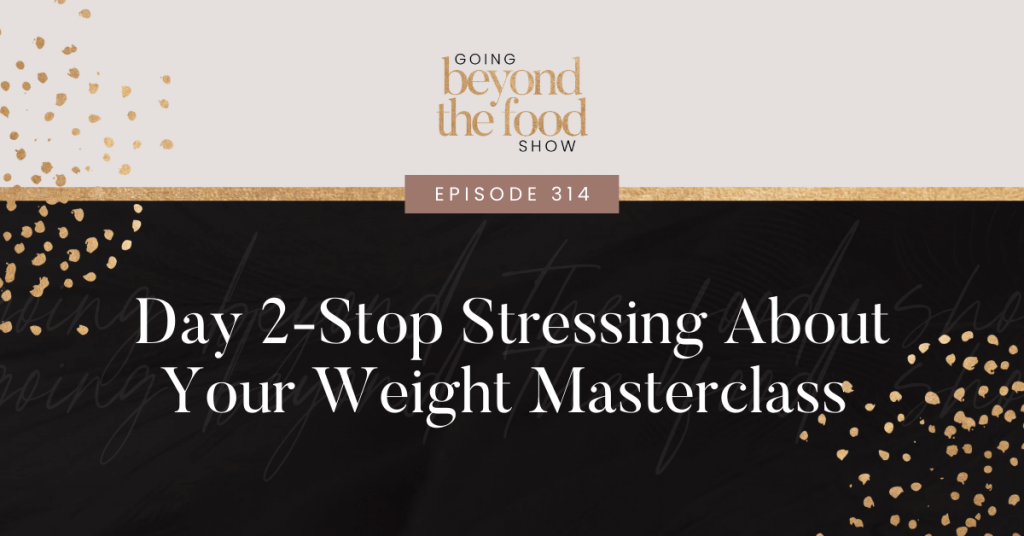 On Day 2 of the masterclass, learn how to stop stressing about your weight by learning how to create confidence.
Creating confidence is as easy as thinking confident thoughts.
Now as soon as your brain heard that, it started to resist. Moreover, your brain will tell you that it can't be that simple, but I'm telling you it is!
You are going to have to sell your brain on this new perspective to stop stressing about your weight. The path to thinking shitty thoughts about your weight and body is well established. That is to say, carving out a new path to confident thoughts is going to be met with resistance.
The key to moving through this resistance is reclaiming authority over your life.
Stop Stressing About Your Weight with Self-Authorization
Listen, as women we have been socialized to not be in authority over our own life. We are socialized to be the polite, modest, quiet, agreeable "good girl". We've been taught to conform at all costs and we have found safety in this conformity.
We've learned how to hustle our way into body compliance which gives us a false sense of confidence when we're "successful". But what you felt wasn't true confidence. Confidence is never shaken by the size of your body. What you felt was safety (i.e., "I'm compliant, now I won't be judged").
Confidence is created by how you think about yourself, including your body and weight in the solace of your own mind.
If you want to stop stressing about your weight and body, you have to change how you think about yourself. This is how you create unshakeable confidence that doesn't change with your body size.
You need to give yourself permission to think differently about your body and weight… this is called self-authorization. I teach you the process of self-authorization on Day 2 of the Masterclass.
What you'll learn listening to this episode:
How to use your thoughts to create confidence about your body
Why you need to sell your brain on this new confident perspective
The difference between safety in body compliance versus unshakeable body confidence
How to self-authorize new thoughts about your body and weight
Mentioned in the show:
Register-Stop Stressing About Your Weight 3-Day Masterclass