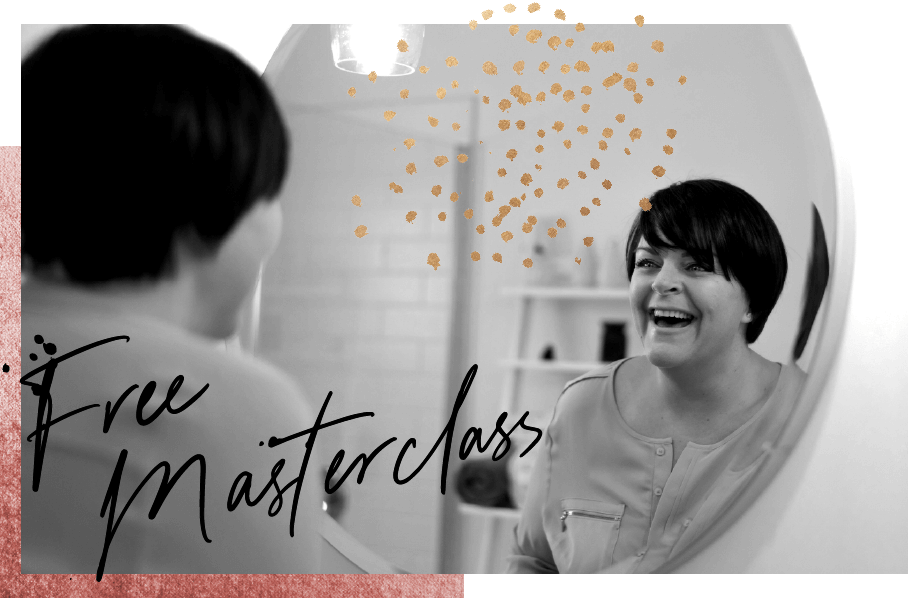 Free Live Masterclass
The Rebellious Eating Solution
Stop Restricting. Choose Peacefully.

Learn how to ditch the rebellious eating behaviors that drag you down…
Even if it seems like you've been on the restrict/binge roller coaster forever and you're not sure how to get off.
Join me for this FREE masterclass on Wednesday October 6th 2021,
and discover everything you need to know to go from hunger and self-hatred to lasting liberation.
Recording will be sent if you cannot attend live!
Date:
Wednesday 6th October 
Diets don't just suck –
they'll suck the life out of you if you let them.
So before you start another restrictive eating plan, there's something you should know:
There's a reason why diets don't work – and that reason is much bigger than you. 
Women have spent years being indoctrinated into Diet Culture, a patriarchal system that keeps us on the weight loss treadmill, restricting ourselves just to shift a few unwanted kilograms. 
Then, when restriction doesn't work, we're inclined to feel like it's our fault – but that couldn't be further from the truth. 
The good news is that there is a way to reclaim your sense of self, liberation, and agency over your body – and in this masterclass, I'll show you how.
Date: 6th October 2021
Time: 1pm EST
Location:  Virtually via Zoom
Recording will be sent if you cannot attend live!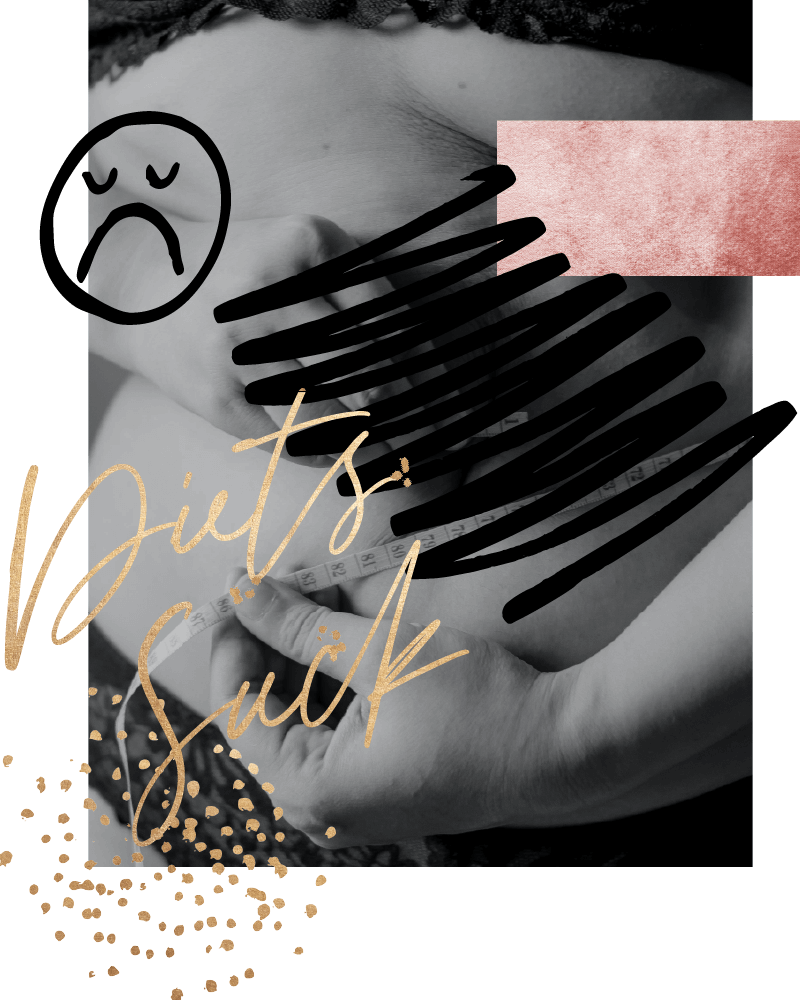 In this masterclass…
You will learn:
1)
What rebellious eating is and how it's holding you back
Overeating, Binging. Compulsive eating or Night time eating these are some of the words commonly used to refer to rebellious eating by the dieting industry (aka diet culture).  To that definition I say bullshit.  Rebellious eating is not about the food and in fact making it about the food is what is keeping us stuck in rebellious eating cycles. I'm going to teach you what is causing the rebellious eating so you can free yourself once and for all.
2)
How rebellious eating is affecting you beyond the food
From an early age, women learn that in order to have and be MORE in life, we need to be LESS and eat LESS- but this is a lie. The truth is, restrictive eating patterns only lead you to rebel against yourself, creating yet more self-hatred and restriction. In this training, I'll show you the solution that has worked for me and hundreds of my clients.
3)
The step-by-step process for finding lasting peace in your body and your relationship with food


Thanks to centuries of patriarchal reinforcement, it's hard to avoid developing restrictive eating habits and even harder to escape the cycle once you're in it. In this masterclass, I'll show you how to take back control in three key steps and leave you with a sense of empowerment that outlasts ALL the diets.
This masterclass is for you if:
You're tired of feeling "out of control" about your eating and around food
You get caught up in a pattern of bingeing and restriction, only to blame it on your self-control and feel even worse
You're done with feeling like sh*t about yourself and your body
Sister, you're a rebellious eater trapped in a vicious cycle – and it's time to
set yourself free
Are you with me?
Register below for the Free Masterclass
We hate spam as much as you do!
Date:
Wednesday 6th October
Location:
Virtually via Zoom
Recording will be sent if you cannot attend live!
Are you ready
to end your battle with food? 
Do you feel excited at the thought of FINALLY doing all the things you want to do, without allowing any hangups about your body to hold you back?  
Wouldn't it be amazing to know, deep down, thatyou are more than enough, just the way you are, and that you no longer have to hustle for your worth? 
Or maybe, like me, you're committed to creating a world where women don't have to fight with their food?  
Whatever your WHY, this masterclass will change your relationship with your own body and allow you to reclaim your autonomy. 
It's all happening on Wednesday 6th October at 1pm EST.
Click the button below to reserve your seat at the table. 
Recording will be sent if you cannot attend live!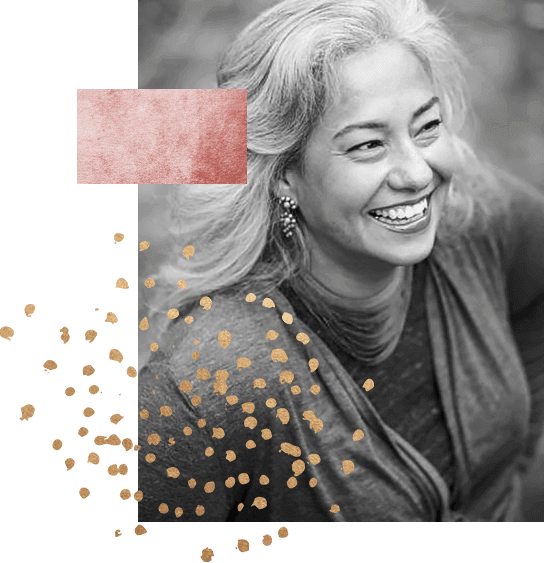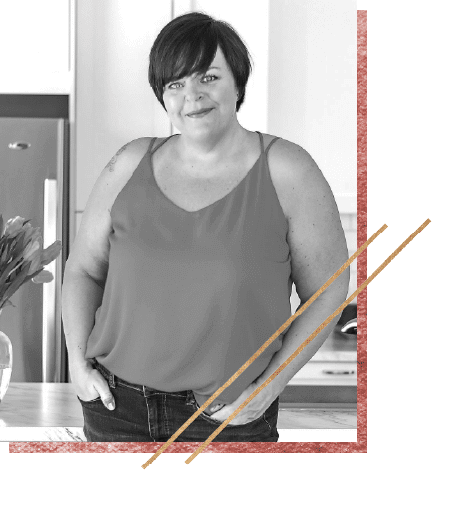 Hey there, I'm
 Stephanie Dodier
Clinical Nutritionist, Certified Intuitive Eating Counselor, and the host of The Beyond the Food Show.
After a 25-year dieting career and 9 years as a clinical nutritionist, I can confidently say that ditching the diets and rebellious eating behaviors was the best thing I ever did. 
If I hadn't, I'd probably still be living in a cycle of fear and confusion, rebelling and rebounding over and over again. 
Instead, I've spent the past 9 years using my degree in Health Science, my lived experience of dieting, and my revolutionary approach to eating to help thousands of women break free.  
I've also dedicated myself to sharing my story and the stories of so many women like me on my podcast, The Beyond The Food Show, since 2016, and the experience has affirmed one key belief for me: 
Breaking the rules of this broken system is the key to creating more confidence, peace, and liberation in your life. 
It's the way to ensure that you never let your inner mean girl tell you that you're not enough or you need to be "fixed". 
If you're ready to invest in yourself (and bankrupt the diet industry), I've got good news for you: 
You are closer than ever before to liberating yourself – and women everywhere – from the clutches of Diet Culture. 


The program content is not a substitute for direct, personal, professional medical care and diagnosis. The information contained within is not intended to provide specific physical or mental health advice, or any other advice whatsoever, for any individual or company and should not be relied upon in that regard.
Always work with a qualified medical professional before making changes to your diet, prescription medication, supplement, lifestyle or exercise activities.