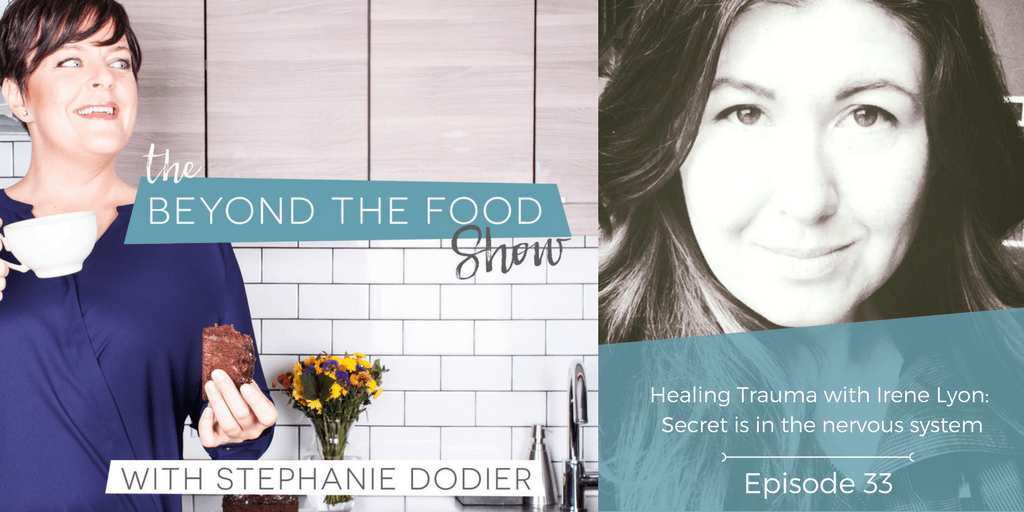 The Beyond The Food Show – Episode 033 – Healing Trauma With Irene Lyon: The Secret is in The Nervous System
Be sure to check back every Sunday and Thursday for a new episode, and head over to iTunes   to subscribe!
To leave an honest review for the podcast, click here . I would appreciate hearing from you more than I could possibly say! Here's a quick tutorial on "How to leave a review "!
In this episode I discuss:
Irene Lyon shares with us that there's a way to be a truly remarkable human being. It doesn't include burnout, anxiety, playing small, compare/despair, or self-sabotage before your next big breakthrough. The secret to this way?is in our nervous system. (That's where all those physical, mental, and emotional blocks that are still holding you back are stuck.) The good news is: they can all be cleared out. Learn the 3 steps to release your power!
Listen right now here:
Subscribe: iTunes | RSS | Sticher
Show Notes
Free 3-part video training series, Healing Trauma: Irene just launched her Video Series on Healing Traumas. You can register HERE.
Leave a review for the podcast:  https://www.stephaniedodier.com/review
Keto Connector program:  https://www.stephaniedodier.com/keto-connector/
Free and Private community: https://www.stephaniedodier.com/community
Got a question you'd like us to answer on healing trauma or anything else? 
Come and post them weekly in our free and private community https://www.stephaniedodier.com/community
 Transcript
Download transcript here 
Sponsors
Take Your Brain to the Gym
In only 8 days, this online meditation training will teach you how to level up your performance and your life through meditation. You will have these powerful stress relieving tools to take with you for life. Click here for more details.
Practice yoga, Pilates, Fitness Tai Chi, Meditation anywhere with GAIA streaming. It's movement at your own pace in your own space. It's your kind of movement and yoga with the best teachers and guides.
1-month trial for $0.99. Sign up here.
***For your information – some links above may be my affiliate links, which means I get a small commission if you click on it and make a purchase. Doing so is no additional cost to you, but helps me tremendously. Your support is SO greatly appreciated, so thank you in advance if you choose to do so***