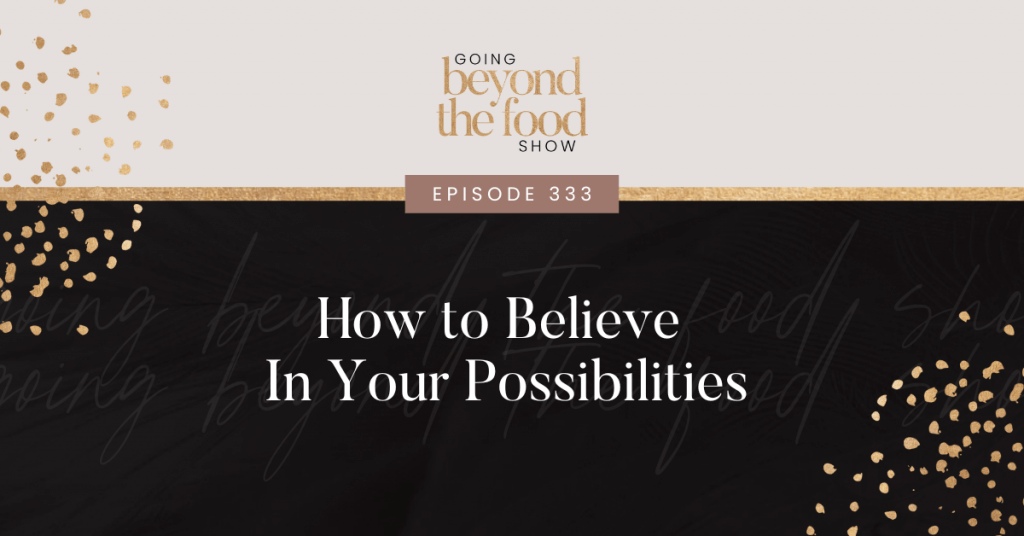 To believe in your possibilities is the way to claim your power back.
What prevents us from having the things we want to have is our thoughts and beliefs.
We know how to believe. In fact, you know how to believe in things that are currently the reality in your life.  
You have the skill set of believing and you've had that your whole life. 
However, the skill set you don't possess is that of believing in the things that aren't in your current reality. This skill set requires you to believe things that aren't reinforced by all the systems around you.
But that is the skill set you need to develop in order to create the life you want to have.
HOW TO BELIEVE IN YOUR POSSIBILITIES
The first step is deciding what you want to believe that is not currently in your reality. That is the first step to living intentionally.
To get started, ask yourself: What is it that I want in my life?
The second step is the concept of self-authorization. Most of us have been living from a place of compliance. Therefore, wanting things outside of these standards is uncomfortable for us. 
We have to authorize ourselves to think outside of the norm.
In fact, when we think about believing something that is currently not in our reality, it means accepting something that isn't true for us right now.
And a belief is simply a thought that you have been thinking for a long time.
HOW TO BELIEVE IN YOUR POSSIBILITIES WHEN IT FEELS HARD
As we do the work of believing new things, we have to sit in the awareness that we are building a belief, and a belief is simply a thought.
It's going to be hard and your brain is going to resist this because to your human brain, it feels like danger. Your human brain wants you to stay who you are.
However, learning how to believe in new things is the most powerful human skill set you can have. 
Ultimately, believing is a choice: you can either believe in your limitations, or you believe in your possibility. 
If you want to live in a world of possibility, you have to authorize yourself to think outside of the box.
What you'll learn listening to this episode:
How to believe in your possibilities

The skill set you need in order to believe NEW things

How to be confident without changing your body

The #1 thing that prevents you from having what you want
Mentioned in the show: