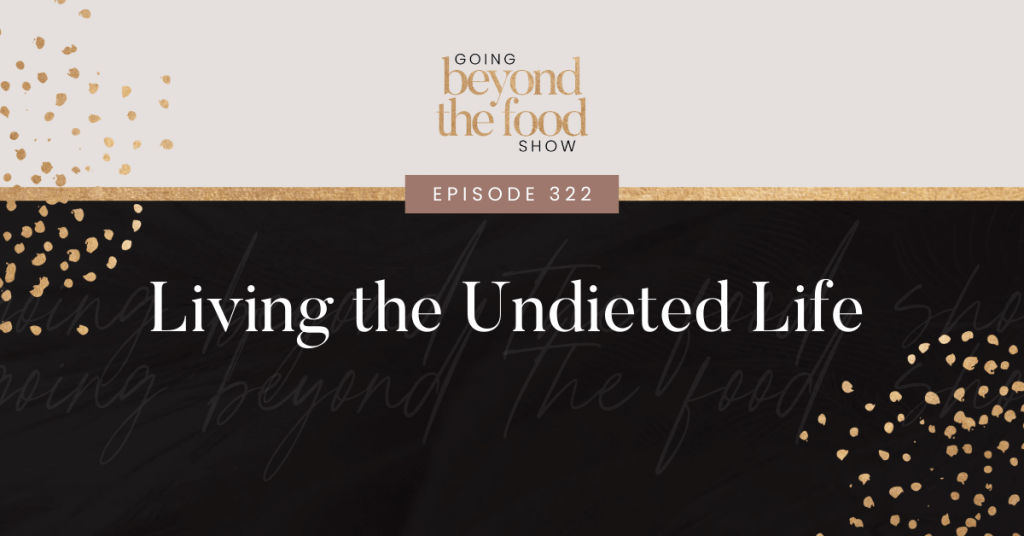 Living the undieted life is the outcome of the Undieting Your Life Coaching Process. Undieting your life allows you to live the life you were meant to live.
After working on your relationship with food and body image, you might be wondering what's next. Perhaps, you feel lost because food and body image are no longer the "problem" to be solved in your life. If you feel lost after working on food and body image, it might be because you now see endless possibilities.
LIVING THE UNDIETED LIFE: NEW POSSIBILITIES
Not too long ago, dieting consumed your life and your thoughts were mostly about food and body image. Since working on these thoughts, you now have the brain space to think about MORE in life. 
I am so proud of you for getting to where you are now. And, it's okay if you don't know what to do with all the possibilities in front of you.
What you're experiencing now, post-food and body image work, is what I call the undieted life.
Living the undieted life means living a free, unrestrained life in pursuit of your desires.
The undieted life is..
When food is freedom;

Food is no longer drama;

Consistently eating food that makes you feel good WITHOUT trying;

When being at peace in your life becomes the norm;

Shifting your focus from authority over food and your body to authority over your life.
Living the undieted life gets to be whatever you want it to be because it is rooted in your freedom. 
There is a sh*tload of opportunity waiting for you on the other side of undieting your life. I know this because I am living and sharing this with you right now. 
Tune into today's episode to learn how YOU can undiet your life too.
What you'll learn listening to this episode:
What happens when food and body image are no longer the "problem"

What it means to truly live the undieted life

The #1 question Stephanie asks herself to access new possibilities in her life
Mentioned in the show: