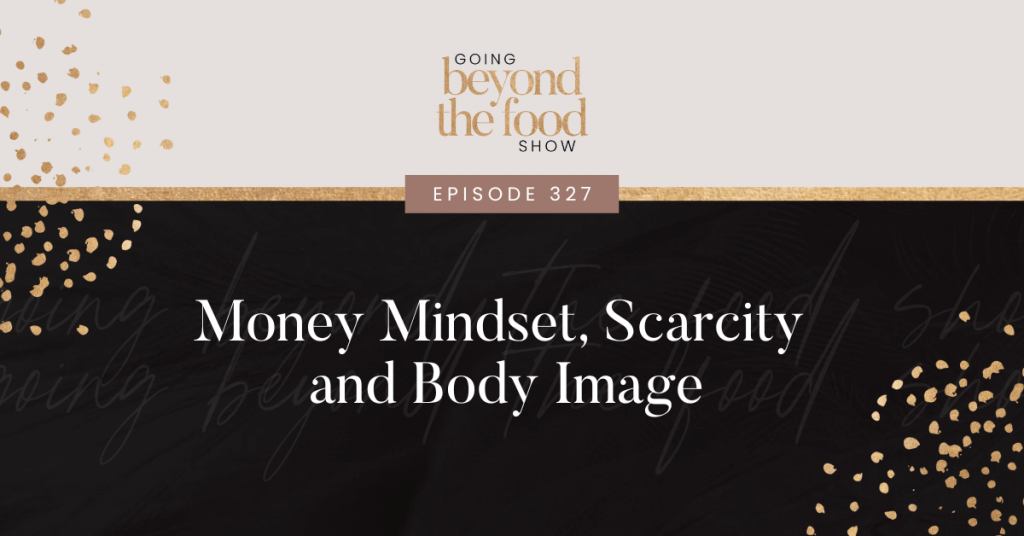 Money mindset, scarcity, and body image have more in common than you likely think…
After making peace with your body and learning to be neutral with your body, money mindset is the next level for most of my clients.
Let's dive in!
MONEY MINDSET, SCARCITY & BODY IMAGE: 9 THOUGHTS THEY HAVE IN COMMON
#1 "I am not worthy of success and abundance."
#2 "Talking about money is bad; asking for money is even worse." or "It's rude to negotiate my salary." or "It's impolite to talk about money."
#3 "Wealth means power and power is bad."
#4 "I have to hang onto everything and prepare because something terrible might happen."
#5 "Having money is selfish."
#6 "There is never going to be enough."
#7 "I have to suffer to succeed."
#8 "To enjoy wealth would be indulgent."
#9 "I'm not making enough money to care about this."
It is 100% normal that you think these thoughts, given your past experiences and the social constructs we live in.
And, if you're waiting to make enough money to do this work – you will never make enough money to do this work.
THE NEW BELIEF THAT WILL IMPROVE YOUR MONEY MINDSET
Try this new belief: "What if money is a force for good for me and for others?"
What if having money was an act of self-care, of self-protection? What if you believed that having money was not only good for you, but also for others?
Consider how your relationship with money would change if you no longer bought into the 9 thoughts above. Imagine what would be possible for you.
What you'll learn listening to this episode on money mindset scarcity and body image:
How your relationship with body image is related to your relationship with money & scarcity

The 9 thoughts that money mindset, scarcity & body image have in common

The #1 new belief you need to adopt to improve your money mindset
Mentioned in the show: