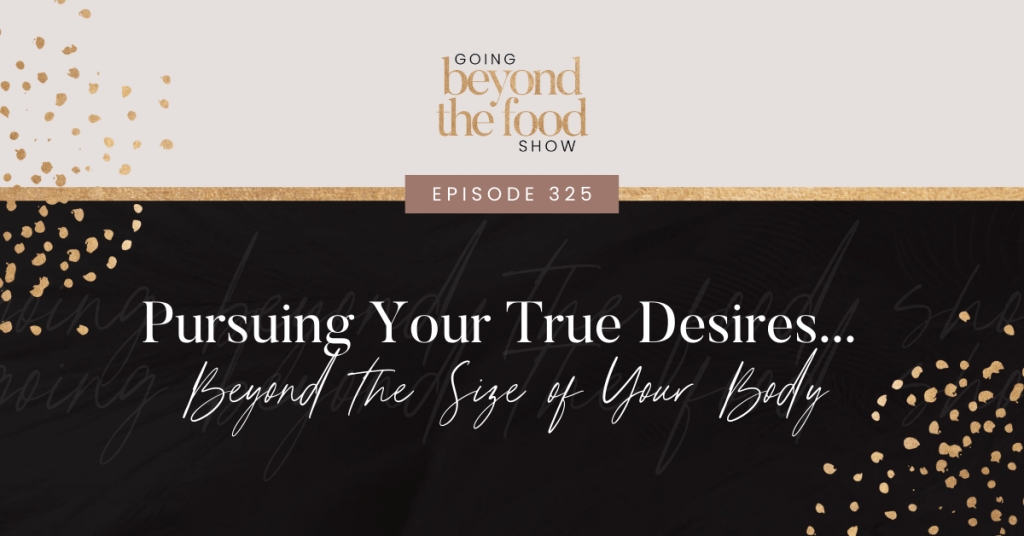 Pursuing your true desires… beyond the size of your body. When you have spent most of your life pursuing a certain body size, the word 'desire' is most likely foreign to you.
TRUE DESIRE VERSUS FALSE DESIRE
True desire is desire operating from a place of love. These desires lead you to be the highest version of yourself – the person you are meant to be.
False desire comes from a place of fear, lack, and avoiding suffering. For example, chasing a smaller body is a false desire. In fact, we chase a smaller body to avoid judgment from others, self-criticism, and shame.
The difference between a true versus false desire is that we are chasing safety and conformity with our false desires.
When we desire from a place of fear, we feel a sense of urgency because not having that desire is unsafe for us. We believe that the only way to be happy and safe is if we get the thing we desire (i.e. a smaller body).
HOW TO IDENTIFY FALSE DESIRES
If any of your desires start with the following:
"I should…"

"I have to…"

"I must…"
… they are false desires, which come from a place of obligation and conformity. Additionally, you will know it's a false desire if you feel like you need it in order to feel happy and safe.
PURSUING YOUR TRUE DESIRES BEYOND THE SIZE OF YOUR BODY
If you have spent decades believing that your false desire is your true desire, this is what you need to do:
Acceptance

. Accept

that what you thought was your true desire was in fact a desire of safety and conformity.
Self-consent

. Ask yourself these questions: "

Do I want to explore my true desires and what they could be?,

" and "

Am I willing to pursue the journey of bringing these desires into my life?

"

Allowance.

Allow these false desires to be there and have compassion for yourself. The moment you bring safety to these desires, you can finally release them.
Remember, us as humans are designed for full expression of the human experience. Which means, honouring your true desires.
WHAT YOU'LL LEARN LISTENING TO THIS EPISODE ON PURSUING YOUR TRUE DESIRES BEYOND THE SIZE OF YOUR BODY:
The power of having a coach to actualize your true desires

The difference between true versus false desires

What to do if you have spent decades believing your false desire was your true desire

The only sure way to get rid of false desires
Mentioned in the show: