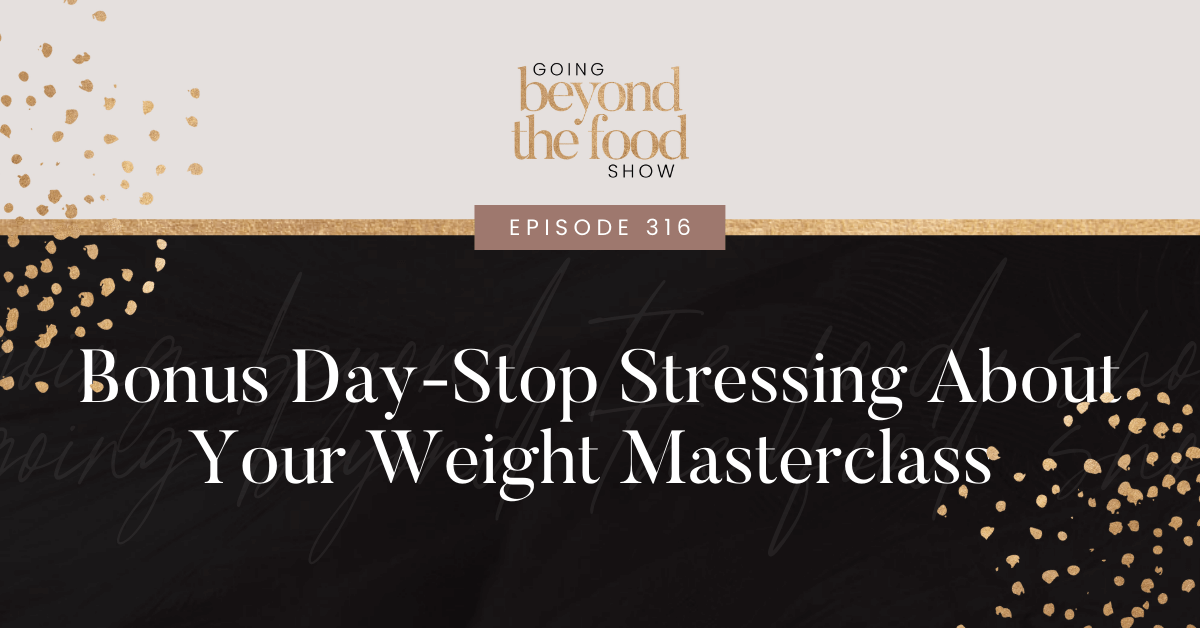 Stop Stressing About Your Weight Masterclass Bonus Day
On Day 4 of the masterclass, learn how to reshape your mind to think confident thoughts and let go of default thinking. 
In this Stop Stressing About Your Weight Masterclass BONUS Q&A session we unpacked some of the most common questions we get asked in Undiet Your Life. Here's what came up… 
Frequently asked questions: From women who want to stop stressing about their weight and create confidence
How do I go out in public without being afraid of running into someone who knew me when I was thinner? 
What if people think I'm lazy when they see I've gained weight? 
How do I catch the thoughts that are so subconscious that I'm not even aware of them? 
How long does it take to change my thoughts after dieting my whole life? 
Who am I if I'm not struggling with my weight? 
How long does it take to rewire my brain so that I don't slip into default thinking? 
How do I not get emotional when I am sticking up for myself? 
If you have these questions too, you are not alone, sister. Recognize that these thoughts and questions are coming from the diet brain. And remember that you have the power to rewire your brain to think confident thoughts instead. 
Fear of Failure: How to stop stressing about your weight and create confidence instead
Underlying many of these questions is also a fear of failure. However, I invite you to consider that your current perspective of failure is likely rooted in diet culture. 
Diet culture will tell you that anything short of "perfect" is a failure. But notice how diet culture always puts the blame on you, instead of questioning the process (i.e., the diet) … 
In order to stop stressing about your weight and blaming yourself for "failing", you'll need to learn how to manage your mind. This includes questioning the process you have followed and repeated up until this point. 
Learning to manage your mind is the most powerful thing you can do to create the unshakeable confidence you desire.
This is exactly what we're doing in the confidence bootcamp. Join us here.
What you'll learn listening to this episode:
How to stop avoiding people out of fear that they'll judge your weight

 

What you can do to catch the subconscious thoughts that are getting in the way of confidence

 

How long it takes to rewire your brain so that you don't slip into default thinking 

 

What it looks like to reshape your identity after dieting

 

How to stand your ground with the authority figures in your life

 
Mentioned in the show: