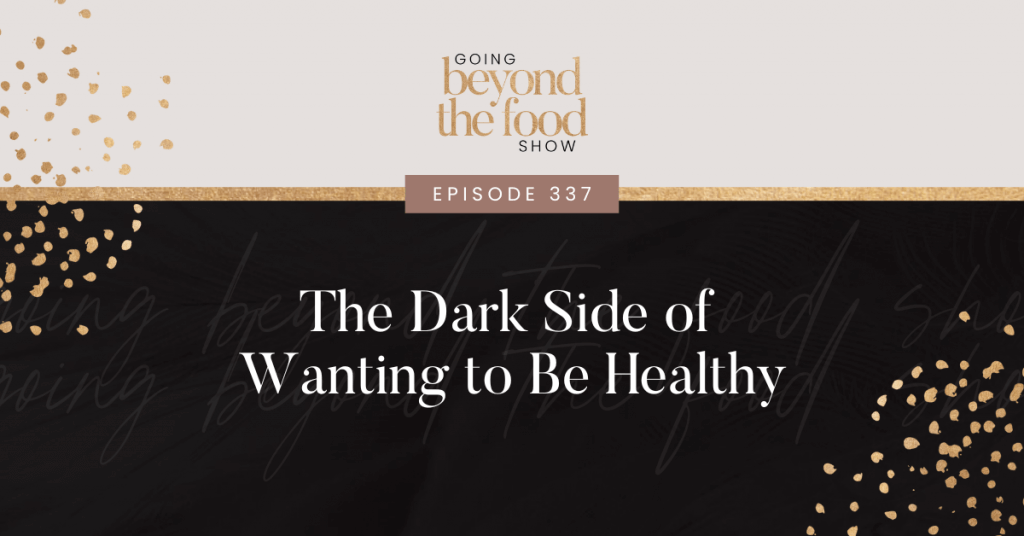 The dark side of wanting to be healthy isn't discussed often, but by doing so, you may find a new perspective on health. 
I hear a few common thoughts when coaching clients that cause the desire to be healthy to go beyond the point of health. 
The most common one is, "I am weak because I'm not healthy." 
Others, such as, "I should be doing everything in my power to be healthy." 
"If I eat well enough, I can control my health." 
"It is my duty to be as healthy as I can." 
"If I can afford the right detoxes, cleanses, and supplements, I can be healthy." 
"I'm not worthy because I'm not as healthy as I can be." 
"I'm judged for having symptoms." 
"I can't accept my health as is."
"I'm not treating my family right because I'm not healthy enough."
Those thoughts come from healthism, a belief system that emphasizes people's worth based on their health status. Healthism is a belief system that sees health as the responsibility of an individual as their top priority. It ignores the impact of poverty, trauma and oppression on one's health and replaces it with the belief that if you work hard enough, you can be healthy. 
The dark side of wanting to be healthy
Just like diet culture, healthism is the same, but instead of the stigma being the size of one's body, the focus is an individual's health status. 
It leads people to the dark side of being healthy because it ties up health with innate worth. When our worth is attacked, we respond with the most primal response to do whatever we can to gain back our worth. 
That's the same driving factor for attempting diet after diet. 
The truth is that we do not have to be healthy to be worthy. The concept that one's duty to be healthy is just a thought, one which you no longer have to continue. 
Based on the social determinants of health research, only 15% is in our control, primarily our food and exercise behaviors. 
Understandably, what I just mentioned can be difficult to accept—perhaps stirring up a lot of emotion. 
Your health is meant to adapt to your environment, which may result in periods of illness. 
But what has happened is that healthism has created a capitalist system called wellness which sells a "solution" to your health problems. It's made up of supplements, detoxes, gurus, meal plans etc. 
There is a different solution, sister. 
It involves looking at your belief system and the thoughts leading to actions resulting in the dark side of being healthy. 
After learning that only 15% of your behaviors impact your health, would you continue doing everything you are currently doing?
You can learn to engage with your health from a place of choice vs. feeling forced. 
Choice leads to taking action you want to take while creating trust and safety for your body. 
The bright side of health is taking action from a place of love vs. fear. 
The choice is yours, sister. 
What you'll learn listening to this episode:
Common thoughts that lead to the dark side of being healthy

What is actually in your control when it comes to health

How changing your thoughts towards health can lead to engaging in your health from a place of love vs. fear
Mentioned in the show: