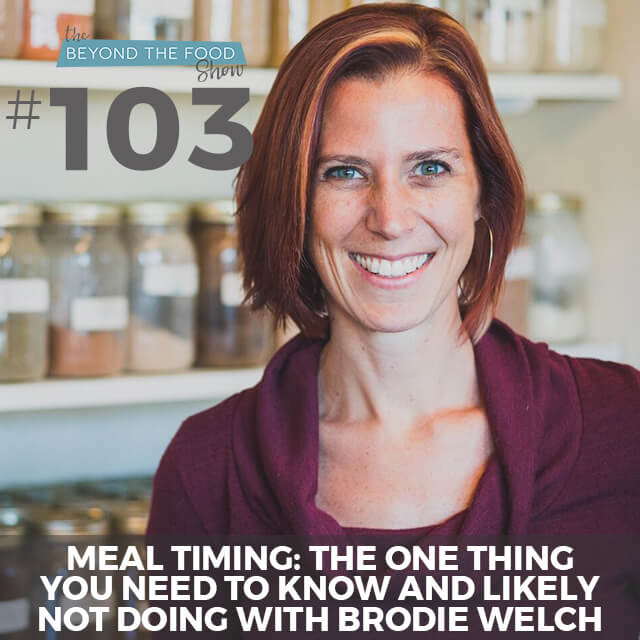 Listen to the episode
In this episode
I discuss
When I say meal timing, what do you think of right away? Like the 4-6 meals a day or eating window, right? Well, there is one important element that both these meal timing philosophies are not considering. This one thing can be a game changer for many women.
Meal Timing
I'm sure you've heard a lot of rules on meal timing, but Brodie Welch, a Licensed Acupuncturist, Board-Certified Herbalist, Chinese Medicine expert, group coach, and self-care strategist, has a different take on this. In our interview, we talked about how our body plays a very significant role in telling us when to eat.
If you think about it, many people train their bodies to be obedient to a certain meal timing rule hoping to achieve their body and health goals. Surprisingly, our body also gives us cues on what to eat. It may come as a shock for many because we have been conditioned to follow a certain "health" trend. But in reality, nature already laid out everything in front of us. We just need to listen and be in tune with our body and our surroundings to be able to know when and what to feed our body. This is the universal law of nature.
So, what can we take away from this? It's all about intuitive eating. Listen to your body because it has the answers to all of your body and health questions. Ultimately, what "rule" should we be following? I guess it's the rule of nature. If we could all be mindful of what nature is offering us, I think we wouldn't have to be burdened with when, what, and all those health-and-nutrition-related questions. Get cues from your body messages. Because after all, the answer is all inside of us.
Last week's episode, I talked about my biggest takeaways and inspirational quotes from the interviews I had with our guest speakers at the Going Beyond The Food Project. It was such a very powerful experience for me to be interviewing very insightful resource speakers who are with us in this Going Beyond the Food movement, so I suggest you check it out! You can listen to the episode here.
If you failed to tune in to the free viewing of the Going Beyond The Food Project, don't you worry because you can, in fact, get lifetime access to it via the Upgraded Package. Grab our SPECIAL DISCOUNT because it is ENDING SOON!
The Upgraded Package is a complete collection of the video recordings, audios and written transcripts of all 22 life-changing presentations with lifetime access! Plus an extraordinary collection of BONUS GIFTS from our speakers. You don't wanna miss this!
On episode 105, we'll have Debra Atkinson in the show to discuss a very enlightening topic about menopause myths that keep you from thriving. Take note, this is not just for women that are currently experiencing menopause. Listen up, younger women because this will change the way you are perceiving yourself going into menopause. Stay tuned!
Be sure to check back every Sunday and Thursday for a new episode, and head over to iTunes   to subscribe so we can freshly deliver new episode directly to your device every time we release a new episode.
If you enjoy the show and would love to encourage and support my work leave me an honest review using this link, click here . For a podcaster like me, reviews are like fuel… I would appreciate hearing from you more than I could possibly say! Here's a quick tutorial on "How to leave a review "!
Links mentioned in this episode
:
Brodie's free guide: http://brodiewelch.com/kitchen-herbs-indigestion/
Going Beyond The Food Project: http://bit.ly/2iDMvsR
The Crave Cure: https://www.stephaniedodier.com/cravecure
Beyond The Food Community: https://www.stephaniedodier.com/community
Support me by leaving a review about this episode: http://bit.ly/2gilTsw
How you can reach
Stephanie:
Website:https://www.stephaniedodier.com/
FB: https://www.facebook.com/StephanieDodiernutrition
Instagram: https://instagram.com/stephdodier/
Youtube: https://www.youtube.com/c/stephaniedodier
Email: [email protected]
Got a question for Stephanie you'd like her to answer, or just want to join our community of women?
Our free and private community:
https://www.stephaniedodier.com/community
Sponsor
Ditch the Diet Mindset. Transform your relationship to food.
So you can Feel Good For Good.
***For your information – some links above may be my affiliate links, which means I get a small commission if you click on it and make a purchase. Doing so will NOT entail any additional cost to you, but will help me tremendously. Your support is SO greatly appreciated, so thank you in advance if you choose to do so***