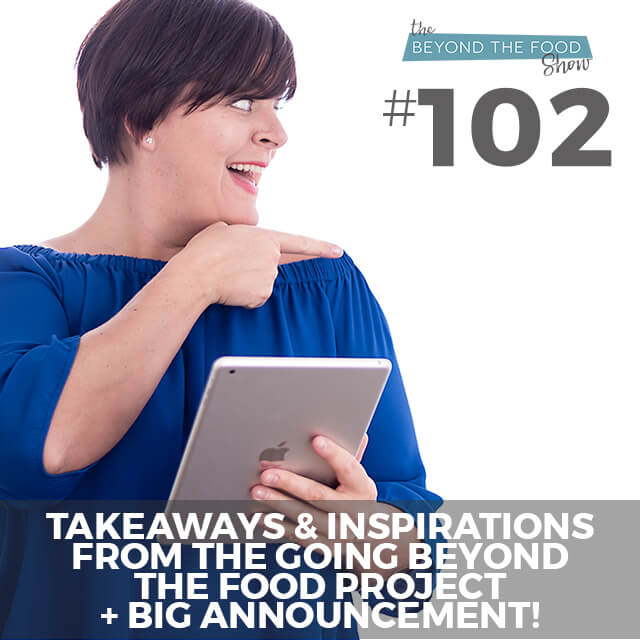 Listen to the
ep
isode
In this episode
I discuss
The top 15 Inspirational quotes and takeaways from the 2017 Going Beyond The Food Project… Where to focus your attention when you have too much information in front of you.
The last week has been totally overwhelming for me because of the tremendous support we've received! I'm truly grateful that many women stood up and decided to be with us in this online conference to learn more about how they can transform their relationship to food to be able to ditch the diet mindset completely to ultimately feel good for good. That is why I'd like to sum up the week's conference by sharing my top 15 takeaways and inspirations from the Going Beyond The Food Project.
Takeaways & Inspirations From The Going Beyond The Food Project
Food addiction is not about the food
Food addiction is about how the food meets you
-Dr. Carolyn Ross
Be honest with yourself. Are you doing it to make yourself healthier and happier or to lose weight
-Cristina Curp of the Castaway Kitchen
It's not about exercise. It's about movement. If you simply avoid conveniences and take the stairs and carry your bag yourself, that's movement or exercise to your body
-Darryl Edwards, creator of the Primal Play method
Just as much as having too much calorie is a stress to your body, having too little is also a major source of stress which will lead to the same effect on your health as overworking or lack of sleep.
-Dr. Doni Wilson
I am a student of my body and my body is my best teacher. You can learn so much from looking at your body this way.
-Gillian Mandich, Ph.D.
Modern womanhood often means juggling multiple roles-businesswoman, mother, spouse, home-maker and more. All while being expected to look perfectly composed. In other words, it means being a superwoman.
-Dr. Taz
We know what happens when we put ourselves at the bottom of the priority list. Let's discover what happens when we put ourselves at the top of the list.
-Dr. Heather Paulson
Motivation is created on the other side of action.
-Ella from the onairwithella show
We are not all going to fit perfect BMI category and yet we can all access health.
-Dr. Jillian Murphy
Posture is the workout advice you have never heard before.
-Dr. Krista Burns
The first concern we should all have is our journey to create joy and happiness in our life.
-Megan Buer
Your body and you is one of the same.
-Melissa Kathryn
The only way to accept ourselves is to acknowledge ourselves.
-Melissa Kathryn
In some case, your body will resist weight loss because your body wants to protect you from all the toxins stored in your fat tissue.
-Alex and Megan from zestyginger
We have to feel to heal and we have to be willing to feel what we want to be healed.
-Irene Lyon
And now… the BIG ANNOUNCEMENT! Due to the overwhelming requests I've received… I've decided to have an Encore Weekend for the Going Beyond The Food Project. Well yes, it's a French term which means "more" so, we're bringing the conference to you ONE MORE TIME!!" You read it right! So tell your family and friends and all the women you know about this special replay of an information-packed and life-changing conference – the Going Beyond The Food Project. Registration is absolutely FREE! Click here.
If for some reason you are too busy to watch or listen this weekend still, no need to worry because you can own the complete collection of the video RECORDINGS, audios and written TRANSCRIPTS of all 22 life-changing presentations with lifetime access! Plus an extraordinary collection of BONUS GIFTS from our speakers via the Upgraded Package. Oh did I mention that it is still on sale until November 12, 2017? You can get the Upgraded Package at a special discount of $97. Take advantage of this special price because it's ending soon! Check out the Going Beyond The Food Project website and have a look at our Speaker Line-up to have a better idea of what the conference is really about. But let me just make it clear, THIS IS NOT ABOUT FOOD.
Last week's episode was my never-before-shared personal story which was an interview with my friend and mentor, Sean Croxton as part of the Going Beyond The Food Project. It was my first time to have such very intimate interview, so I suggest you check it out! You can listen to the episode here.
Next episode, we'll be having Brodie Welch and she'll talk about a very interesting topic: Meal Timing, something that we need to know and likely not doing. Stay tuned!
Be sure to check back every Sunday and Thursday for a new episode, and head over to iTunes   to subscribe so we can freshly deliver new episode directly to your device every time we release a new episode.
If you enjoy the show and would love to encourage and support my work leave me an honest review using this link, click here . For a podcaster like me, reviews are like fuel… I would appreciate hearing from you more than I could possibly say! Here's a quick tutorial on "How to leave a review "!
Links mentioned in this episode
:
Going Beyond The Food Project: http://bit.ly/2iDMvsR
The Crave Cure: https://www.stephaniedodier.com/cravecure
Beyond The Food Community: https://www.stephaniedodier.com/community
Support me by leaving a review about this episode: http://bit.ly/2gilTsw
How you can reach
Stephanie:
Website:https://www.stephaniedodier.com/
FB: https://www.facebook.com/StephanieDodiernutrition
Instagram: https://instagram.com/stephdodier/
Youtube: https://www.youtube.com/c/stephaniedodier
Email: [email protected]
Got a question for Stephanie you'd like her to answer, or just want to join our community of women?
Our free and private community:
https://www.stephaniedodier.com/community
Sponsor
Ditch the Diet Mindset. Transform your relationship to food.
So you can Feel Good For Good.
***For your information – some links above may be my affiliate links, which means I get a small commission if you click on it and make a purchase. Doing so will NOT entail any additional cost to you, but will help me tremendously. Your support is SO greatly appreciated, so thank you in advance if you choose to do so***