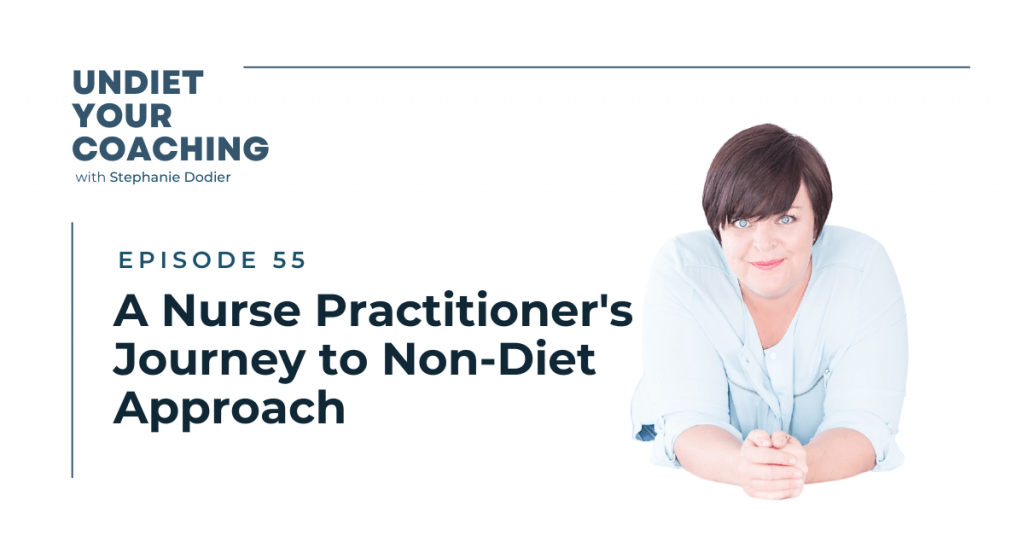 A Nurse Practitioner's journey to the non-diet approach is counterculture, to say the least.
The non-diet approach has become more widely accepted in fields like nutrition and dietetics. However, this is not the case in many other fields like nursing, where the approach is not well known yet.
Sally Eberle is a trailblazer in her field, making the non-diet approach more accessible for her clients and colleagues, as a Nurse Practitioner.
A NURSE PRACTITIONER'S JOURNEY TO THE NON-DIET APPROACH
Sally's journey to the non-diet approach is unique, in that she does not have a personal history of chronic dieting. In fact, she came to the non-diet approach out of a desire to help her clients who do struggle with chronic dieting.
Not unlike other healthcare fields, Sally's clients often approach her with weight loss concerns. However, she also saw that these clients felt ashamed of their bodies. In fact, this shame was often further perpetuated by their healthcare providers.
Like many other coaches and professionals using the non-diet approach, Sally recognized that weight loss was not the "cure-all" for her clients that it appeared to be.
"Eat less, move more" – this is the advice that Sally was tired of giving her clients, knowing that it was having no real positive impact.
A NURSE PRACTITIONER'S JOURNEY TO THE NON-DIET APPROACH: BECOMING A LEADER IN HER FIELD
Early on in her journey to the non-diet approach, Sally found it challenging to share this approach with her colleagues. However, doing thought work around this discomfort ultimately allowed her to share the approach publicly, with both clients and colleagues.
If you are a Nurse Practitioner or healthcare provider yourself, let Sally's journey show you that it is completely doable to transition to a non-diet approach. The truth is, there are patients out there that need you to embrace this approach for them.
In fact, when you are feeling this discomfort in your practice – that something doesn't feel right – follow it. Don't ignore it.
What you'll learn listening to this episode: 
How to be a HAES trailblazer in your field

What the non-diet approach looks like in a Nurse Practitioner's practice

How to navigate having "counterculture" views in your field

What to do when you feel discomfort in your practice
Mentioned in the show:
Connect with our guest: