Non-Diet Professional Training
Get started helping your clients in a non-diet approach!
Discover the missing ingredients to finally be able to help your female clients who struggle with food and body image without co-opting diet culture!
Non-Diet Professional Training-Webinars
Undiet Your Coaching Practice Podcast
Undiet Your Coaching Practice podcast is your go-to resource for building a non-diet coaching business. This show is packed with everything you need to create a profitable non-diet coaching business with massive impact! Whether you're a health coach, nutritionist, fitness coach, nurse, or any health practitioner, you will learn something on the show that applies to you.
You can subscribe to the podcast feed via iTunes , Stitcher,  Google or your favorite podcast app to receive the new episodes as they become available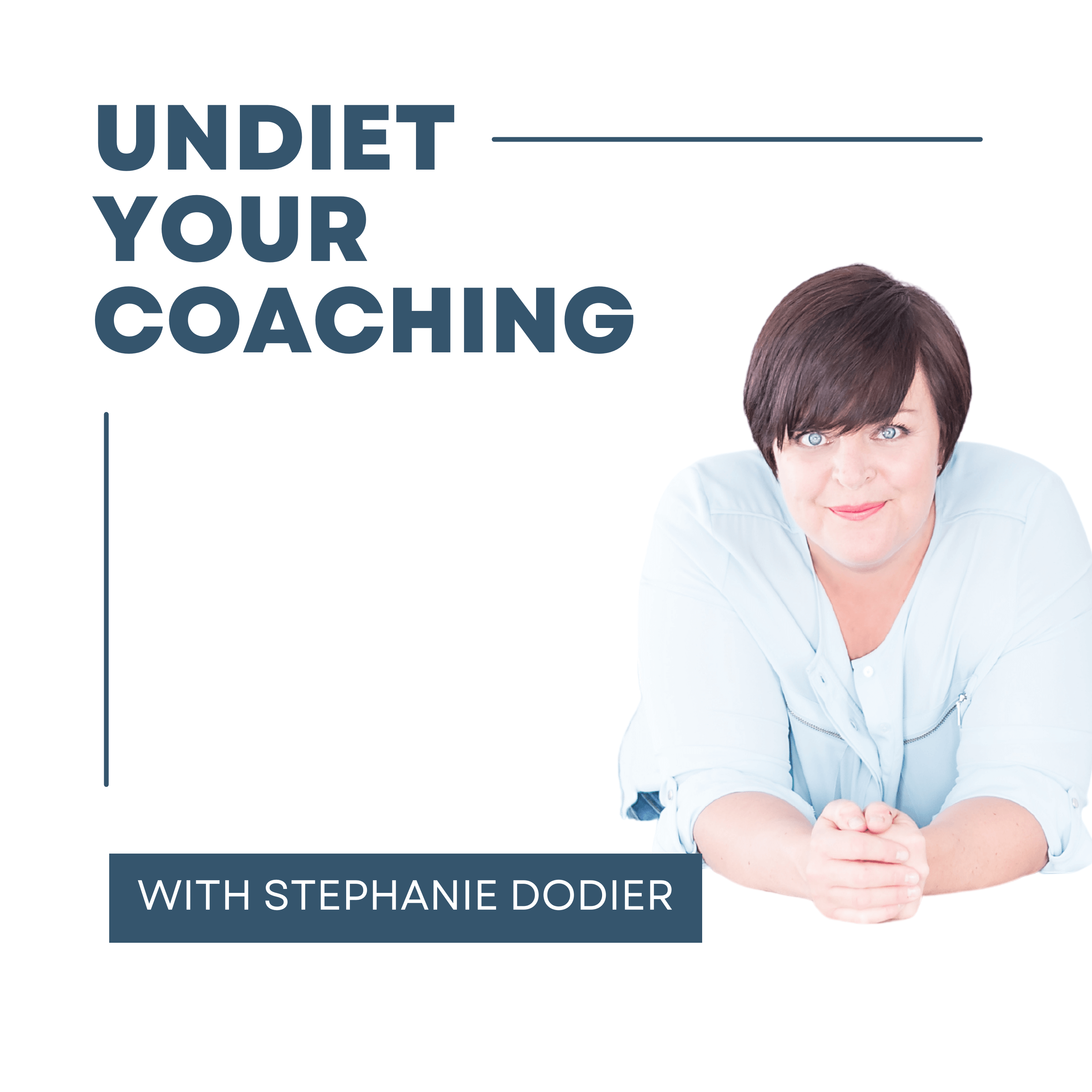 Non-Diet Mentorship Program
Non-Diet Mentorship Program
Dear colleague,
You get it now: diets do not work. You want to stop promoting diet culture and be the cause of your clients or patients distress. You want to do what's right for your people  and you know it first start with you.
The Non-Diet Mentorship program is 6-month journey of personal and professional development in an intimate setting with less than 30 students.
For health professionals and coaches, nutritionist,  therapist and fitness and health coaches ready to have impact over diet culture and make money.
Ready?
Let's do this!

Stephanie Dodier (she/her) CNP
Clinical Nutritionist
We hosted an information session for cohort #7 on December 6th, 2022.
During this open house you learn:
1- Our program values and mission
2- Professional skills curriculum
3- Business skills curriculum
4- How to submit an application, tuition, and next steps
5- Open Q&A with current students.

Learn
The Going Beyond The Food Method™️
Deepen your Intuitive Eating skills and learn an effective framework to teach your client how to ditch diets and eat intuitively.
Adopt Body Neutrality as your body image intervention to help your clients or patients move past their desire to shrink their body.
Cognitive Behavioural Coaching
Master our uniquely designed coaching framework for the non-diet approach. As a intersectional & trauma informed framework to help you and your clients change thoughts and beliefs permanently.
Learn to approach health from a weight neutral perspective. Rooted in Health At Every Size®️ principles.
Learn how to coach your clients beyond the food so you can help them address the real reason why they think food or body is the "problem".
Support & coaching at every step of your journey in the program. This is what makes our program so successful. It's intimate small group coaching.  We meet twice a week with weekly workshop and live teaching, weekly office hour with more live coaching and in between calls we support you via private Facebook group to answer your questions, review your work or help you move forward in your personal journey. We've got you!
Small Pod Private Coaching . At the start of the program you will match you to another student that will be your accountability partner throughout the program . Your coach will meet with your pod monthly and coach you individually while you observe you partner being coach so you learn how to coach.
Unlimited access to Stephanie via private support group. Stephanie will host the coaching calls and practicum session and most important inpire you to get to the finish line!
A private space for your to do your personal work as a professional. Take the next step in your personal journey by being coach by a professional coach. Most of us have been learning the non-diet approach intuitively now it's time to get challenge to the next level.
You can only take your client as far as you've taken yourself...By the end of the program you will have embodied coaching intuitive eating, body neutrality and HEAS at the expert level and be equipped to coach any clients.
Professional skills training.  Learn to coach clients with intuitive eating, body neutrality and HEAS. Our Coach The Coach training path will teach all that you need to become a master non-diet coach.
A complete system to build your specialize non-diet business. From the ground up or tweaking your already existing business we've got everything you need to be successful and generate revenue while providing best in class services.
Comprehensive online learning portal for all the course access, training videos, workbooks, private podcast access, guest teacher class recordings, etc... with lifetime access.
Every month you will learn one professional skill set and build one area of your business
Learn to Coach + Business Mindset
For the first 6 weeks you will have learned a coaching technique that you can use with all your client interaction. The Self-Coaching framework is a trauma informed coaching framework that is rooted in cognitive behaviour modification.
You will embody our coaching framework by coaching yourself on your business mindset. Mastering your own mind will guarantee you ability to coach your clients with confidence and mastery.
Body Image + Ideal Client Profile
We learn to apply the coaching framework to body image coaching. You will have learned our unique 5 steps Body Image Coaching process grounded in body neutrality.
You will refine your ideal client profile using our interview process. You will have have discovered your zone of genius when it comes to who you can best serve. Our Ideal Client workbook will be the guide to your unique programs and marketing message.
Body Image + Signature Program Design
By the end of month 3 you will have mastered our unique coaching framework for both your self-coaching and your client coaching. You will know exactly how to teach and coach your clients thru body image and with a complete assortment of coaching tools and worksheets to support yo
By the end of month 3 you will have created your exclusive signature program uniquely designed for the success of your ideal client . Bring focus, clarity and simplicity to your business.
Intuitive Eating + Marketing Strategy
Learn to apply our coaching framework to intuitive eating as created by Evelyn Tribole & Elyse Resch. You will know exactly how to coach your clients and with a complete assortment of coaching tools and worksheets to support you.
By the end of month 4 you will have crafted a specific marketing strategy to sell with integrity and ethically. The non-diet marketing funnel framework includes a uniquely designed opt-in, a long form content communication channel and social media strategies.
Weight Neutral Health Coaching & Messaging to Sell
You will learn how to apply our coaching framework to health coaching in a weight-neutral & Health At Every Size approach to health. We have a complete library of modules, resources and tools to master HEAS approach.
By the end of month 5 you will develop the ethical marketing message that will allow you to sell your coaching with integrity and ease.
Coaching Supervision & Business Growth
By the end of month 6 you will have understood the power of professional supervision. Case studies and live coaching will help you develop your non-diet coaching skills.
By the end of month 6  learn the best approaches to scale a non-diet business. Sharpen your business acumen and learn to use tools to know what's working for you in your business.
What Other Professionals Are Saying About Us...
I'm so happy I said YES to this program!
 I was seeking a program that would help me create a signature program and teach me the business strategies I would need to get it out into the world, and the Beyond The Food PRO Mentorship program  has far exceeded all expectations.  
My knowledge base and confidence working with clients has grown because of the high quality non-diet education Stephanie has provided.  I know that the things I am teaching are changing lives, and that feels amazing!
I am proud of the fact that I have launched the beta test of my signature program and the revenue from which covered my investment in this mentorship!  I have also launched my podcast and look forward to being featured on the Going Beyond the Food Show! I would never have had the courage to take that step without Stephanie's support and encouragement. Stephanie has really pushed us to launch as we learn!
The PRO Mentorship is the perfect program if you want to take your non-diet business to the next level; this is an investment that will pay dividends if you put the work in.
Stephanie Sprinkles her Magic on Everything!
The most important thing people should know about Stephanie is that she's invested in your success as a client, and will challenge you to go beyond what you think is possible for you. I highly recommend Stephanie and BTF Mentorship program to any health professional who is serious about helping women gain freedom from diet culture.
Before working with Stephanie I didn't unclear about how I wanted to conduct my nutrition coaching business in a non-diet way. I knew that I wanted a non-diet approach to nutrition coaching but didn't know how to do so.
I was immediately drawn to Stephanie's no-fuss approach to nutrition and signed up for the Mentorship program within days of hearing about it. What I love most about working with Stephanie is that she's passionate about and committed to helping you manage your mindset around being a non-diet nutrition coaching entrepreneur.
Through the Mentorship Program, I gained competencies that will help me support my clients not just with nutrition but with managing their mindset - a missing piece in other nutrition training programs. I have a clear vision for my business and have built friendships with other women that share similar values. I'm very confident that I'm starting on a solid foundation with the tools I need to help me succeed in the nutrition entrepreneurial space
Stephanie helped me see what I couldn't see
I haven't felt aligned in my work in such a long time.
I was at a point in my business where I was ready to throw in the towel. 
When I signed up for the Mentorship program, I had been in the industry for over a decade. I wasn't feeling connected with the work I was doing anymore.
I had been eating intuitively for a while, but I was scared to bring it into my holistic business. I felt isolated and afraid of going against the grain.
Stephanie helped me see what I couldn't see in my relationship to food and my business.
Stephanie's coaching allowed me to find the answer that was within me all along. Having the sisterhood with the other students allowed me to tap into the courage I needed to shift my business to the non-diet approach.
By month 3, I launched an intuitive eating program to reinstall my excitement for coaching again. This launch allowed me to pay 2/3 of my investment in the mentorship program.
I haven't felt aligned in my work in such a long time! I highly recommend the Mentorship Program!
This program fast track my progress with so much clarity- Just do it!
I had so much trouble finding the right coach because no one understands our niche and what we do. How to position our non-diet approach in the market but also how to coach our client effectively. This is something really special and unique about this program and Stephanie.
I earned back my investment in the first 3.5 months and I'm on track to double my first-quarter revenue this quarter!
Working with Stephanie has been the best decision I could have made for my business.
As a Holistic Nutritionist, I did not feel confident in running a business or even working with clients for that matter. I had already been in practice for a year and felt like I was constantly trying to reinvent the wheel. I distracted myself by trying to create new programs, challenges, and literally worked with anyone who came my way.
Before this program, I had no clear direction or idea on WHO I actually wanted to serve. Discovering my ideal client brought so much clarity on the type of program I wanted to offer.
She provides so many tools and resources and helps with program creation as well. She also includes the mindset component of running a business and coaching clients which I have realized is VITAL for any type of success. 
It truly is a HOLISTIC program for non-diet entrepreneurs and I highly recommend it!
I found the value for my money within the first 2 weeks of the Mentorship Program!
I once was asked if you could spend five minutes with someone who would tell you something that would change your world but it would cost you a million dollars, would you do it?
I start with that analogy because I found the value for my money within the first two weeks of Stephanie's program. Stephanie starts with mindset work and challenges you to discover the limiting beliefs that have been holding you back in your life and in your business up to this point.
Not only does Stephanie challenge you with your mindset with food and body image but also within your capability in your business.
I 100% recommend Stephanie's program coming from a traditional personal training background entering into the non-diet world, Stephanie has told me everything I need to know and I'm forever thankful.
Thank you, Stephanie, can't recommend you enough!
Frequently Asked Questions
Am I ready now for a mentorship program?
Learning happens at all stages.
You have permission to be right where you are now. That may include a job that keeps you working and financially stable where you feel "stuck".
All you need is the willingness to learn and grow, to challenge yourself and each other in a space that is created for you to evolve and transform how and why  you do the work that you do.
My advice is for you to make quality decision  in line with the life you want. The answer is not more hustling. It's clarity, combined with meaningful actions. I can help you with that.
I have benefited greatly from mentorship and mastermind and I know how much coaching can impact your business and personal life. In our field our personal growth = business growth. Period.
If there is one thing I know from all this work, it's this: You need time to transform. You need a team you can trust. You need a place to ask "dumb questions" (surprise, there's no such thing!) You need permission to make mistakes. You need compassionate listeners.
Who is this program for?
This program is not for everyone. To make sure this is the right fit for you and that you are the right fit for the group,   we have an an application process .
If you are a healthcoach, intuitive eating coach, body image coach, life coach, personal trainer, a licensed mental or health professional or in any position to work with people with food and or body image this is for you.
At this point, I only accept 30 women. Small intimate group. First come first served.
Will I learn how to build a coaching program?
Yes. That's the purpose of The Mentorship Program: to get you out into the world, helping women ditch diet culture and the only way to do this is with a program and coaching.
The first place we start is to teach how to coach. Coaching in a non-oppressive, safe and trauma informed way.
Then you learn to apply this methodology of coaching to body image and eating. To help you with this you will experience my client programs as a client and as the coach. You will witness how I structure programs and pace the various elements for client success. You will get access to all my client worksheets, assessments, training videos. 
Your signature program create itself with this process.It's a proven process that delivers every cohort. Lived experience trumps intellectual knowing alone every time.
As soon as you pay your deposit for the Mentorship program you get access to our student portal site with All the things in it and you can get started.
Will you help me launch my program?
Absolutely. You show up to do the work, and I'll be side by side with you. Month 3 is dedicated to program creation. We have training videos, workbooks and you get to submit your program for review. Tweak. Review some more and out into the world!
Will you help me refine my niche?
Yes! Month 2 is dedicated to you determining you ideal client. We have a unique process of interview that will help you refine the unique peoples you are best suited to help in your own special coaching process.
How fast can I make my investment back?
As soon as month 3 or 4 of the Mentorship program: It all depends on your appetite to get it done. I'm a very driven person and love to support driven women ready to smash diet culture to the ground. For example, right now, end of month 4/6, 60% of the current cohort have a program out into the world selling. Some of our students make back the entier investment in the Mentorship program in the first launch! Go check the testimonials.
Will I learn to coach my client's mindset?
HELL YESSSSS!  In fact that's the key to ensuring your client get sustainable life changing results thru your program. If coaching beliefs, thoughts and feelings isn't part of a non-diet coaching program it's furthering the harm to the client.
I'm passionate about coaching and you can bet that you'll learn how to coach mindset, beliefs, thoughts and feelings. The first 6 weeks of our time together you will learn the coaching process and practice on yourself. You are your #1 client. 
And then we learn to apply it to body image and intuitive eating.
Will I learn how to broaden my audience?
Yup. You'll learn our marketing structure so that you can find your ideal client, educate them and convert them to customers. You will learn to build a communication channel (a bog, podcast, You Tube Channel, etc…) to attract your audience. 
I still struggle with my own relationship to food and body, not sure I'm ready?
I got you. Our program is built so that you work on your own relationship to food, body and mindset. You master yourself so you can coach your client masterfully.
You get put through my client programs (mindset, intuitive eating, body image) to work on your own "stuff".
Remember you do not need to be perfect to help others… only a few steps ahead.
Is the program time-consuming?
Real talk. My programs are intense. I don't do fluff. I've never done it and will never do it. So yes you will need to work in your business weekly.  The more you put in the more you'll get out of it.
Weekly you get 30 minutes of client videos, 30 minutes of coach videos then you need to practice the techniques taught throughout the week.
Then you'll need to work on the business elements every month. We send you 1-2 business workbooks on the 1st day of the month that you should have completed by the end of the month. These workbooks are walking you through how to create the various business structures you need to be successful. You can do the bare minimum in the business aspect and get bare minimum results. OR You can go all in and get extraordinary results.  This is a program for grown ass women and I do not babysit students… I'm here for those that show up and do the work! and trust me I'm all in when you are!😂
What is included in the business training segment of the program?
Ready? The list is long….
First and foremost you get to build your belief and self-concept as a business owner and entrepreneur.

Just like with food , body and health the success of your business is beyond tactics: it start by your thoughts.

Non-Diet Marketing System

Compelling Offer System

Competitor review and market research

Getting to know your ideal client

The problem. The Transformation. The Offer (Signature Program creation)

The story. Your message. (Crafting Your Marketing Message)

Non-Diet Marketing Funnel

Non-Diet Marketing Standards

Non-Diet Website Guide

Non-Diet Marketing Avenue

Non-Diet Social Media Guide

Effective Testimonial Guide

How To Grow a Non-Diet Business Guide

Business Planning Guide

Business Performance Tracking Guide
A full library of Guest  Experts Class taught by paid teachers:
Business focus

How to use storytelling in your marketing
How to use audio marketing to maximize your conversion
How to build a business with ethical marketing
How to build a feminist body of work
How to run effective consultation calls
How to show authentically on social media
How to build a powerful brand
How to build an anti-racist practice
What is included in the professional training segment of the program?
Ready?  
Self-coaching Project

(client program)

The Non-Diet Coach Training

Intuitive eating Project

(client program)

The Intuitive Eating Coach Training

Body Image Project

(client program)

The Body Image Coach Training

Health At Every Size – Weight Neutral Approach to Health

The Non-Diet Health Coaching Mastery Training

Mindfulness – The Beyond The Food Mindfulness Practice

Coach The Mindfulness Coach 

and more then 20+ more speciality professional skills training like: Setting Clean Goals, Non-Diet Health Goal Setting process, Conquering Emotional Eating, Setting Boundaries and Hard Conversation, etc
A full library of Guest  Experts Class taught by paid teachers:
How to navigate thin privilege in practice
Being a trauma-informed practitioner
Gender identity, pronoun & the intersection with disordered eating.
How to navigate digestive health in a non-diet approach to health.
How to approach fertility in a non-diet approach
How to help clients transform their relationship to movement
Getting your nervous system onboard
What is the refund policy?
The non-diet mentorship program is a very small container. If you commit to the Non-Diet Mentorship Program you're committing to the entire direction of the program.
To preserve the integrity of the peer relationships that get cultivated in the Mentorship and because there are specific trainings that stack upon each other, we cannot accept new students after intake closes.
That means that if someone drops out part way through, we cannot fill their spot. Because the container is so small, there's no margin for cancellations or drop-outs and so we cannot offer refunds.
If you choose to stop participating before the end date, your payments are still due in full. The Non-Diet Mentorship program is a significant commitment of time, money and energy. It's a serious investment in yourself and your business, and one that can generate a big impact and return across years.
We appreciate your careful yes -- and we trust it.
Program is by application only and accessible to people registered on waitlist first.
We take in 30 people maximum per cohort.
Here's how the registration process works:
Fill out application (takes about 30 minutes). Order form is part of the application process. Payment will be processed automatically if Stephanie accepts your application.


If your application is accepted an offer to join will be sent to you via email. 

The offer to join is valid for 24 hrs. If payment & signed contract not received, we give the opportunity to  the next student.

Once payment and signed contract are received, you'll receive your student ID  and password and you get started.
Stephanie Dodier is a Clinical Nutritionist CNP, Certified Intuitive Eating Counselor, host of two top-ranking podcasts in the non-diet industry and creator of the Going Beyond The Food Method™️. She founded Undiet Your Life, a global coaching and online training platform focused on helping women make peace with food and their body so that they can live a fulfilling life… right now! She is also the founder of Undiet Your Coaching Practice, a global professional training platform.
Stephanie has been a leader in business & sales for over 25 years. As a vice-president for the #1 retailer company in Canada, she has learned how successfully build and operate a thriving business. Over the last 9 years, Stephanie has built two 6 figure health businesses with her clinic in Toronto and her online Going Beyond The Food online programs. Through her clinical work, teaching, speaking, workshops, podcast and online programs, Stephanie has worked with hundred of thousands of women in over 92 countries around the world. Resume and professional profile available here.
Stephanie is on a mission to help free over 1 million women from diet culture. That's when you come in. The way we teach health & nutrition needs to change. This program is her way to empower other practitioners like you to make the change and impact 1 million women together!