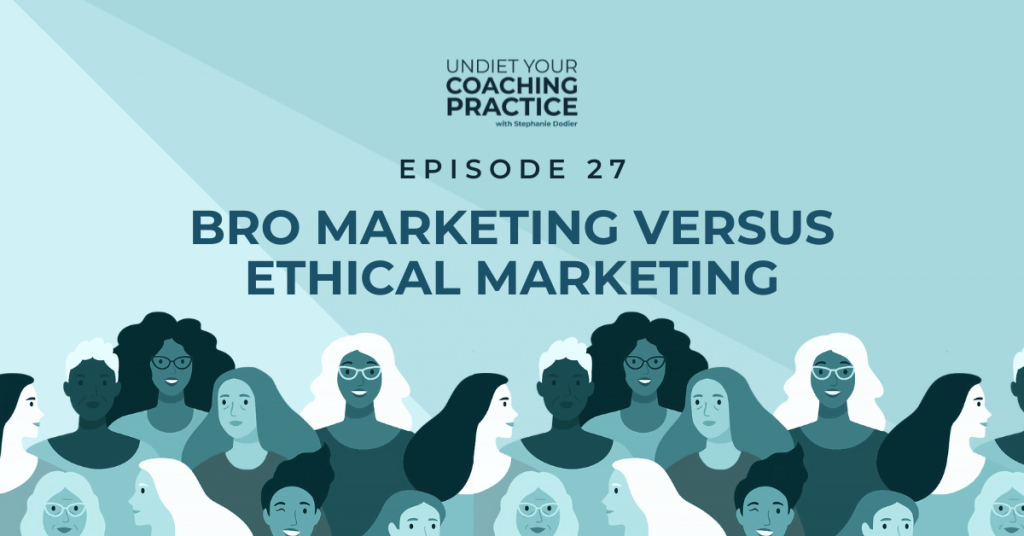 Bro marketing versus ethical marketing
Bro marketing versus ethical marketing – do you know which one you are participating in, in your non-diet coaching business?
To put it simply, bro marketing is the diet culture of the online business space. On the other hand, ethical marketing is the undiet approach to building your non-diet coaching business.
Much like diet culture, bro marketing can be dangerously subtle. Many of us non-diet professionals and coaches have built businesses from this approach because we felt like it was what we had to do. I get it because I've been there, too.
Bro marketing "works" because its tactics are rooted in scarcity, authority, and social proof. These ultimately bring cash into our businesses.
But on a deeper level, it doesn't really work because it can lead to resentful clients, a lack of loyalty, and more importantly, we secretly feel yucky about a marketing approach that is technically "working".
First thing's first – don't get rid of everything you've built under the bro marketing model right away (unless that truly feels aligned for you).
Take your time adding in more ethical approaches so that you still have a cash flow to support you. Do this while you navigate restructuring your messaging and marketing strategies.
Get really clear on what your message is. Identify your 3-word rebellion (hint: tune into the full episode to learn what this is).
Then, apply your messaging strategy to your marketing so that you can reach more people, build brand awareness, and get your dream clients interested in your offer.
In today's episode
Michelle Mazur works with brilliant business owners who are shaking things up… but having trouble talking about it. She combines the tools of successful social movements with the qualitative research skills she earned in her Communication Ph.D. to help them craft their powerful, captivating message.
The author of the 3 Word Rebellion and featured in Fast Company, Entrepreneur, and Inc., she knows that speaking about what you do in a clear and captivating way is the key to reaching the people you could help the most and making more money in your business.
What you'll learn listening to this episode on bro marketing versus ethical marketing:
What bro marketing is and why ethical marketing is better
Manipulative bro marketing tactics to avoid
Why self-agency is key to the ethical buying process
How to identify your core message with the 3-word rebellion
The key difference between messaging vs marketing
Where to start with building an ethical marketing plan
Links mentioned in the show:
Non-Diet Professional Mentorship Program
Free Professional Training & Resources
Connect with our guest: