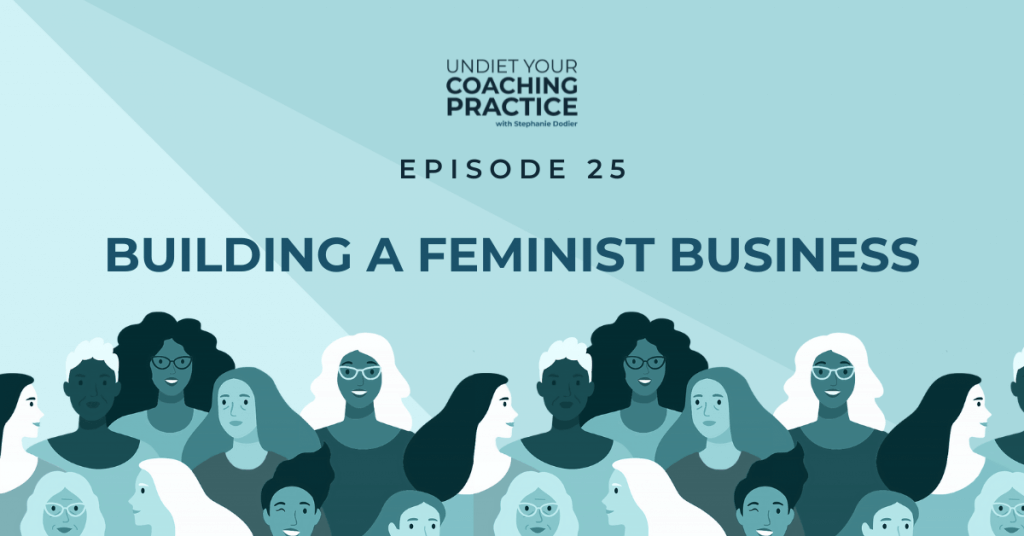 Building a feminist business is about creating a world and culture where all people can thrive, regardless of their identity.
As non-diet professionals and coaches, the capitalistic bro-marketing approach of "doing whatever it takes to make money" can feel like the all too familiar diet culture, but in the business world.
Jjust like intuitive eating and body liberation are the antidotes to diet culture, feminist business is the antidote to bro-marketing. This is what can help us non-diet professionals create thriving businesses that we fully align with.
Building a Feminist Business
If you have an existing business rooted in the bro-marketing model – there's no need to panic. You don't have to burn your business down, but rather pivot by taking it one step at a time. Start by taking one thing that doesn't feel good in your business and figure out what you can do to make it better.
If you're just starting out with your non-diet business, take time to move slowly and get clear on who you are, who you want to be, and the kind of world you want to create. You get to be deliberate, discerning and release the urgency of capitalism as you build a business that feels good.
Building a feminist business will allow you to make enough money to take care of yourself (and more), AND allow space for joy and pleasure so that you can be who you are in your business.
On today's podcast, we interview Lauren, a Radical Courage Coach + Feminist Business Mentor. She helps feminist coaches, healers and creatives build and grow businesses that are deeply aligned with their unique brilliance and their vision for social change without getting caught up in the Capitalist Routine.
She helps her clients cultivate radical courage so they can show up for their brilliant work and use their businesses to create a more feminist future.
What you'll learn listening to this episode:
Core practices of a feminist business
How to overcome your fear of making money
Getting to know your zone of brilliance
What your "thrive" and "survive" numbers are
How to pivot to a feminist business model
Links mentioned in the show:
Information Session – Non-Diet Mentorship Program Open House
Non-Diet Professional Mentorship Program
Free Professional Training & Resources
Connect with our guest: