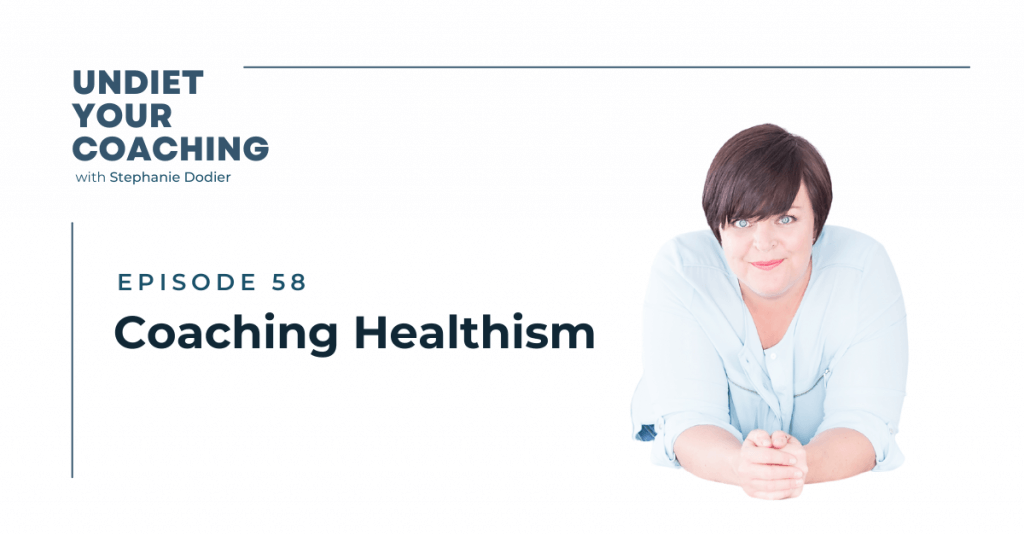 Coaching healthism with your clients is like coaching any system of oppression, such as diet culture and fatphobia.
COACHING HEALTHISM: WHAT IS IT?
Healthism is a set of beliefs about health that is put in place by people in power. To put it simply, it is a system of oppression.
This system sees health as the sole responsibility of the individual. It puts health above everything else. In fact, healthism suggests that you can only enjoy life once you have achieved a certain level of health.
There is one common thread among sets of beliefs like healthism and it's this: "I am not enough".
This is how healthism creates so much suffering in our clients – by allowing them to believe they are not enough.
COACHING HEALTHISM: HOW IT SHOWS UP IN YOUR CLIENT
External healthism is harmful, but what harms your client the most is internalized healthism. Aka, your client becomes their own oppressor.
Healthism will show up through the same behaviours as those of people who want to lose weight. These behaviours are both rooted in the feeling of not being enough.
Your work is to go out into the world and liberate yourself, because you can only take your client as far as you have taken yourself.
3 STAGES OF COACHING HEALTHISM
Ultimately, the only way to coach your clients through healthism is at the thought and belief level.
If your coaching does not include thoughts and beliefs, you will not be able to impact people, because that's where the game is played. 
Healthism is a belief system, just like diet culture.
Stage 1. Expose the thoughts and beliefs that you and your clients have around health.
Stage 2. Then, you move into consent. Remind your client of their sense of power by presenting them with choice. Allow them to change because they want to, not because they have to.
Stage 3. Help them believe the new belief. You have to help them create a new belief and then hold their hand while they're learning to believe the new belief.
What you'll learn listening to this episode:
What healthism actually is

How healthism shows up in your clients

What your clients are thinking when they are stuck in healthism

The 3 stages to coaching healthism
Mentioned in the show: