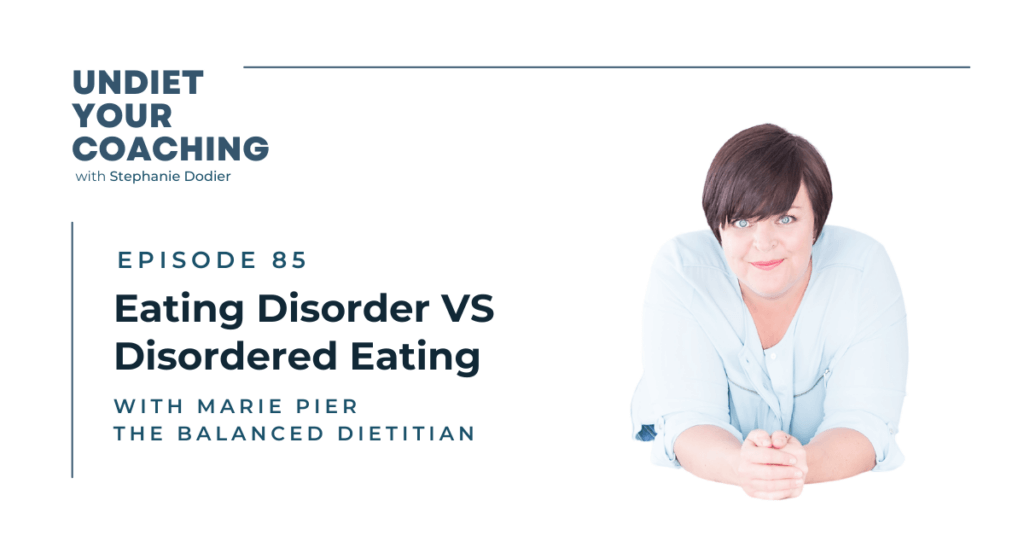 The difference between an eating disorder and disordered eating is not as easily recognized by many practitioners yet very important to the proper assessment of clients.
Eating Disorder VS Disordered eating
And the very next question to answer as a practitioner or a coach is when is it time for me to refer out a client to a skilled practitioner.
We answer both of these question on this episode of the Undiet Your Coaching with Marie-Pier is a Registered Dietitian with a B.Sc in Psychology. She is the founder and lead clinician of The Balanced Practice, a multidisciplinary team that supports clients in healing their relationships with food and body.

What you'll learn listening to this episode: 
What is the difference between an Eating Disorder vs Disordered eating

The different type of eating disorder

As a non-licensed practitioner or coach when is it time to refer out a client
Mentioned in the show:
Non-Diet Coaching Certification
Connect with our guest:
Instagram – The Balanced Practice
Instagram – The Balanced Dietitian
Facebook – The Balanced Practice
Eating Disorder Services – The Balanced Practice
The Balanced Program – group program