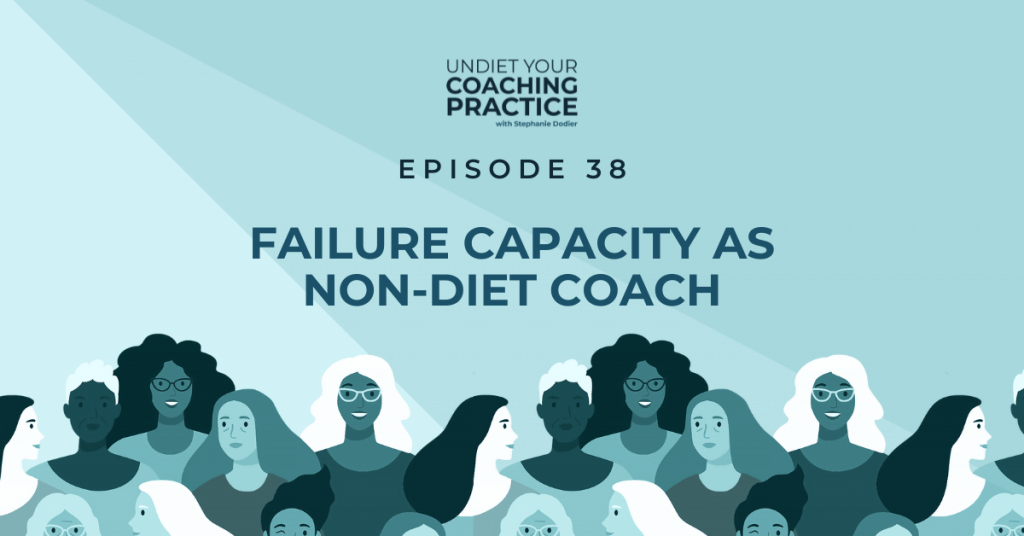 Your failure capacity as a non-diet coach will determine your ability to achieve your desired level of success faster. 
Yes, I'm calling you out as a business owner who has been socialized as a woman, to do some mindset work. In fact, this is why we focus on your thoughts and beliefs, rather than sales tactics, to get more clients.
Most of us have been trained to be afraid of failure. Fear of failure is what prevents most women-identifying entrepreneurs from being successful in their businesses. Conversely, increasing your capacity to fail is the key to success long-term, including your ability to get clients.
The reason why many women entrepreneurs do not achieve the level of success they desire is not due to a lack of actions or marketing strategies. On the contrary, in most cases, too many actions are the problem.
It's actually the belief that failure is "bad" that holds you back from achieving the success you desire.
How to increase your failure capacity
When we believe that failure is about our worth as a human, our brain will do all that it can to avoid it. However, when we look at failure as a lack of success, we can ask the question, "who defines success?"
The answer is YOU. As a business owner, you set the goals of your business. Therefore, you define what success looks like for you.
Failure is the absence of meeting your own expectations. And for many non-diet coaches, the fear of failure is so deep that they will avoid committing to defining success.
Here's the truth: you can't have success without failure. In order to get more paying clients in your business, you have to stop avoiding failure.
To increase your failure capacity you have to make an agreement with yourself. When you don't meet your own expectations, you will NOT beat yourself up and instead, you will manage your mind. You will be kind and compassionate with yourself and reframe your thoughts to see lessons instead of failure. And most importantly, you will now expect failure.
After all, there is no success without failure.
Your next step is to get to work on practicing failing, really. Investigate your thoughts and beliefs as you go through each failure and share them with us – the non-diet community is here to cheer you on!
What you'll learn listening to this episode on failure Capacity as non-diet coach :
The reason why avoiding failure is interfering with your ability to get clients

Why failure is essential to your business' success

A new way of thinking about failure that will help your success

How to build your failure capacity
Mentioned in the show:
Training Event for Non-Diet Coaches