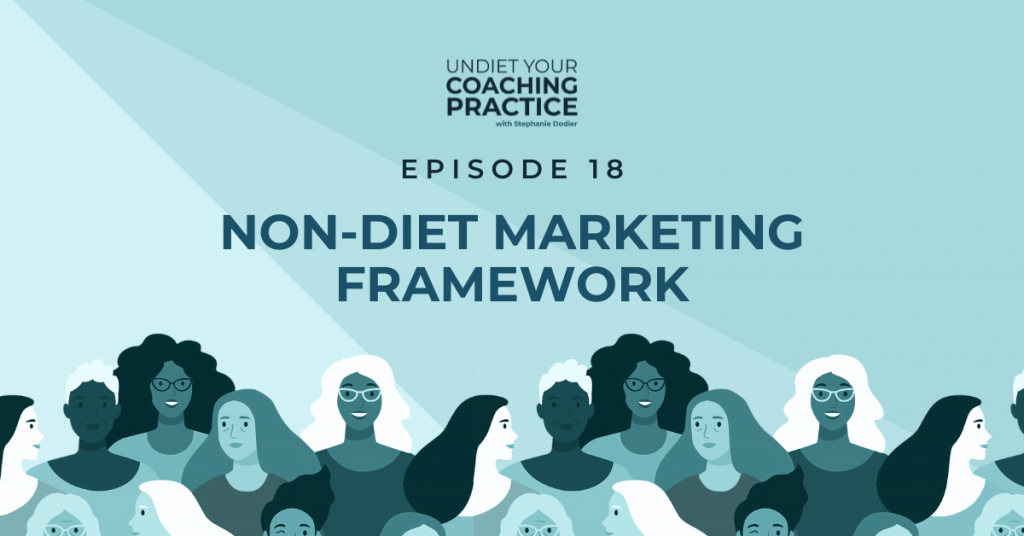 How to attract clients that are ready to do the work?   
Right now, clients that are coming to me want to lose weight?  
What should I do? 
These are the questions that the newest episode of the Undiet Your Coaching Practice podcast will be answering.
Inside of our Non-Diet Mentorship program, we spend two months crafting our marketing strategy, implementing a non-diet marketing funnel and practicing. Although it would be impossible for me to share all that we do, I've extracted what I think will help you attract clients ready to stop chasing weight loss. 
Framework of Non-Diet Marketing 
In today's episode, I'll share five takeaways from our Non-Diet Mentorship Program marketing modules that you can implement in your business now. These 5 key elements will help you to build an effective framework of non-diet marketing for your coaching practice. 
What you'll learn listening to this episode: 
Why you have to fall in love with marketing 

Why you need a marketing strategy first before going on social media 

The secret behind consistency and trust in marketing 

What problem are you solving for your client 

Educating and nurturing is the key to conversion 
Mentioned in the show:
Non-Diet Professional Mentorship Program