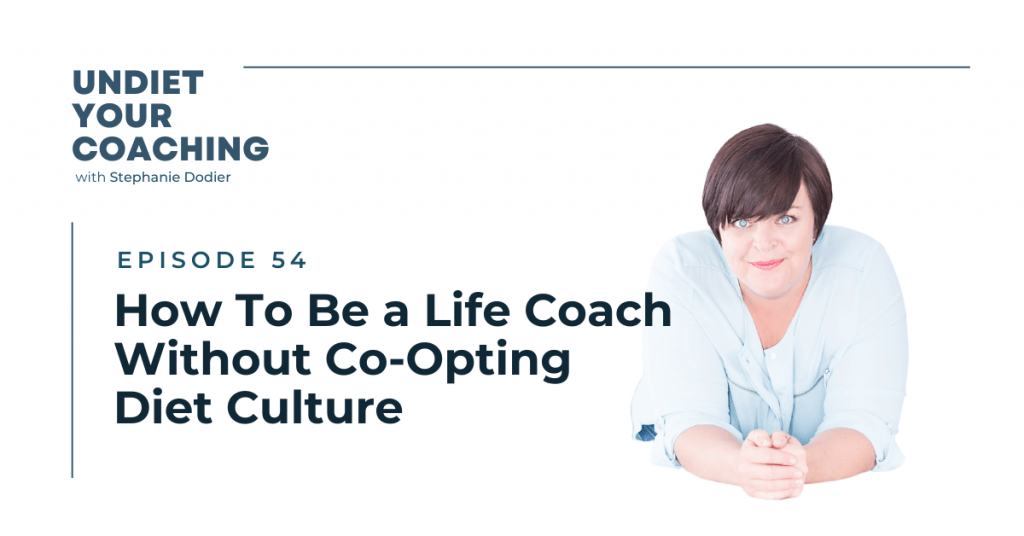 How to be a life coach without co-opting diet culture… is much harder than you may think.
The truth is, the life coaching industry is fatphobic. In fact, it's one of the last social constructs that is still "acceptable" in the life coaching industry.
And unfortunately, many life coaches are perpetuating diet culture and fatphobia through the coaching model without even knowing it.
HOW TO BE A LIFE COACH WITHOUT CO-OPTING DIET CULTURE: THE LIFE COACHING INDUSTRY IS FATPHOBIC
So the life coaching industry is fatphobic… now what?
Here's the thing, we as coaches can only coach from our own reality.
And there are still many life coaches out there who are entrenched in diet culture and fatphobia. As a result, diet culture and fatphobia continue to be perpetuated throughout the life coaching industry.
This can show up through coaching actions around food, instead of coaching thoughts and beliefs. 
For example, changing the thought about a particular food to make it less desirable, rather than challenging beliefs to neutralize all foods.
HOW TO BE A LIFE COACH WITHOUT CO-OPTING DIET CULTURE: GOING BEYOND THE THOUGHT LEVEL
What's missing in the life coaching space is the basic human ability to handle your own brain.
Most life coaching certifications only teach coaching at the thought level. Unfortunately, the problem with this is that it doesn't address where thoughts come from in the first place.
If we don't address where thoughts come from, we leave out the beliefs, trauma, systemic issues, and social constructs that fuel them.
As such, only working at the thought level will keep your clients stuck in the cycle of repeating the very thoughts they want to change.
The most powerful practice you can use with your clients to effectively create change, is normalization. 
Normalization opens up the door for compassion and safety. Ultimately, creating the best environment for long-term change.
In today's episode, we interview Elizabeth Villegas, a former yo-yo dieter turned body acceptance and intuitive eating coach. Elizabeth works with diet culture dropouts to make peace with food and their bodies. After 15 years of dieting and hating her body, she decided to give accepting it a try and never looked back. Since then she's created a healthier relationship with body, food, and movement. She helps her clients live a life free from restriction so that they can focus on the things that truly matter to them.
WHAT YOU'LL LEARN LISTENING TO THIS EPISODE:
What most life coaching certifications are missing

Why you struggle to be consistent with your business

How to create safety for yourself in business

Elizabeth's #1 piece of advice for life coaches
Mentioned in the show:
Connect with our guest: