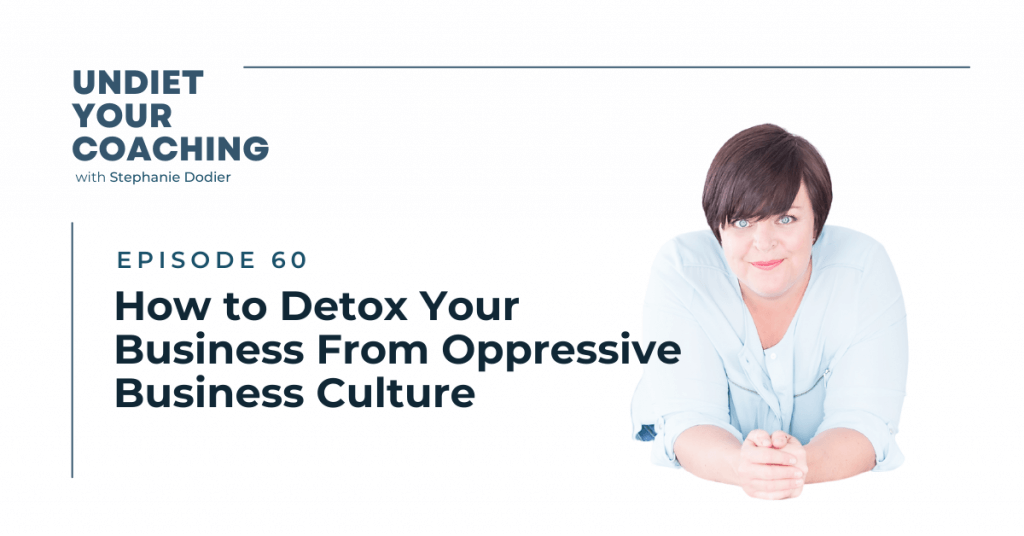 Learning how to detox your business from oppressive business culture & owning your past is the fastest way to create aligned marketing. 
HOW TO DETOX YOUR BUSINESS FROM OPPRESSIVE BUSINESS CULTURE: OWNING YOUR PAST
The power of owning your past allows you to find your niche and genuinely connect with your ideal client. Your client will trust your experience because they can see themselves in your story. Your marketing is more precise and compelling when you resonate with their story. 
The bonus? 
Not only will marketing be more straightforward but so will coaching your client. You'll be able to go deeper and faster because you easily resonate with their struggles and needs.  
HOW TO DETOX YOUR BUSINESS FROM OPPRESSIVE BUSINESS CULTURE
We prevent ourselves from developing our CEO identity when we force ourselves to fit into the oppressive patriarchal business culture. We'll continue to look outside of ourselves for the answers. 
Just as you learned to trust yourself in intuitive eating, you can apply that same approach to business. When you learn to trust that you have the answers, you'll be able to carve your unique path in the industry. 
Living in trust and certainty that the right thing will unfold will also help create safety in your clients. You'll trust that they can make the best decisions for themselves. 
You'll no longer show up to your consultations with a desperation that they need to say yes to your program. Instead, you'll show up more present and calm, trusting that whatever is supposed to unfold will. 
In today's episode, we interview Randi Cox, a Non-Diet Mentorship graduate. Randi is a former Weight Watchers turned #antidiet coach who learned to own her past to realign her business marketing and authentically connect with her ideal clients to create a confident, happy, healthy life free from restriction.
WHAT YOU'LL LEARN LISTENING TO THIS EPISODE:
Detoxing the shame from your past so you can leverage it in your marketing. 

Detoxing oppressive business strategies and learning to trust yourself. 

Detoxing the desperate energy in your consultations so you can feel confident in selling your program. 

Detoxing your brain's drama to find your unique path in business and develop your CEO identity.
Mentioned in the show:
Connect with our guest: