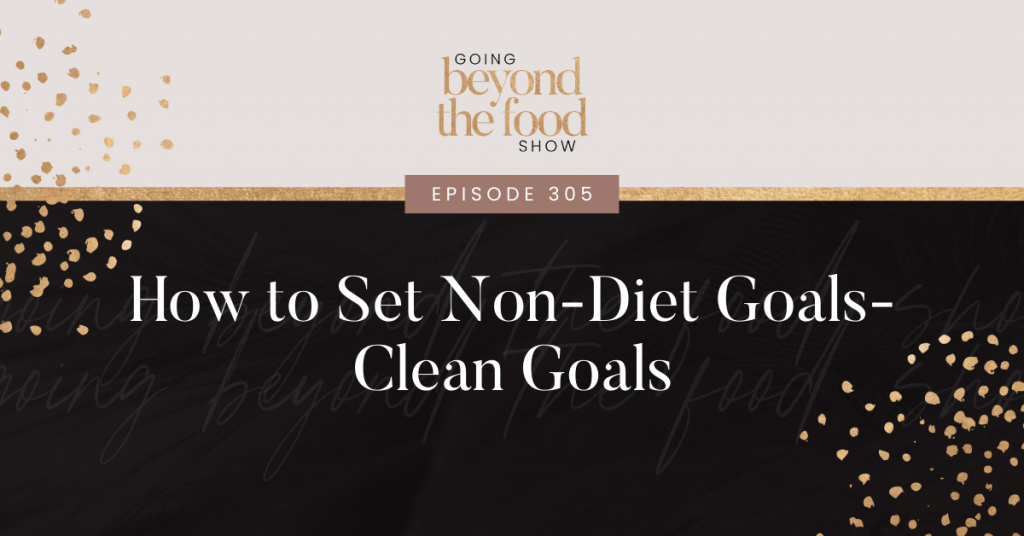 Set non-diet goals for the new year so that the better life you desire is not conditional on achieving a goal.
Diet culture goals are the ones you're used to setting. They are the type of goals that focus only on having a better life AFTER you've achieved the goal.
Diet culture goals are dirty goals
Have you ever set a big weight loss goal on January 1st that you couldn't wait to tell everyone about? This is an example of a dirty goal. It gives you a feeling of temporary relief by showing the world you're being compliant.
Diet culture goals tell us that we need to achieve the thing in order to feel worthy, confident, and happy.
But our emotions are NOT created by an external thing or achievement. Our emotions are created by our THOUGHTS.
This means that you don't have to earn your worthiness, happiness, or confidence by achieving a goal. In fact, you can use your thoughts to create these feelings right now.
How to set non-diet goals
Decide to set non-diet goals for the new year by getting clear on your intentions behind the goal.
If you want non-diet goals that are clean, that will provide you with a better life, and a feeling of worthiness, confidence, and happiness TODAY…
Then you need to stop setting dirty goals and start setting clean goals.
Clean goals are NOT conditional on achieving the goal to feel the way you desire. Clean goals focus on the journey – the present moment – instead of fantasizing about achieving the goal.
You'll know exactly how to avoid dirty goals, and start setting clean goals instead, when you tune into this episode!
What you'll learn listening to this episode:
The difference between dirty vs. clean goals
How to feel confident, happy, and worthy right now
Why the intention behind your goal is important
How to set clean, non-diet goals for the new year
Mentioned in the show: