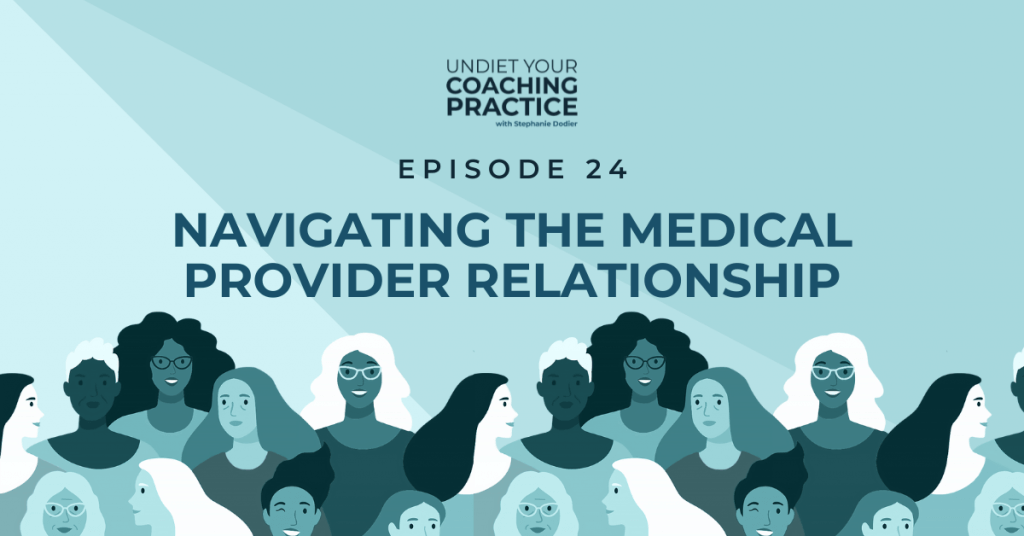 Many of our clients find it complicated to navigate through the medical provider relationship. In fact, they often associate it with uncomfortable conversations about their weight.
As non-diet coaches, we hear from our clients about their fear of bringing up their weight with their medical providers. This is true, especially, from our clients living in larger bodies who are most directly affected by medical weight stigma.
Being able to help our clients navigate the medical provider relationship is a critical skillset to have. Certainly, this will prevent them from missing out on the quality of healthcare they deserve.
That is to say, we need to be ready to support our clients with navigating their relationships with their providers. This means that weight stigma isn't keeping them out of the healthcare system.
Helping your clients in navigating the medical provider relationship
Weight stigma is a systemic issue that one-on-one coaching can't erase. However, that doesn't mean our clients are powerless.
As professionals, we need to have the strategies and tools to support our clients with their medical provider relationship. Furthermore, we help empower them to take action that shifts the focus away from the weight. This will help address their real concerns.
In fact, when we have the right tools, we can coach our clients to create equality with their medical providers. Moreover, we are helping them establish consent (or non-consent), measure the decline unless absolutely necessary. Ultimately, we empower them to be the leader of the conversation with their medical providers.
In today's episode, we interview Maggie Landes, a board-certified physician, public health nutritionist, and anti-diet wellness expert. She is also the creator and host of "The Eatfluencer Podcast". It's where she and her guests dig into the mindset work required to construct a healthy, complete, and high-quality life. A life that is unlimited by the oppression of diet culture.
Maggie will help us navigate the client-provider relationship and how to take weight out of the conversation.
What you'll learn listening to this episode:
The gaps in healthcare that perpetuate weight stigma
3 ways to decline being weighed at the doctor's office
How to re-enter the healthcare system after experiencing weight stigma
Navigating the client-provider relationship & informed consent
Debunking common myths about weight and health
Links mentioned in the show:
What to say at doctor's office by Ragen Chastain
Free Professional Training & Resources
Connect with our guest: