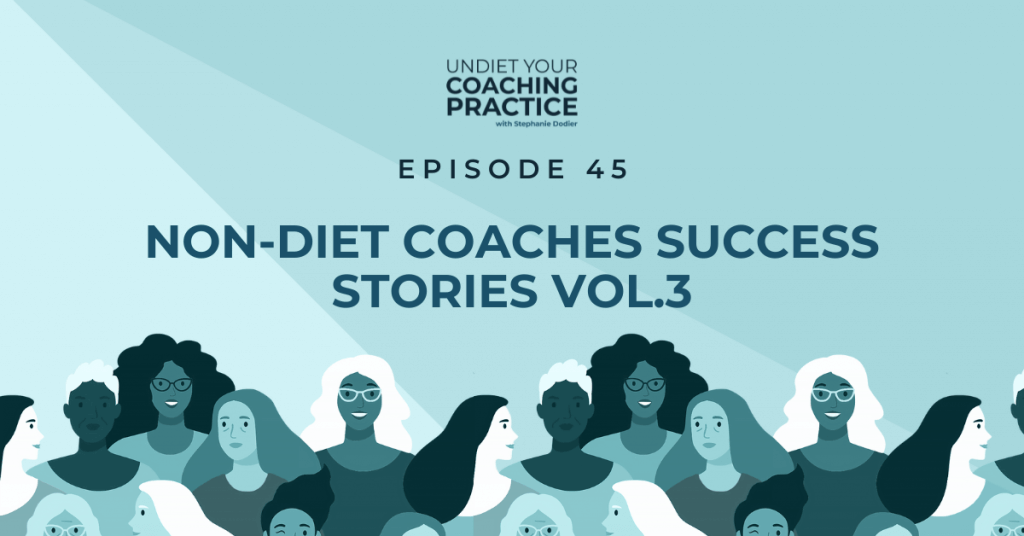 The Non-Diet Mentorship students from cohorts 4 & 5 have recorded a video for you….
We chatted about their personal and business wins over the last five months for students of cohort #5 and 11 months for cohort #4. We discussed the role of mindset work and learning how to coach professionally had on their personal and professional lives.
The non-diet coaches also answered questions submitted by you, the listeners:
I feel like a fraud…I can't launch my BIZ until I'm perfect in my intuitive eating and body image?
Will the mentorship program help me structure my method of working with clients?
I feel like sometimes I'm self-sabotaging myself… I have a tendency to make things complicated… how do I resist it?
How do I attract people ready to do the work?
Did you feel scared before investing in your business?
How did you overcome your fears of joining the program?
NON-DIET COACHES SUCCESS STORIES VOL. 3
In the non-diet mentorship program, we are dedicated to making choices from a place of love instead of fear.
Diet Culture is rooted in fear.
The Non-Diet Movement is rooted in love.
We choose to teach from love. 
We coach from a place of love.
And we market our business from love. 
We empower.
What happens when you actively rewire your mind to see love instead of fear?
Possibilities. Growth. Success.
THE NON-DIET MENTORSHIP doesn't magically create success for our students: they do. They succeed because they do the work.
They have lived a diet culture. 
Yes, they have lived in fear.
Now they make the active choice to say: Hell no to fear.
That's why they are successful. 
WHAT YOU'LL LEARN LISTENING TO THIS EPISODE on Non-Diet Coaches Success Stories Vol. 3
Personal and business wins over the last  months

The role of self-coaching in their business success

How they coach their clients using self-coaching

They answer submitted questions from listeners
Mentioned in the show:
Register here – Open House for the Non-Diet Mentorship Program May 16th, 2022
Connect with our guests:
Website – Ashley Paige
Instagram – Ashley Paige
Wellness Reimagined Podcast
Website – Renae Barlett
Instagram – Renae Bartlett
Instagram – Randi Cox
Randi Cox Podcast –  Life's too short for Weight Watchers
Website – Denise Wogan
Instagram – Denise Wogan