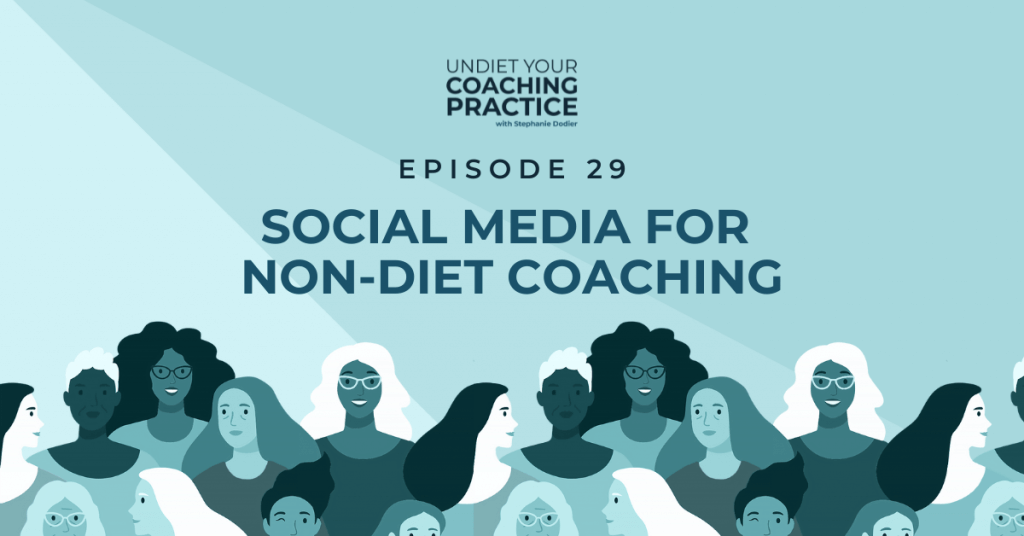 Social media for non-diet coaching can help you create the impact you want in the world AND grow your business. That is if you have the right strategy in place.
And when it comes to social media for non-diet coaching, what causes overwhelm? Focusing so much on keeping up with the trends and demand for more and more content that you lose sight of what feels genuine and enjoyable to you.
Pointing to words on video in an Instagram Reel just isn't for me… so I don't do it. Developing a social media plan that you enjoy will take you much farther than going all out on trends for weeks, and then disappearing due to overwhelm.
Social media for non-diet coaching
Social media for non-diet coaching businesses is a marketing tool, not your full-time job – so let's treat it as such.
You've got to figure out what your unique brand messaging is – think something like that commercial jingle that's stuck in your head.
Then you need to understand your relationship with social media and learn how to separate personal vs professional use. Clear boundaries around professional time on social media could translate to 10 hours or less per month creating content, networking and engaging with your community, and looking at analytics.
Are you ready to get strategic with social media so that you can create impact and growth?
On today's episode
Andréa Jones has built an online business committed to empowering businesses to utilize the power of social media in a positive and impactful way, without being overwhelmed and drained by it.
With over 7 years of experience in the game, Andréa hosts the acclaimed podcast, the Savvy Social Podcast, leads a team providing done-for-you service inside of her marketing agency that was named a Top Digital Marketing Agency in 2021, and serves over 200 students in her membership, the Savvy Social School.
What you'll learn listening to this episode:
How to grow your social media platform while growing your business
How much time you need for social media every day, week & month
Which Instagram metrics actually matter
How to get your social media audience to take action
Links mentioned in the show:
Andrea's Podcast – Savvy Social Podcast
Non-Diet Professional Mentorship Program
Free Professional Training & Resources
Connect with our guest: