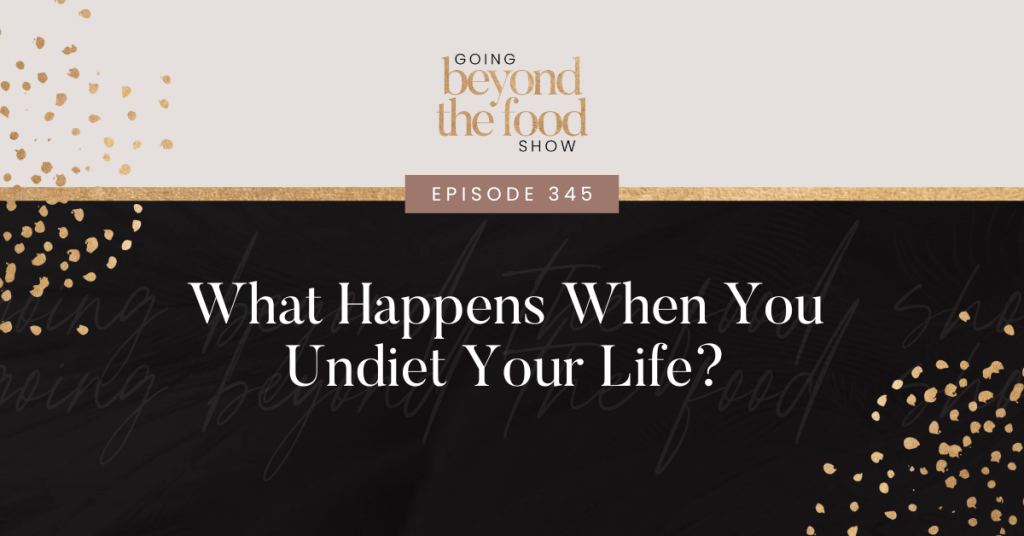 What Happens When You Undiet Your Life?
You're invited! The Undiet Your Life 2023 Live Experience is here!
Once a year, we create a unique container for women wanting to create change rapidly.
When you join Undiet Your Life Coaching Program now, you can join the live experience and fast-track your results.
The Undiet Your Life Live 2023 Experience is when we get a group of women together for 2 months and study our 3 steps of Undiet Your Life process with a very focused and intense approach to facilitate your transformation quickly. 
We start with an intensive class on Sunday, February 5th, 2023, where you master the mindset coaching tool in 1 day AND over the next 8 weeks we apply it to food, health, and body image.
You get 2 months of my energy, passion, and accountability to move yours thru this life-changing transformation of undieting your life.
2023 Undiet Your Life Live Experience classes date and time
Mindset Coaching Intensive

Sunday, February 5th, 10-2 pm EST

Peaceful Eating

Friday, February 10th, 17th, 24th and Thursday, March 9th – 12 noon EST

Liberated Body Image

Friday, March 17th, 24th, 31st and Thursday, April 6th – 12 pm EST
All live classes will be recorded, and you will also have access to the on-demand version of the classes.
Additional to the 2023 Live Experience, you also get access to the regular on-demand program for 1 full year so you get access to … 
The 3 Courses – 

Confident mindset self-coaching tool, Intuitive eating, and Body image. On-demand pre-recorded video teaching on average 10 minutes per lesson. (the same content will be delivered live by Stephanie in the 2023 Live Experience)

Private Podcast –

. Short bites 10 mins solution and action-driven episodes. (Over 123+ episodes now and counting…)

Bi-Weekly Group Coaching

– Each week, we hop on Zoom together, and coach students. 

Immediate access to Email Coaching 

– anytime you have a question or need coaching, you submit a question anonymously to Coach Corner and a coach helps you via email. 

Daily Accountability Check-Ins – 

Receive a text on your phone at 6 am EST everyday. 

Private Community –

  A community of women committed to creating their better, fuller, and bolder life.
And a complete suite of Life Coaching Tools
created specifically for women leaving diet culture: Boundaries Setting & Hard Conversation, People Pleasing Detox, More Than Enough Masterclass, Setting Clean Goals, Believing in myself, Reset Exercise Mindset (with guest teacher Kim), Other People Opinions, Getting Your Nervous System on Board, … and free access to any upcoming workshops I may host for 1 full year.
All of the above for $777 (payment plan available).
Enrolment is open now until February 3rd midnight – in order to join the 2023 Live Experience but everyone I talk to tells me that they wish they joined sooner and didn't wait. 
Don't wait.
Enroll to secure your seat in this amazing experience – Undiet Your Life 2023 Live Experience
See you inside!
What you'll learn listening to this episode on what happens when you Undiet Your Life?:
What does it mean to undiet your life

What can you expect to see in your day-to-day life after undieting your life

Why this is NOT a quick-fix process 

The 2023 Live Experience details
Mentioned in the show: 
Undiet Your Life Coaching Program