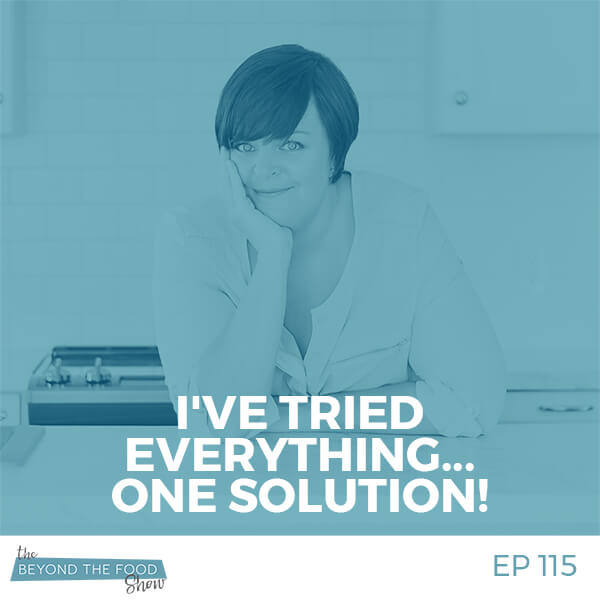 I've tried everything and it's not working! So listen, I get it… it's disheartening, devastating and depressing all at once. You've tried everything that YOU KNOW to achieve your goals and it's just not working. It maybe even getting worse… The solution is right there. Right in front of you. You just can't see it. YOU JUST DON'T KNOW WHAT YOU DON'T KNOW.
In this episode I discuss
Mindset: which one to ditch and which one to embrace
why you should stop blaming yourself
where to find the solution to your problem even if you think, "I've tried everything."
the matrix of knowledge
why it's important to understand the concept: "you don't know what you don't know"
the number one reason why you should GO BEYOND THE FOOD
Last episode of Ask Stephanie, I answered the #1 question we received in the survey we did in the last 2 weeks, and it was: "Why do I keep overeating when I know better?" I shared the one thing that the fitness, diet and medical industries do not want you to know about overeating and self-sabotage. This is another powerful episode you wouldn't wanna miss! Check it out now!
Leave me a review, if you enjoy the show and would love to encourage and support my work, leave me an honest review using this link, click here . For a podcaster like me, reviews are like fuel… I would appreciate hearing from you more than I could possibly say!
Here's a quick tutorial on How to leave a review. 
Show Sponsors
Health I.Q. – Life insurance for conscious people
Links mentioned in the episode
Register for the FREE Live Workshop: How to Stop Overeating Without Willpower and Discipline
The Matrix of Knowledge pie chart
Visit Stephanie's website
Join Stephanie's Coaching Newsletter
Register for the Going Beyond the Food Academy
Get started with the FREE Crave Cure Guide
Support me by leaving a review about this episode
Submit a question for the next episode
If you want to submit a question for Stephanie's next episode, click here and join our free and private community.
Reach Stephanie
***For your information – some links above may be my affiliate links, which means I get a small commission if you click on it and make a purchase. Doing so is no additional cost to you, but helps me tremendously. Your support is SO greatly appreciated, so thank you in advance if you choose to do so***