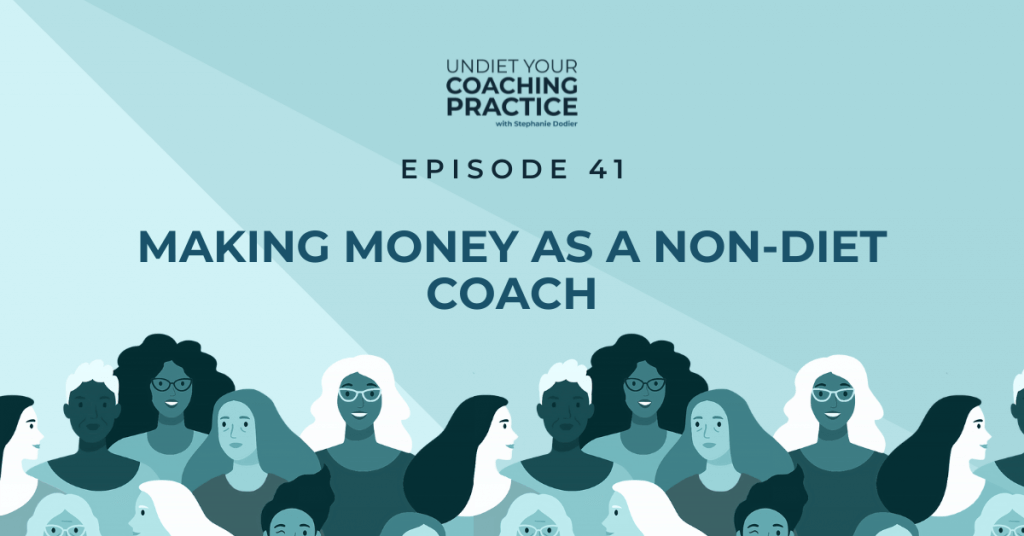 Money is a feminist issue, and if the feminist running the business isn't flourishing, then it's not a feminist business.
When you don't charge (or charge enough) for your services, your business doesn't get traction. Why? Because YOU, the coaches who care the most about changing the system and liberating the community from oppression, are over-extended.
And when your business doesn't get traction, the system stays THE SAME.
Let me say it again: a coach who doesn't make money can't flourish and thrive. You can't run a thriving business from an exhausted, depleted state.
The reason why this happens is because we are taught that we can't do both: help the community AND financially flourish.
But we CAN do both. And the truth is, if we aren't making money it's going to be very hard to flourish emotionally, mentally, and spiritually.
When we hold onto the belief that making money means something bad about us as women… The patriarchy wins. Consequently, diet culture wins too.
How to ethically make money as a non-diet coach
If you believe that making money means something bad about you, it's time to take a deeper look at your thoughts. And, entertain new thoughts. What if you believed that you can operate an ethical business AND make money while contributing to society?
You don't have to use unethical and exploitive business tactics to make money. You can sell with integrity and ethically make money.
Here are just a few ways you can do that:
Have a payment plan for your program

Consider a sliding scale for your services

Have different levels of service and access to you, allowing you to serve people at different prices
There are SO many ways to serve your community while making money – as long as you believe that to be true.
Here's a great example of this in our own business right now:
What we teach in the non-diet mentorship and mastermind is the feminist business model. The way we think about money as women in patriarchy is leading us to feel shame and resistance. We're changing that for non-diet coaches… starting with your thoughts about money.
Dive deeper with us in the live training event, happening now until June 2022. See you there!
What you'll learn listening to this episode:
How money is a feminist issue

Why making money is crucial for making an impact in the world and changing systems of oppression

How to create new money beliefs

What ethically pricing your offers looks like
Mentioned in the show:
Live Training Event – 4 simple steps to get more paying client event