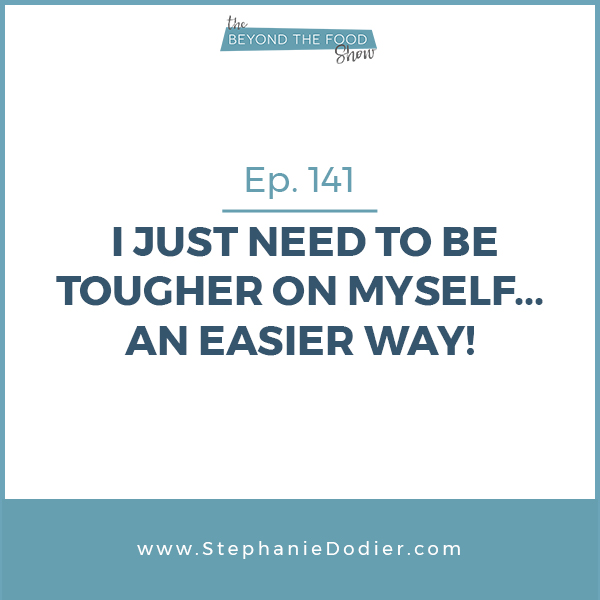 I Just Need to Be Tougher on Myself… An Easier Way!
Are you using discipline towards yourself as a motivator? Or at least hoping that it will motivate you?
So many of us have been using that motivational "stick" for years… maybe even decades… without really being successful. Moreover, we keep trying and saying to ourselves: If I can be tougher on myself, it would work…" Or "I'm just too soft… if only I could be tougher"… We keep shaming ourselves, beating ourselves up or punishing ourselves for "bad" behaviors in the hopes that it will finally work.
Where did we learn this concept? That harsh discipline is the best behavioral change method… likely how we were raised, right? Is that the way you were taught to be a good girl?
Let's be real honest here… How's that "being tough" on yourself working for ya? Not so good, right… so, what can we do instead?
In this episode I discuss
What self-loathing and self-criticism really do to you
Where the belief "I need to be tougher on myself" come from
How your parents or caregivers impact the way you deal with your own behavior changes
What science says about the behavior of self-loathing and self-criticism
The real effective methods in behavioral change that you should be adopting
Read More: 106 – 5 Common Behaviors That Lead Straight to Self-Sabotage
Last episode, we had Steven Ozanich on the show, author of The Great Pain Deception where he shared with us the work of Dr. Sarno and TMS approach to pain… particularly, low back pain. It was a very insightful discussion as it revealed a concept that is not very popular. Here's the thing… this approach to healing pain requires no surgery, medication or expensive treatment. The solution is within you right now… If you haven't checked it out, go ahead and click here.
Leave me a review, if you enjoy the show and would love to encourage and support my work, leave me an honest review using this link, click here. For a podcaster like me, reviews are like a fuel… I would appreciate hearing from you more than I could possibly say!
Here's a quick tutorial on How to leave a review. 
Links mentioned in the episode
Get started with the Audio Training: How to Change Any Eating Habits
Listen to Episode 120 Self-Compassion
Study from Kristin Neff
Submit a question for the next episode
If you want to submit a question for Stephanie's next episode, click here and join our free and private community.
Reach Stephanie
***For your information – some links above may be my affiliate links, which means I get a small commission if you click on it and make a purchase. Doing so is no additional cost to you, but helps me tremendously. Your support is SO greatly appreciated, so thank you in advance if you choose to do so***