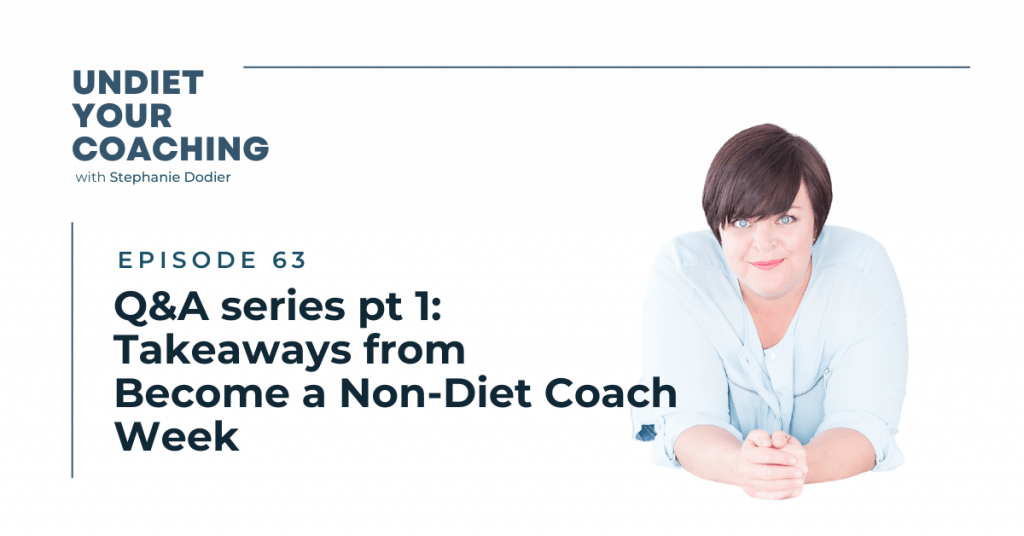 If you've always wanted to join us for our Non-Diet Coach Live events but weren't able to, today is your lucky day. In every single event, so many amazing insights come out from teaching and coaching live, so in this 3-part Q&A series episode, I'm sharing how I answer the most important questions our students have.
This Non-Diet Coach Training event was all about becoming a Non-Diet Coach and the takeaways I'm offering will be both on how to coach clients and also how to build a successful business so you can help more clients!
So, if you've been coaching the non-diet approach or wanting to transition your coaching to the non-diet approach, this is the episode for you. 
Tune in for this 3-part Q&A series and experience a powerful shift in what you currently think is possible for you and your business in 2023.
Joining The Non-Diet Mentorship program is your next step to studying and coaching with Stephanie. 
In this part 1 of 3-part Q&A series, you'll learn:
Why people don't buy what they need 

Why you need to avoid  convincing energy in marketing 

Why signing a contract with clients is safe

Stephanie's perspective on payment plan

Scheduling all sessions creates safety for your clients
You can access PART 2 here and PART 3 here. 
Mentioned in the show:
Getting More Clients – Ethical Training Event