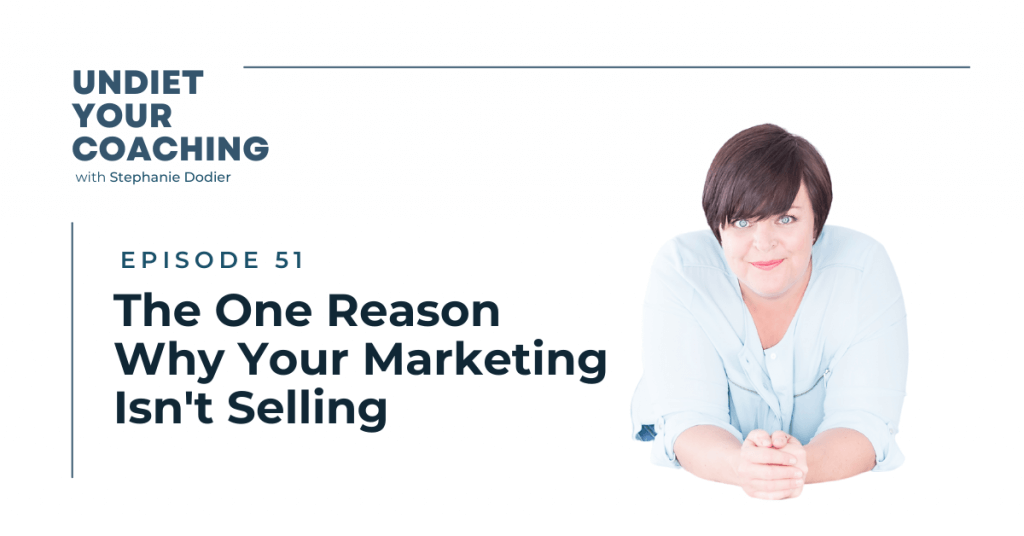 The one reason why your marketing isn't selling is because it feels sleazy, even if that's not your intention (I know it's probably not).
The "sleazy" feeling comes from trying to convince people to buy from you. 
For example, think of why most car salesmen feel sleazy – it's because they are trying to convince you to buy from them for their reasons, not yours.
THE ONE REASON WHY YOUR MARKETING ISN'T SELLING
Your marketing probably isn't selling if you are trying to convince people to buy from you. Convincing people to work with you comes from a place of fear rather than love.
When you come from a place of fear in your marketing, you focus on what your client wants to avoid. In fact, your marketing focuses only on the negative pain points in your client's life. 
We also refer to this as Bro Marketing.
THOUGHTS THAT CREATE SLEAZY MARKETING THAT CONVINCES PEOPLE TO BUY
"I know I am the authority, and I know what is best for people." If you market this way, people receiving your marketing will think you're trying to convince them because you know better than them.
"You can't do this alone, it's too hard." Marketing from this place lands as complete disempowerment in your client.
You feel not good enough as a coach or health professional. If you are experiencing imposter syndrome as a coach, it will show up through overemphasizing intellectual knowledge in your marketing.
THOUGHTS THAT CREATE COMPELLING MARKETING THAT INSPIRES PEOPLE TO BUY
Get clear on WHY you are the best person to help your people. You need to do the thought work to believe that you are the best person for your ideal client.
Believe in your client's capacity to get results. Show them that you believe in them and that they'll be able to do it much easier than you. In fact, it will be easier for them because they have you as their coach.
Have confidence in your offer. Believing that your offer is the best solution for your client will move them from a place of inspiration, not convincing.
Ultimately, when you market from a place of love, you attract the right people for your program. You focus on the positive and believe in your client's possibility.
If your offers aren't selling, ask yourself: am I marketing from a place of fear or a place of love?
What you'll learn listening to this episode:
Thoughts that are creating "sleazy energy" in your marketing

Why you need to adopt compelling marketing

How to inspire people to buy (instead of convincing them)
Mentioned in the show: