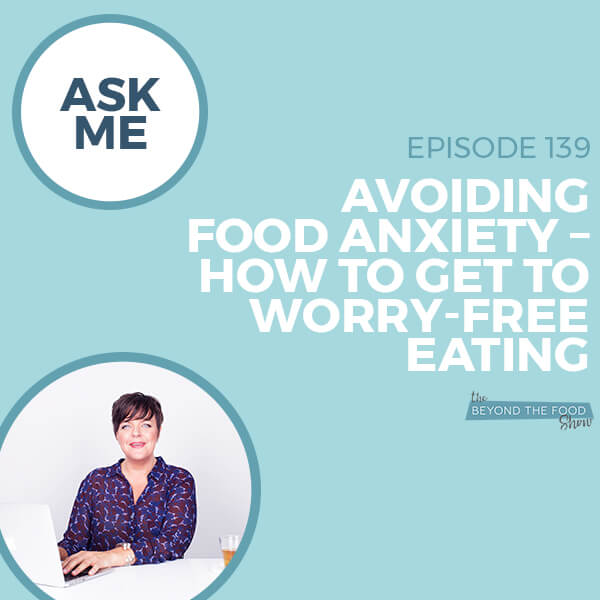 Avoiding Food Anxiety – How to Get to Worry-Free Eating
"I just want to be able to eat a damn piece of cake of my B-day without feeling like I'm going to die!"
How to get over a lot of the food fear we have developed over the years of dieting or partaking in nutrition education or food philosophy diet?
What about fructose and fruit… should I feel like I'm killing myself by eating an orange?
Or what about eating a croissant with white flour… why do I feel so terrible about myself for wanting one?
Today, we answer Kacie's question about food anxiety by looking at how we create the food anxiety and what we could do instead to still care for our health via our nutrition but not stress about it!
In this episode, I discuss
What is food anxiety and how do we solve it?
The root cause of food anxiety
What role does perfectionism play in your life?
What is the 80-20 rule and where can you apply it?
The different ways to look beyond food anxiety
Read More: Find Freedom from Food Cravings for Good: A 4-Step Solution
Last episode was a vulnerable one. I shared with you the things I'm afraid to tell you. I took me time to put this episode together because of me being afraid of your rejection… being afraid of losing you. But this 'things I'm afraid to tell you' episode is for you, for me, for us to have a deeper more meaningful relationship. So that I continue my own healing journey and that you do yours.
If you haven't listened yet, go ahead and check this episode! Click here.
Leave me a review, if you enjoy the show and would love to encourage and support my work, leave me an honest review using this link, click here. For a podcaster like me, reviews are like a fuel… I would appreciate hearing from you more than I could possibly say!
Here's a quick tutorial on How to leave a review. 
Links mentioned in the episode
Download the FREE Audio Training: How to Change ANY Eating Habits
Visit Stephanie's website
Submit a question for the next episode
If you want to submit a question for Stephanie's next episode, click here and join our free and private community.
Reach Stephanie
***For your information – some links above may be my affiliate links, which means I get a small commission if you click on it and make a purchase. Doing so is no additional cost to you, but helps me tremendously. Your support is SO greatly appreciated, so thank you in advance if you choose to do so***