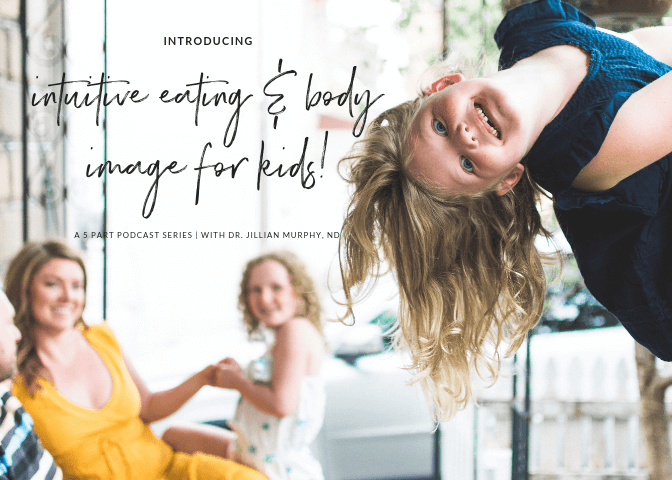 The foundational information you need to teach your children how to be competent eaters – with the ability to manage food, weight, & health successfully for the rest of their lives.
Majority of the women in my community share my story of being introduced to the world of dieting at an early age.  And for years we believed that it's the way to go to control our eating and improve our body image. Until such time we finally realized that diet doesn't work. It's just a band-aid solution to something that needs a permanent solution. We don't want to pass this kind of relationship to food to our children. We don't them to live their whole lives restricting, which actually brings about more craving. Instead, we want them to practice intuitive eating and learn to be competent eaters as they grow up.
But how do you raise your kids to become competent eaters and body confident? No need to Google the answer because I have the best suggestion for you.
Intuitive Eating and Body Image… FOR KIDS!
My friend and colleague, Dr. Jillian Murphy, ND, creator of The Food Freedom/Body Love Method for women, is sharing with us her 5-part podcast series on Intuitive Eating and Body Image FOR KIDS!
Recently, I interviewed Dr. Jillian on our podcast, The Going Beyond The Food Show. We covered the basics of integration of intuitive eating in a family setting. I'd suggest listening to this interview first then moving on to the specialized series below.
In this podcast series, Jill will acquaint you with the concept of Intuitive Eating for kids. She'll introduce the Ellyn Satter Feeding Competency Model and address common misconceptions, objections, and mistakes made when implementing this model.
Here's an overview of the podcast episodes:
EPISODE 1: Competent Eaters. The skills and structure you need to raise competent eaters. We'll discuss Ellyn Satter's Division of Responsibility, why we want to raise competent (not healthy!) eaters, and the research on long term outcomes with regards to food management, weight, and health. This is the foundational theory you'll need to move forward.
EPISODE 2: Obstacles, Resistance & Nutrition: What about picky eaters? Compulsive eaters? WHAT ABOUT HEALTH?! We'll trouble shoot common parental worries and discuss why HOW you feed your children is ultimately more important than WHAT you feed them.
EPISODE 3: Understand Appetite, Weight, and How to Help your Child Without Harming. This is a BIG one. The majority of methods for helping children "manage their weight" actually backfire – resulting in children with more food issues, body image issues, and higher weights. So what to do? How can we help our children without interfering with their normal physiological processes?
EPISODE 4: Body Talk. Learn how to talk to your children about their bodies, other bodies, and foster a sense of body confidence in your children – even while living in a thin-is-best, diet culture!
EPISODE 5: Permission & Discipline. The key concepts you need to master in order to feed your healthy family and raise body confident, competent eaters. Here we take the theory and turn it into practical strategies you can get started with today!
Teach your Kids NOW!
Dr. Jillian Murphy is one of the Naturopathic doctors I know who shares my passion in teaching women to have a healthy relationship with food. Using a combination of research and clinical experience, she was able to discuss how parents can help their kids. Particularly, to develop intuitive eating and a positive self-body image, which they will carry until they grow up.
I highly recommend that you listen to Intuitive Eating and Body Image FOR KIDS! So, start NOW and teach your kids to become competent eaters with this 5-part podcast series.