All women that come to intuitive eating coaching have failed… failed at many diets.
I love when women's diets do not go according to plan… I get really excited because I know they are on the brink of huge transformation.
That's when you are forced to make a choice… stay in your comfort zone repeating your old patterns to jump on the next "new" diet…
OR move forward past your dieting comfort zone and towards something different.
That's when I come in… helping you feel the fear of trying something different and still move forward with courage.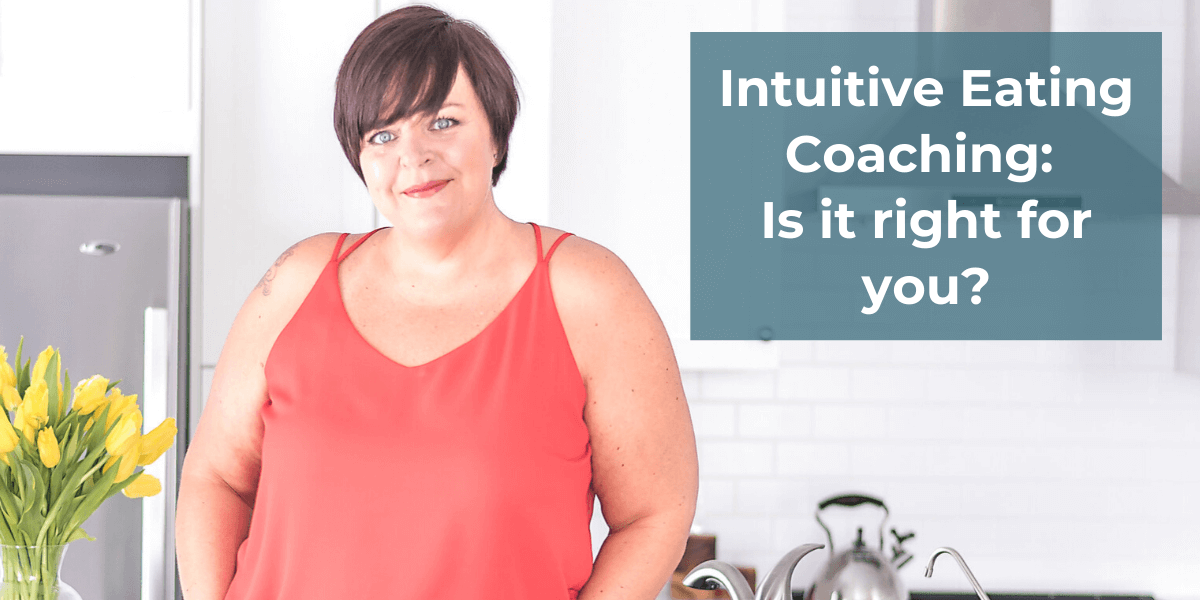 What is intuitive eating coaching?
How do you teach intuitive eating?
Can intuitive eating really work?
What is intuitive eating?
Intuitive eating is a proven and well-researched self-care eating framework that teaches us to have a healthy relationship to food, empowering you to trust your ability to meet your needs, distinguish between physical and emotional hunger and ultimately develop body wisdom.
The intuitive eating definition is a framework to recover from years of chronic dieting and diet culture. And it's focus is on rebuilding a relationship of trust and respect towards your body while supporting your health and happiness.
Our unique approach uses the framework of body neutrality alongside to intuitive eating. And body neutrality definition is a focus to avoid self-hate while simultaneously relieving you from the pressure of having to love your body. The goal is to respect and accept your body for what it is. I shared the foundation of this approach since 2016 in my intuitive eating podcast, "The Going Beyond Food Show"
That's when I come in… helping you feel the fear of trying something different and still move forward with courage. 
What is intuitive eating coaching?
As your partner and coach, I will support you in understanding and removing what is in the way of you becoming an intuitive eater. And what is in the way of your life without food and weight obsession Beyond The Food.  
I will challenge you to say "no" to going through the old patterns and enthusiastically say "yes" to the possibilities that are available to you with intuitive eating and body neutrality. 
We begin by taking an overview of your life and dieting history and identifying areas that need action and/or attention. I will assist you in establishing clear, concrete, measurable goals and support you in connecting to your own innate wisdom and power. There is nothing you cannot shift. You are capable of so much more than you know or are currently creating. 
You are accountable for a plan that is manageable and created especially for you because I do not believe there is a one-size-fits-all approach when it comes to 1-on-1 coaching. I do not solve your problems, but guide you into solving them on your own. I listen with understanding and 100% confidentiality. My relationships with my clients are intimate, honest, and rewarding. Our relationship will evolve in a way that best supports you. 


How do you teach intuitive 
eating?
Our work together is organized following my proprietary methodology The Going Beyond The Food Method™️.  As an intuitive eating nutritionist, the outcome of our work together is a neutral relationship of trust and respect towards your body and its innate wisdom. 
My approach is unique for many reasons. I teach intuitive eating & body neutrality through the lenses of a lived experience combined with a holistic and science-based lens... Also, If you'd like to get a sense of my journey read this article I wrote: Intuitive eating before and after: my story.  
Intuitive Eating Coach Experience & Credentials
I have been coaching since 2001. I'm a trained lifestyle coach and certified clinical nutritionist, hold degrees in health science and business management, and I am a trauma-informed & holistic health practitioner. Most importantly, I have lived experience, getting to the other side of disordered eating, body image disorder, relationship issues, career and business breakdown and health challenges.
I work with women of all ages with a diverse background that desire to be held accountable and willing to break free from their comfort zone. And the one thing they all have in common is the desire to yearn for more confidence, peace, health, and power. I only work with 6 women at the time so I can be fully present in each session. Coaching sessions are held on the phone or virtual and with a 6-month commitment required. 


NB: If 1-on-1 coaching is not the right fit for you, we can direct you to our group coaching or self-study intuitive eating program. 
Can intuitive eating really work?
Here's the most fascinating aspect of intuitive eating and body neutrality, it's that you can't fail. You can't fail because it's not a diet! And because I'm confident in myself and not afraid to sign my own praise… here's why women love my coaching: 
"This experience was life-changing and worth every penny!" 
So first thing, know that I'm sharing my experience being an executive coach myself… and I've worked with dozens of global coaches personally and professionally. Coaching with Stephanie was life-changing forever and worth every penny you'll put into it. – Anna Buber Farovich

"My work with Stephanie led me through a massive transformation!" 
Stephanie is kind, inspiring and her knowledge and experiences helped me to sort out some issues I was not sure about and led me through a massive transformation both personally and in my business.- Hanka Valaskova
"Stephanie has really changed my life. I'll never go back to the way it was…" 
I'm in the Board of Directors and have a very busy lifestyle, but Stephanie's coaching on perspective on life, lifestyle and dealing with our food issues has really changed my life. I don't think I'll ever go back to the way it was.–Eithne Wait

You can access more videos, audio and written testimonials here.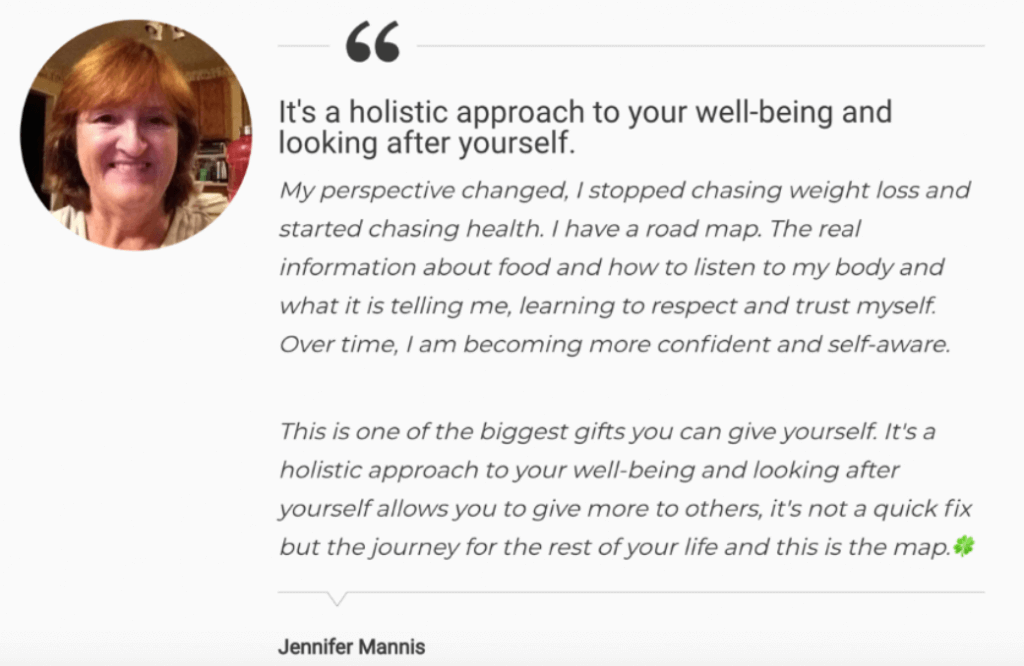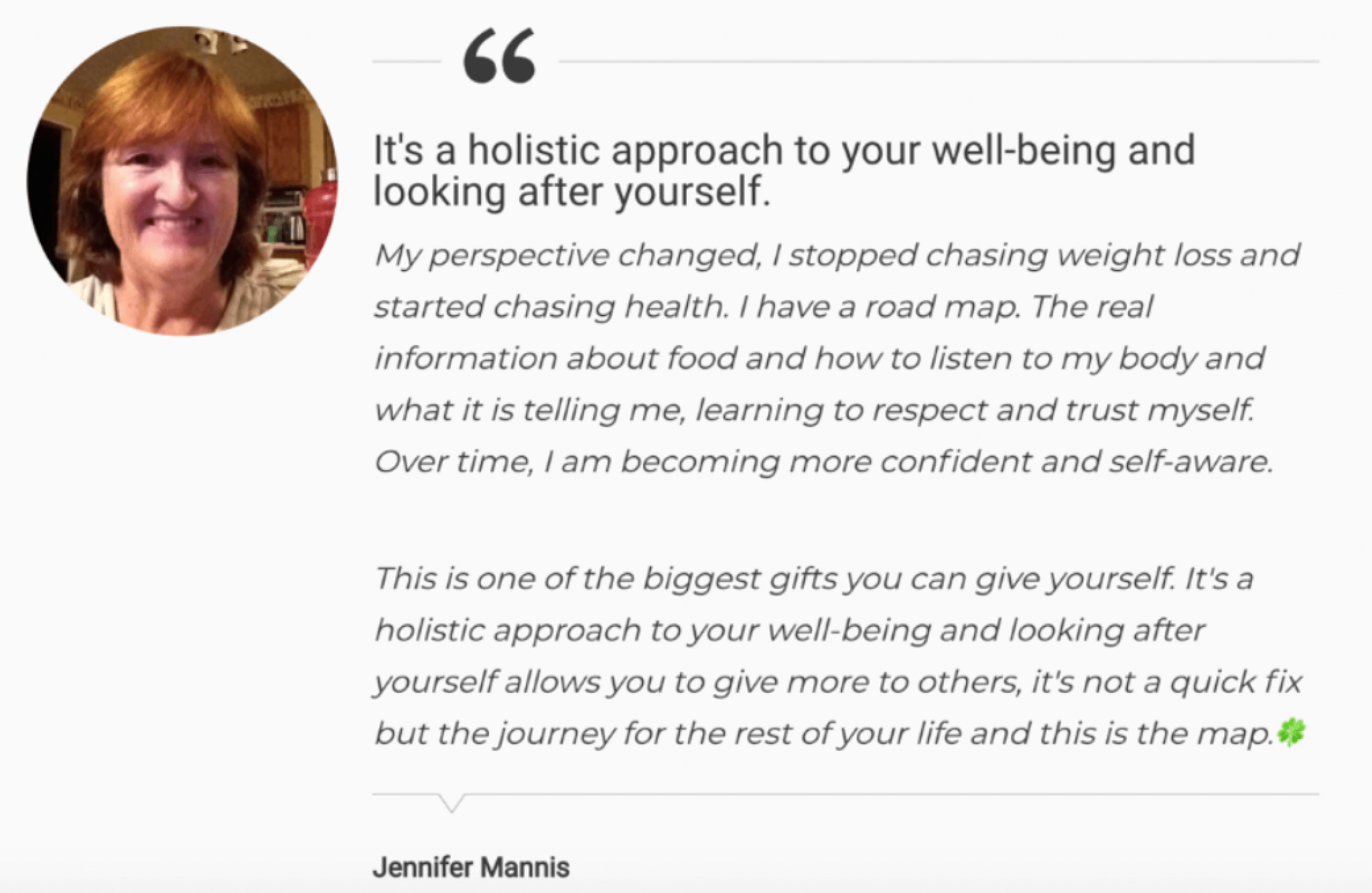 How do I get started?
Ready to get started in working with me 1-on-1? It's as simple as 1,2,3 …. Submit your application. Get accepted. Book Consultation. Start! 
Step 1 
Complete the application form here and submit.
Step 2 
We will review the application within 7 days and confirm back to you time for a consultation with me if we both are the right fit. If not the right fit for 1-on-1, we will direct you to group programs or intuitive eating self-study programs. 
Step 3 
We get started… Your first intake & discovery session with me is booked along with each subsequent session for 6 months.




Intuitive eating coaching questions & answers? (FAQ'S)